The GOP's Shift on Same-Sex Marriage
Fewer GOP gubernatorial candidates actively oppose gay marriage, and many are quietly accepting it.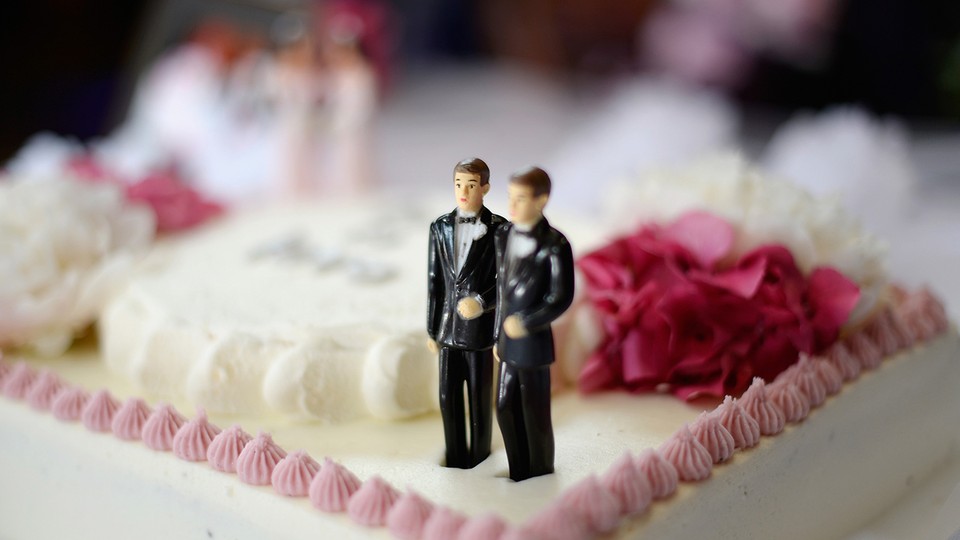 The drive for same-sex marriage is marking a significant advance this election season—ironically because it has almost vanished from the campaign.
(Kevork Djansezian/Getty Images)With little notice, virtually all of the Republicans running for governor in states that have authorized gay marriage have indicated they would accept the practice and not seek to ban it. By raising that white flag, these GOP contenders are acknowledging that gay marriage is settled law in states that are home to fully 44 percent of the nation's population.
No Republicans seeking governorships in conservative red states are backing gay marriage—though several Democrats in those places are supporting it more openly than ever. And Republicans in Congress remain almost uniformly opposed. But the shift toward acceptance by so many GOP gubernatorial candidates in blue states—whether through conviction or calculation—could reshape the party's internal debate on the issue.
With more Republican governors pledging to accept gay marriage, the party will face increased pressure to abandon its push for a federal constitutional amendment to ban the practice in every state—a position endorsed in 2012 by both presidential nominee Mitt Romney and the official GOP platform. Such an amendment has no practical chance today, but many social conservatives view any retreat from it as a first step toward conceding the issue entirely. "There will be political ramifications that will be so far-reaching "... that the Republican Party will never be the same if that plank is watered down," insists leading social conservative strategist Ralph Reed, founder of the Faith & Freedom Coalition.
Eventually, the Supreme Court could upend this argument by establishing a national right to same-sex marriage. But unless and until that happens, the debate will continue unfolding in the states. And this year's maneuvering shows how decisively that debate has tilted in the states already experiencing same-sex weddings.
Nineteen states (each of which voted twice for President Obama) have authorized gay marriage. Of those 19, 16 are electing governors next month. My colleague Janie Boschma surveyed the positions of those 16 GOP gubernatorial candidates and found that 14 have said they would accept their state's gay-marriage provisions. The only exceptions are incumbents: Iowa's Terry Branstad and Maine's Paul LePage, who remain publicly opposed to gay marriage. But neither is moving to reverse his state's law permitting it.
The 14 candidates vary in their positions—and in their prospects. Most of them have not personally endorsed gay marriage, but rather have argued that whatever their own beliefs, they would not seek to undo the law. Typical is Tom Foley, the GOP gubernatorial nominee in Connecticut, who has declared, "I personally think marriage is between a man and a woman, but "... as governor, I'd support the law." Only a few Republican contenders in this group (most clearly in New Hampshire and Minnesota) have left themselves some wiggle room by saying that while they would not push to uproot the law, they might sign a bill doing so if it reached them.
Charlie Baker, Neel Kashkari, and Scott Milne, the GOP nominees in Massachusetts, California, and Vermont, respectively, have moved further by personally endorsing gay marriage. Baker has been most aggressive, even running television ads touting his support and featuring his gay brother.
Some of these candidates, like Kashkari, have little chance of winning. But other GOP candidates signaling acceptance of gay marriage—including challengers Foley, Baker, and Bruce Rauner in Illinois, as well as New Mexico Gov. Susana Martinez—have much better odds. That means the November election could significantly swell the ranks of Republican governors endorsing—or at least tolerating—gay marriage.
Reed acknowledges that these shifts among Republican candidates mean that in Democratic-leaning states, gay marriage is being entrenched "as a fait accompli ... in the short-term." But he says blue-state Republicans are simply bowing to local political realities—"I'm not sure if I would say anything different"—and their repositioning will not threaten the overall party resistance to gay marriage. "There is no real change from where we were six or 18 months ago [as a] party," Reed insists.
Tyler Deaton, a young New Hampshire GOP operative, sees a bigger opening. Deaton is organizing young conservatives for Freedom to Marry, a leading group backing same-sex marriage. He believes that the shift among blue-state Republican candidates tracks growing support for gay marriage among younger GOP voters and that Baker's embrace, in particular, will inspire others to follow. "It creates room in the party for other leaders who are looking at this," Deaton says.
While acknowledging that his members are "the underdogs," Deaton is already visiting early 2016 primary states to organize pro-gay-marriage Republicans behind moving the party platform to neutrality on the issue. Reed promises that religious conservatives will launch a "muscular campaign" to defend the current platform, which describes same-sex marriage as "an assault on the foundations of our society." But social conservatives may face some formidable new dissenting voices if Republicans make the blue-state gubernatorial breakthroughs now within their reach.
---
Janie Boschma contributed to this article