The Evangelical Primary: Ted Cruz vs. Mike Huckabee
Social conservatives failed to coalesce around a Republican candidate in 2008 and 2012. They're determined not to let that happen again.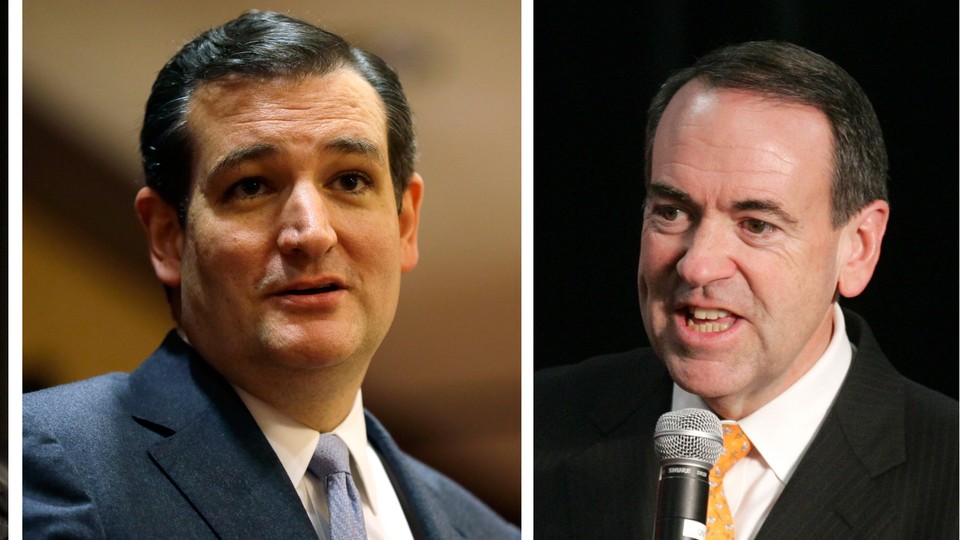 When Ted Cruz and Mike Huckabee were asked to deliver dueling speeches at a secret gathering of America's most influential social conservatives, both camps knew what the invitation represented: a private audition to be the evangelical movement's presidential candidate in 2016.
They prepared accordingly, and on back-to-back nights in mid-September, the White House hopefuls delivered impassioned addresses to the Council for National Policy's clandestine conference in Atlanta.
The courtship of Christian leaders by White House contenders—"the evangelical primary," as some call it—has become a staple of Republican presidential politics. But this year is different.
After back-to-back cycles in which social conservatives failed to coalesce around a single candidate—resulting, they believe, in the nomination of moderates who haven't mobilized the Christian base to vote in November—evangelical leaders are acting early and with unprecedented urgency. In a series of private meetings over the past two months in Washington, Iowa, Florida, and elsewhere, Christian political leaders have emphasized narrowing their options sooner than ever and uniting behind one candidate to defeat the establishment favorite.
The Atlanta event, then, signaled not just that the 2016 evangelical primary is well underway but that for many leading social conservatives, the field is already winnowing.
"Those are the two," Family Research Council President Tony Perkins said of Cruz and Huckabee. "And they share the same core base, so I do think there's probably only room for one of them to be successful."
Perkins is not alone in this view. Conversations with some of the country's most influential and well-connected evangelical power-brokers suggest an emerging consensus—out of private gatherings like CNP as well as public events like the Values Voters Summit—that 2016 is shaping up as a two-horse race. Even a senior adviser to former Senator Rick Santorum, who won Iowa in 2012 and is considering another run, admitted that talk of Cruz and Huckabee distancing themselves from the field is "accurate."
It's still early, and neither Cruz nor Huckabee has stated publicly their intention to run in 2016. But the Texas senator has sent clear signals to his allies that he's planning to jump in, perhaps as soon as the end of this year; and the former Arkansas governor has left little doubt in private meetings with Christian leaders and GOP consultants that a campaign is imminent.
Of course, the race to win evangelical hearts (and wallets) is only part of the GOP's 2016 nominating contest. More establishment-allied Republicans—Governor Chris Christie, Senator Marco Rubio, Governor John Kasich, Representative Paul Ryan, former Governor Jeb Bush—all are considering a bid. Senator Rand Paul is perhaps the farthest along in the planning, though also the hardest to pin within the traditional GOP structures.
But the early indicators of a head-to-head contest for the social-conservative contingent could have a significant impact on the Republican primary season. And both the Cruz and Huckabee camps know it.
In recent months, allies of both men have eyed one another as mutual threats in the quest to win the evangelical endorsement—and have even launched early efforts to undermine the other. Cruz allies have suggested that conservatives won't be able to ignore Huckabee's questionable fiscal record; Huckabee's team has questioned Cruz's ability to connect with religious audiences.
While some have doubted aloud whether Huckabee will run, as he sits comfortably hosting a Fox News program and singing the praises of the Florida beach life, his travel schedule and rhetoric are suggesting otherwise.
"Ted Cruz is a cage rattler who likes to get out there and talk about limited government and defunding Obamacare and so on. But when it comes to connecting with the faith community nobody does it better than Mike Huckabee," said Alice Stewart, Huckabee's spokeswoman and senior adviser. "When it comes to rallying social conservatives, Ted Cruz doesn't hold a candle to Mike Huckabee."
Stewart continued: "We've been to a lot of the events where Ted Cruz and his dad speak. And listen, Rafael Cruz is not running for president. That's what a lot of people forget—when it comes to a social-conservative crowd, it's Rafael Cruz, not Ted Cruz, who really connects with them."
Team Cruz, wary of fueling the perception that the Texas senator plans to slash-and-burn his way to the nomination, took the high road in response.
"I like and respect Mike Huckabee. He is a strong, positive voice for life and marriage—at a time when so many others refuse to speak out—and he encourages others to stand up for their values," Cruz said in a statement to National Journal. "I've been proud to stand with Governor Huckabee, and I look forward to our continuing to work together to help turn our nation around."
Still, the narrative of a Cruz-Huckabee rivalry has cemented so quickly that, according to several neutral attendees of the CNP event in Atlanta, audience members felt like judges scoring a heavyweight title bout. The decision, each of these people said independently of one another, went to Huckabee.
"Huck just connects with that audience better," said one of the event's organizers, who spoke on condition of anonymity because of its strict off-the-record rules. "Cruz was like a hyper lawyer roaming the stage and making a factual argument to a jury. Huckabee was like a friendly preacher speaking from the pulpit and appealing to emotion. Just two totally different styles."
* * *
While Huckabee and Cruz were the only invited speakers that night, they're hardly the only Republican contenders actively courting the evangelical vote.
In mid-August, when, after a long day of speeches to an annual summit of conservatives in Iowa, a swarm of 2016 hopefuls descended on a house party in Ames. There, joining about 150 of the state's top conservative activists and powerbrokers were Cruz and Huckabee, along with Louisiana Governor Bobby Jindal and Texas Governor Rick Perry. (Santorum would have been there, but he had to attend a wedding elsewhere in Iowa.) There were no speeches in this intimate setting—just finger food, lemonade, coffee, and lots of early elbowing.
There are other potentially viable contenders, but Santorum, the 2012 runner-up, is perceived by many top social conservatives as one of the very few who might be able to crack the Huckabee-Cruz competition.
"And frankly I'm not sure there's going to be much time for anybody else to get in," Perkins said of the strength of Cruz, Huckabee, and Santorum, "because I do think you're going to see conservatives very possibly coalesce around a candidate fairly early in the process, while it would still have some significance."
All of this seems exceedingly premature, of course, considering the 2014 congressional elections have yet to occur. But to conservative leaders and activists still stung by the presidential primary results of cycles past, the only way to avoid a repeat—and another "moderate" nominee—is to act preemptively.
"There is a determination in the movement not to be divided in 2016. There is more conversation now about coalescing behind one candidate than there's ever been before," said Steve Deace, a popular Christian conservative radio host in Iowa. "We've watched what happened the last two times when we split our base."
Bob Vander Plaats, president of The Family Leader and one of Iowa's leading evangelical activists, has witnessed firsthand the consequence of conservatives waiting too long to agree on a candidate. He was chairman of Huckabee's winning Iowa campaign in 2008, but watched as Mitt Romney (then a conservative favorite) and Fred Thompson splintered the conservative vote and allowed McCain to take the nomination.
Four years later, Vander Plaats endorsed Santorum before Iowa's caucuses—but many of his allies held back, allowing Perry, Newt Gingrich, and others to siphon off conservative support and let Romney (now the establishment favorite) run uncontested up the middle.
This time, Vander Plaats said, conservatives understand the importance of rallying around one person early.
"They saw 2008. They saw 2012. They saw that when we divide our support we get who we don't want," Vander Plaats said. "You're going to get McCain or you're going to get Romney."
* * *
Cruz and Huckabee both have been courting Perkins, who's regarded as the chief rainmaker in evangelical politics. (In fact, during one recent stretch, Perkins said he spent five of six weekends with either Cruz or Huckabee—or both.) Cruz has paid a multiple visits to the early, evangelical-friendly states of Iowa and South Carolina this year. Huckabee has done the same—and, for good measure, is traveling with a group of nearly two-dozen Christian leaders from those states on a 10-day European trip next month.
Santorum supporters are quick to point out that he, too, has maintained a strong presence in Iowa this year—and, like Huckabee and Cruz, appears increasingly likely to run in 2016. In fact, Santorum and Huckabee appeared at the same Iowa Republican office in Sioux City last week—on back-to-back days.
Perry has been to the state repeatedly, too; Vander Plaats joked he could be running for "governor of Iowa." All have faithful followings in Iowa and elsewhere, making the goal of unifying early behind a single conservative candidate so difficult to achieve.
"It would take a Herculean effort to unite all of these people and all of these organizations," said one prominent conservative activist with ties to multiple contenders. "I mean, [Ronald] Reagan didn't even get that treatment."
Or, as Perkins summarized the talk: "It's easy to say, but hard to do."
As the August house party demonstrated, there certainly will be further competition for evangelical support—even if their efforts aren't as advanced. Besides Jindal and Perry, there are other names—surgeon Ben Carson, Indiana Governor Mike Pence, and Wisconsin Governor Scott Walker—mentioned as potential dark-horse candidates. (Walker, however, alienated some potential allies by saying the gay-marriage fight is "over" in Wisconsin. "Whatever air was in that balloon is gone," Vander Plaats said.)
Still, as evangelical leaders approach 2016 with unprecedented urgency and emphasis on coordination, it appears the decision to collectively endorse one person may come down to two very different candidates: Huckabee, the once-ran preacher with inimitable charm and religious bonafides; or Cruz, the fresh-faced agitator who refuses to compromise or play nice with his party's establishment.
"People love Cruz," Vander Plaats said during a recent interview in Iowa. "With one caveat."
That caveat has a name: Mike Huckabee.