The Essence of Kentucky's Puzzling Senate Debate
Will voters care more about Mitch McConnell's Obamacare stumble or Alison Lundergan Grimes's presidential vote from 2012?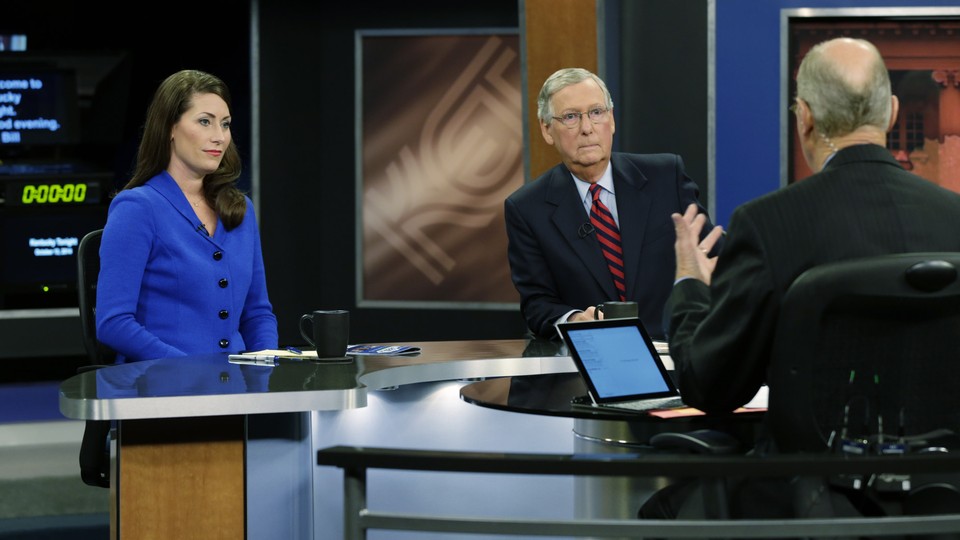 Mitch McConnell's future in the Senate could come down to which awkward response at Monday night's debate voters in Kentucky find more disturbing.
The Senate minority leader–and possible majority leader in 2015–faced off against Democrat Alison Lundergan Grimes in the only debate of his hard-fought bid for a sixth term. By most accounts, both candidates acquitted themselves well, but each offered a puzzling reply to simple questions that are central to their political identity.
Grimes, the Kentucky secretary of state, was asked why she has steadfastly refused to say whether she voted for President Obama in 2012. Her response was lengthy and apparently well-practiced, but it made no mention of the president. Instead, she defended her decision to keep silent by citing Kentucky's constitutional right to vote by secret ballot and her duty as the state's chief election officer to enforce it.
"This is a matter of principle," Grimes said. "I'm not going to compromise a constitutional right provided here in Kentucky in order to curry favor on one or other side." Voluntarily disclosing her vote, Grimes seemed to be arguing, could undermine the state's duty to protect privacy at the ballot box for other citizens.
For McConnell, trouble arrived on an issue that would appear to be right in his wheelhouse: Obamacare. Moderator Bill Goodman asked him if the 2010 law, which remains broadly unpopular, had been "a boon or a bane" to Kentucky. The question was more complicated than it sounds, however, because the state insurance exchange funded by the federal law, Kynect, has been successful and the number of uninsured residents in Kentucky has dropped significantly.
McConnell tried to thread the needle. "Kentucky Kynect is a website. It was paid for by a $200-and-some-odd [million] dollar grant from the federal government," he began. "The website can continue, but in my view, the best interests of the country would be achieved by pulling out Obamacare root and branch," McConnell went on to say. "With regard to Kynect, it is a state exchange. They can continue it if they'd like to. They'd have to pay for it because the grant will be over." Asked directly if he would support continuing the state exchange, McConnell replied, "That's fine."
So essentially, he is saying that because he would, as Senate majority leader, push to repeal the federal law, he would want to shift the cost of providing insurance for low-income Kentuckians onto the state's taxpayers. Bringing home less money from Washington is generally an unpopular position for a federal officeholder, as evidenced by McConnell's frequent reminders of all the funding he has secured for the state in other areas.
McConnell's dance on the Obamacare question epitomizes the difficulty Republicans will have now that the consequences of ripping out the law "root and branch" are becoming quite real for voters.
Grimes's response is less important substantively; after all, does it really matter going forward who she voted for two years ago?
But for a candidate without a long record to judge, the reluctance to answer raises questions about her authenticity. Grimes has sought to distance herself from a president who is deeply unpopular in Kentucky, but as a Democrat, it is reasonable to assume she voted for Obama. As others have noted, Grimes could simply explain that like many other Americans, she is disappointed in the president's performance during his second term.
As McConnell tries to paint her as closely aligned with the president, the unanswered question only keeps the unwelcome association in play.
Most polls have given McConnell a small lead in the race, and he remains a favorite to hold his seat in a deeply red state. Still, the candidates' responses Monday night on Obama and Obamacare could be a turning point in the race, even if the direction remains unclear.