The Courts Weigh In on Restrictive Voting Laws Just in Time
They've blocked statutes in Wisconsin and Texas, while upholding other limits in North Carolina.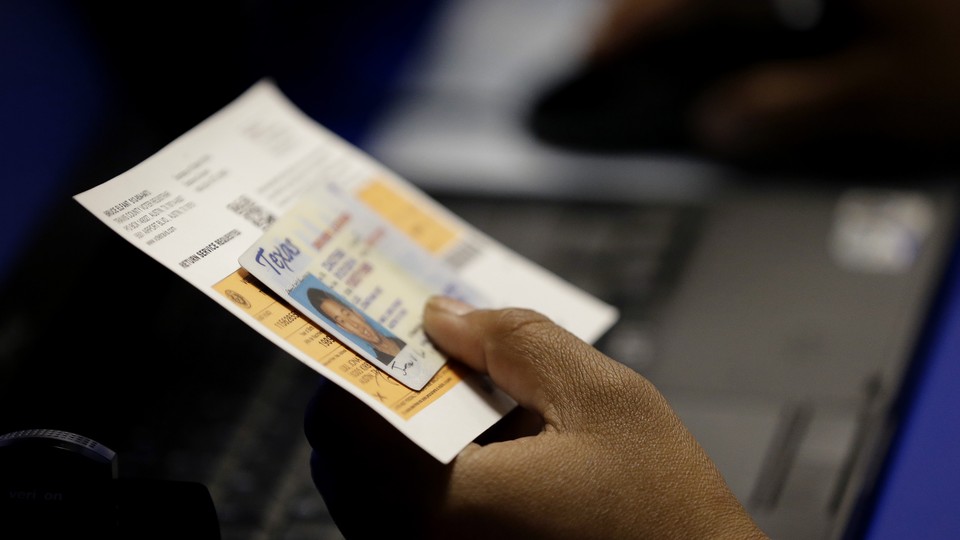 A flurry of last-minute court decisions is upending voting rules in key states less than a month before the midterm congressional elections.
The Supreme Court on Thursday night blocked a restrictive voter ID law in Wisconsin after opponents said it would cause "chaos" at the polls and noted that ballot forms had already been sent out to voters that did not make clear they needed to provide identification. The brief order by Justice Elena Kagan overturned a September decision by an appellate court, over the opposition of conservative Justices Samuel Alito, Antonin Scalia, and Clarence Thomas.
Also on Thursday night, a lower federal trial court struck down a 2011 voter ID law in Texas with a scathing opinion determining that the statute, which was designed to combat voter fraud, "creates an unconstitutional burden on the right to vote, has an impermissible discriminatory effect against Hispanics and African-Americans, and was imposed with an unconstitutional discriminatory purpose."
The district court in Corpus Christi further ruled that the law "constitutes an unconstitutional poll tax."
The pair of decisions represented a victory for advocates who have railed against voter ID laws for years on the grounds that they disproportionately affect minority citizens and are premised on a false notion that voter fraud is widespread. Democrats in particular have charged that Republican governors and state legislatures are enacting the laws to discourage a key part of their base from casting ballots.
The Wisconsin ruling could be particularly significant in the close race between Governor Scott Walker, a Republican seeking reelection, and Democrat Mary Burke. In Texas, the Republican gubernatorial candidate Greg Abbott is heavily favored against Democrat Wendy Davis, and neither state has a competitive Senate race.
The news this week was not universally good for Democrats, who suffered a loss on Wednesday when the Supreme Court allowed North Carolina to carry out a GOP-backed law that prohibits same-day voter registration and prevents the counting of ballots that were cast at the wrong polling place. That ruling was issued without explanation and over the objections of liberal Justices Ruth Bader Ginsburg and Sonia Sotomayor, who noted that the state law was enacted "immediately" after the Supreme Court, in a highly polarizing decision, invalidated a key portion of the 1965 Voting Rights Act.
Ginsburg made reference to the competitive Senate race in North Carolina, where incumbent Democrat Kay Hagan is in a close fight for a second term that could help determine which party holds a majority next year.
Along with an earlier high court ruling that left new restrictions on early voting in Ohio in place, the decisions suggest that the justices are more willing to intercede against restrictive ID laws than on rules limiting when and where voters can cast their ballots.
But the last-minute nature of the decisions leave election officials with little time to implement them.