The California Drought Is So Bad It's Literally Moving Mountains
And other ways the weather is drastically affecting the state.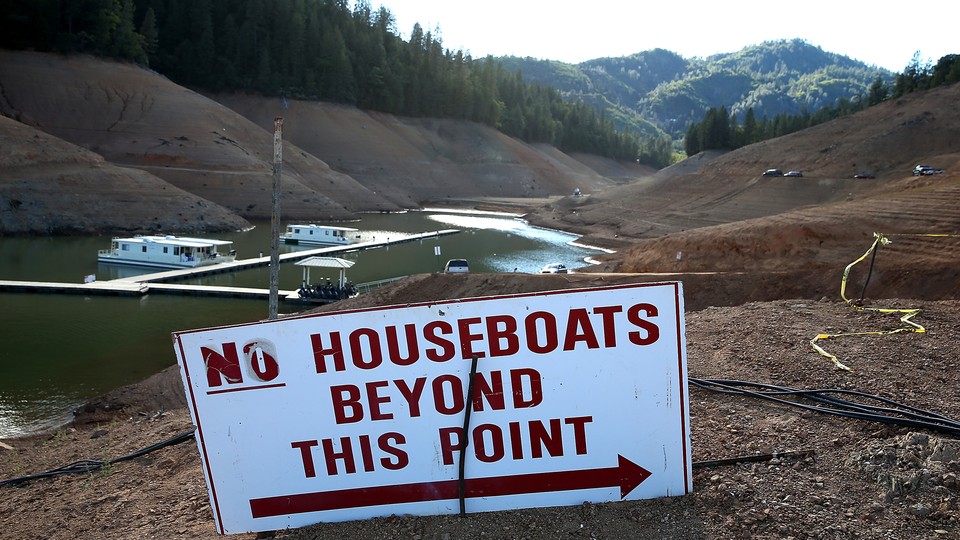 The California drought is so bad that...
â—† Since 2013, the Western United States has lost 240 gigatons of water, the journal Science has reported. One gigaton is 1 billion tons. 240 gigatons is equal to a 10-centimeter sheet of water covering the entire Western U.S., or 63 trillion gallons — roughly equivalent to the volume of 75,000 football stadiums.
â—† The loss of mass has altered California's gravitational field.
â—† Mountains rose up to a half an inch as the loss of water has made the earth more springy (i.e. less dense and able to expand).
+ ("Ongoing drought-induced uplift in the western United States," Science)
â—† Hydroelectric power output from dams has diminished, according to the Energy Department. Usually, hydropower accounts for 20 percent of California's energy generation. In the first half of 2014, it accounted for only 10 percent.
â—† 100 percent of the state is in drought, with 82 percent of the land designated as in "extreme" or "exceptional" drought, the highest levels on the U.S. Drought Monitor scale. Thirty-seven million people are affected by the drought.
â—† It's the state's worst drought since 1895, when such record keeping began.
â—† California Gov. Jerry Brown declared a state of emergency in January.
+ Jordan Erickson with Gene Brandi Apiaries blows smoke on bee hives on Sept. 5 in Los Banos, Calif. (Justin Sullivan/Getty Images)
â—† Earlier this year 40,000 people in rural communities were in danger of running out of water. The Los Angeles Times reports that 14 communities are on the brink of waterlessness. According to The New York Times, 700 households in the state now have no access to running water.
â—† According to the National Science Foundation, this year the state's agricultural economy stands to lose $2.2 billion and 17,000 seasonal jobs.
â—† California's honey crop has been dramatically crippled. In 2010, the state was producing 27.5 million pounds of the sticky stuff. In 2013, it produced 10.9 million pounds.
â—† Irrigation costs for farmers in the state's Central Valley have increased tenfold.
â—† You can see the loss of snow in the state's mountain region from space.
â—† The California swimming-pool industry is scared.
â—† Recycled toilet water is starting to look appealing.
â—† People are spray-painting brown lawns green.
â—† The organic dairy industry is in trouble.
â—† California wineries are harvesting smaller, more concentrated grapes for a standout wine season. (This is one of a very few positives.)
+ Abagail Beltran is bathed by her mother, Angelica Gallegos, using buckets of nonpotable water on Sept. 4 in Porterville, Calif. Over 300 homes in the California Central Valley city of Porterville have been without running water for weeks. (Justin Sullivan/Getty Images)