The Argument Against an Ebola Travel Ban
The CDC's Thomas Frieden told Republicans on Capitol Hill it wouldn't work. They didn't believe him.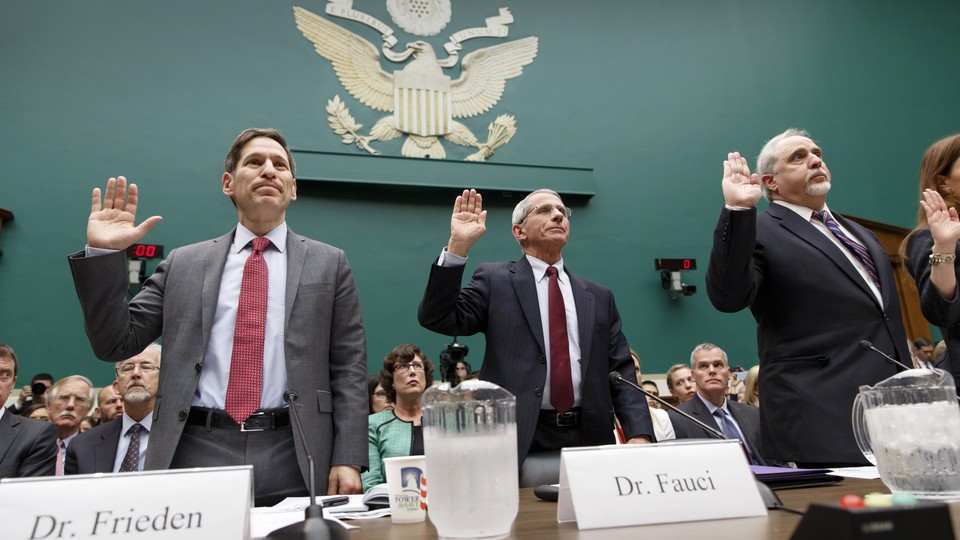 The traveler you know is better than the traveler you don't.
That was the argument Dr. Thomas Frieden, the CDC director, made on Thursday to a lineup of Republican lawmakers who wanted to know why the government hadn't banned commercial travel from the west African countries at the center of the Ebola epidemic.
Frieden said authorities preferred a system where they could screen people trying to come to the U.S. by air rather than instituting a ban that would force would-be travelers to go around checkpoints and slip into the country undetected.
"Right now, we know who's coming," Frieden said.
If restrictions were in place, he added later, "there's a high likelihood they will find another way to get there, and we won't be able track them as we are now."
Frieden, with help from Democrats on the committee, also argued that a travel ban would restrict access to the "huge quantities" of aid and personnel that needed to get in and out of Liberia, Sierra Leone, and Guinea to help stem the crisis at its source.
It was a case Frieden has made repeatedly in public, but it has taken on new significance with the death of Thomas Eric Duncan a week ago and the subsequent Ebola diagnoses in two nurses who treated him. Calls for a travel ban have grown among Republican leaders, and the President Obama has said officials must monitor the spread of the virus "in a much more aggressive way."
House Republicans on the Energy and Commerce Committee called Frieden and other federal and local health officials to testify Thursday on the response, and few seemed to be buying the CDC director's argument. "It seems to me this is not a failsafe system at this point," said the committee's chairman, Representative Fred Upton.
Frieden left some wiggle room for the administration to change its mind. "We will consider any options to better protect Americans," he said repeatedly in response to pressure from Republicans. The opening prompted one member of the panel, Representative Billy Long, to predict that Obama would soon shift course "sooner rather than later."