Ted Cruz Dissents
Most Republican leaders were quiet on the Supreme Court's landmark pass on gay marriage. The junior senator from Texas was not.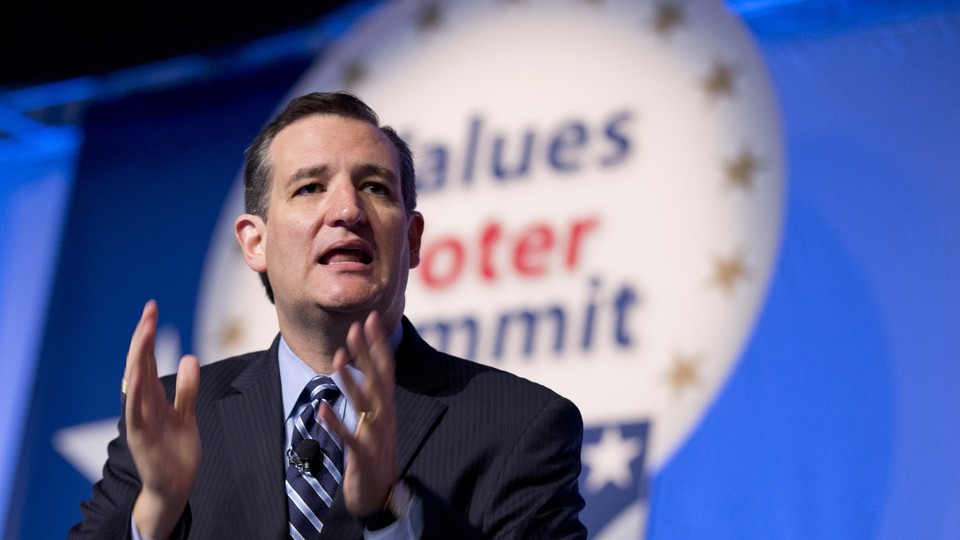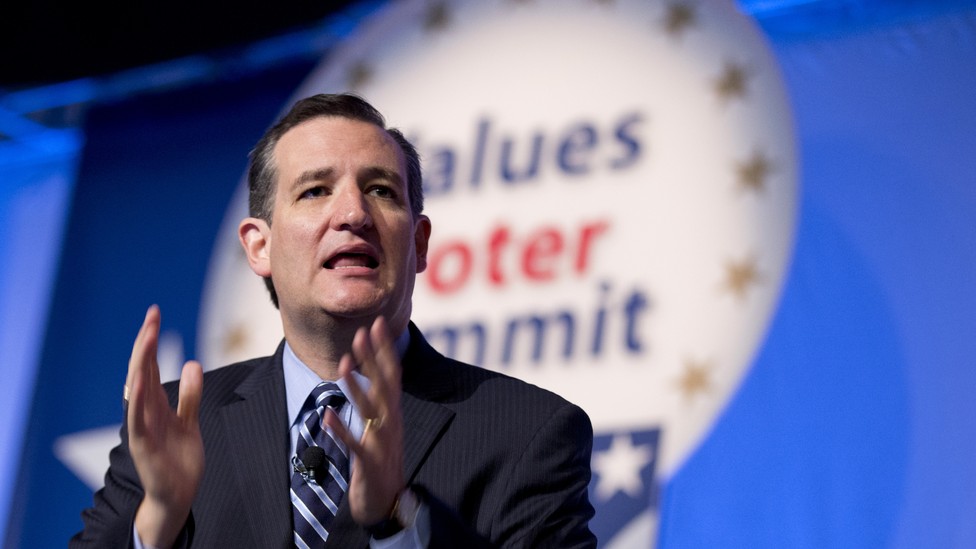 When the Supreme Court stepped aside on Monday and let same-sex marriages take place in five states, the Republican Party kept quiet.
There wasn't a peep of protest from top potential presidential contenders like Rand Paul, Marco Rubio, Chris Christie, Jeb Bush, or Paul Ryan. Speaker John Boehner said nothing. Neither did Mitch McConnell, nor the Republican National Committee. Heck, not even Rick Santorum, the social conservative warrior who made family issues central to his campaign for the White House in 2012, issued a statement after the court's ruling.
Enter Senator Ted Cruz.
The Texas Republican waited nearly seven hours and then issued a blistering statement calling Supreme Court's refusal to hear the appeals of states that had banned gay marriages "tragic and indefensible" and "judicial activism at its worst."
"By refusing to rule if the States can define marriage, the Supreme Court is abdicating its duty to uphold the Constitution. The fact that the Supreme Court Justices, without providing any explanation whatsoever, have permitted lower courts to strike down so many state marriage laws is astonishing.
He went on to say he would introduce a constitutional amendment to prohibit federal courts from striking down state bans on same-sex marriage.
Cruz is seen as almost certain to run for the presidency in 2016, and as contenders vie to be heard in a crowd, he is clearly making a play for the support of evangelicals who remain a force in early states like Iowa and South Carolina.
Cruz's potential rivals have made a different calibration, choosing to stay quiet on an issue that has rapidly gotten away from Republicans. One-time Republican presidential Mike Huckabee released a statement critical of the court, as did Senator Mike Lee of Utah and a few others. Yet it was nothing like the reaction that would have sprung up a decade ago, when a decision by any federal court to allow gay marriages during the middle of an election season would have sparked a flurry of GOP advertisements.
Now, as Zeke Miller points out in Time, Republican leaders would be just as happy to have the Supreme Court take the heat from any angry voters rather than them. One anonymous aide said:
"We don't have to agree with the decision, but as long as we're not against it we should be okay. The base, meanwhile, will focus its anger on the Court, and not on us."
Even Cruz's proposal is notable for its modesty. His amendment would still allow states to decide the question of marriage, a stark contrast from the constitutional amendment that President George W. Bush and other party leaders backed in 2004, which would forbid the unions altogether.
Cruz has demonstrated that his voice on any issue can be loud, and it can occasionally resonate, but in 2016, on the largely decided topic of gay marriage, it may be quite lonely.