Senate Democrats' Last Bastion: Single, College-Educated Women
The party needs to hang onto their strong support to counteract the GOP's strong performance with working-class whites and married women.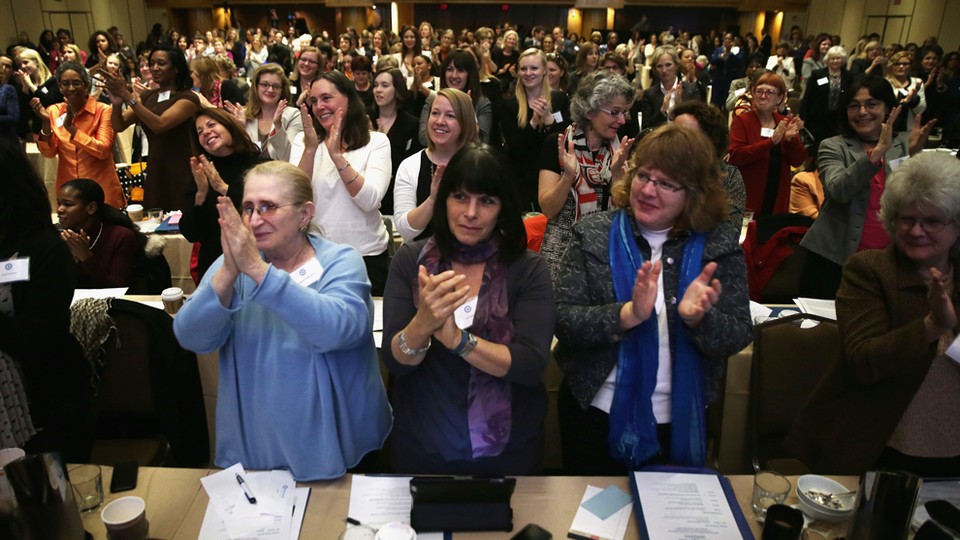 Socially liberal white-collar and single white women look like the fragile last line of defense for Democrats hoping to avoid a Republican sweep in next week's election, according to detailed results from a broad array of new polls.
For the third consecutive election, congressional Democrats are facing the prospect of a decisive rejection by most white voters, including not only white men but also white women who are either married or lack a college degree. But in surveys of both individual Senate races and national preferences on the generic congressional ballot, Democrats are showing stubborn strength with college-educated and single white women.
That performance—combined with preponderant leads among minority voters in almost all surveys—represents the Democrats' best chance of overcoming gaping deficits with the remainder of the white electorate in the key contests. Yet in a measure of the party's vulnerability, even that advantage rests on an unsteady foundation: National Pew Research Center and ABC/Washington Post polls conducted in October found that college-educated white women, though strongly preferring Democrats on issues relating to women's health, actually trust Republicans more on both managing the economy and safeguarding the nation's security.
Both the national surveys and recent polls in the key Senate races display strikingly consistent patterns of support that transcend state boundaries—and follow deep grooves of the parties' recent competition. They reinforce the portrait of a modern Democratic coalition that is demographically and geographically better positioned to compete for the White House than to consistently control majorities in Congress—and a Republican coalition that faces the opposite problem.
This year, Democrats continue to post big advantages among minority voters in both the national polling (where the Pew and ABC/Washington Post surveys each show them leading Republicans in the generic congressional ballot by just over 4-to-1) and the state surveys (where African-Americans are providing the party lopsided margins in Arkansas and North Carolina.) But minorities are relatively less numerous in many of the states that will decide Senate control.
With whites, the results are also following familiar patterns. One revealing way to analyze the preferences of white voters is to divide them into a quadrant of four groups that combines race and education: white men and women with and without a four-year college degree.
On Sunday, the NBC/Marist Poll released results in five hotly competitive Senate races: Arkansas, Colorado, Kansas, North Carolina, and Iowa. (NBC and the Marist College Institute for Public Opinion also surveyed South Dakota, but the poll found that Republicans have reestablished a wide lead there.)
In all five of those races, the Democratic (or in the case of Kansas, independent) candidate ran better, usually much better, with college-educated white women than with any of the three other groups of whites.
In the NBC/Marist Polls, Iowa Democratic nominee Bruce Braley led among those well-educated white women by 5 points; Sen. Kay Hagan led by 6 points in North Carolina; Sen. Mark Pryor by 7 points in Arkansas; independent Greg Orman by 21 points in Kansas; and Sen. Mark Udall, who has emphasized social issues probably more than any other Democrat, by a resounding 27 points in Colorado.
The latest University of New Hampshire poll showed Democratic Sen. Jeanne Shaheen holding a commanding 61-percent-to-28-percent advantage over Republican Scott Brown among college-educated white women. Quinnipiac University polls this month in Iowa and Colorado also recorded big advantages for Braley (25 percentage points) and Udall (16 points) with those women. "College-educated white women are Republicans' biggest hurdle in terms of white voters," says a top GOP strategist working on independent expenditure campaigns this year. "In those blue states, college white women are the equivalent of minority voters "¦ they are how the Democrats start their base. That's why you have seen such a focus, particularly in Colorado, with the war on women."
The latest national Pew and ABC News/Washington Post generic congressional ballot tests likewise show Democrats leading by 4 and 7 points, respectively, among these well-educated white women. If Democrats can maintain those margins, it would represent a significant improvement from 2010 when exit polls showed these women backed Republicans by 12 percentage points-and even a gain from 2012, when President Obama lost them by 6 percentage points, the party's weakest presidential showing with such women since 1988.
But in the latest national polling, and with only the most rare exceptions in the state polling, Democrats are trailing among the other three groups of whites—often by crushing margins.
White men without a college education, continuing their modern pattern, are stampeding toward the GOP again this year. They prefer Republicans by 20 points in the latest Pew generic test and 32 points in the ABC/WP measure, gaps that could widen further as the final undecided voters sort out. (These men backed the GOP by 31 points in both the 2010 congressional and 2012 presidential race, according to exit polls.) In the Senate races, the NBC/Marist Polls show these blue-collar men preferring the Republican nominee by 8 percentage points in Iowa (Joni Ernst), 13 points in Kansas (Sen. Pat Roberts), 18 points in Colorado (Rep. Cory Gardner), 35 points in Arkansas (Rep. Tom Cotton), and 39 points in North Carolina (state Rep. Thom Tillis); the UNH survey shows them backing former Sen. Scott Brown over Shaheen by 21 points in New Hampshire.
Democrats don't score better among white men with at least a four-year degree. They trail in the generic congressional ballot among them by 16 points in the Pew survey and 20 points in the ABC/Washington Post poll. (By comparison, these men preferred Republicans by 27 points in the 2010 congressional race and 21 points in the 2012 presidential contest, exit polls found.) While Orman leads among them by a statistically insignificant 45 percent to 44 percent in the NBC/Marist Poll, and the UNH survey shows Shaheen trailing with them only by 2 percentage points, the other Democrats face daunting deficits in this week's NBC/Marist Polls: these men prefer the Republican by 18 percentage points in Arkansas and Colorado, 21 points in Iowa, and 24 points in North Carolina.
The results also suggest the limits of the Democratic efforts to frame conservative GOP social positions as a "war on women." That argument continues to show modest progress at best among white women without a college education. These economically pressed voters sometimes described as waitress moms prefer Republicans by 19 points in the ABC/Washington Post generic ballot and 14 points in the Pew survey. (If Democrats can maintain that deficit, that would actually represent an improvement on 2010, when the exit poll showed these blue-collar white women preferring Republican congressional candidates by 28 points and 2012, when they backed Romney over Obama by 20 points.)
While Braley runs essentially even with these blue-collar women in the NBC/Marist survey, and slightly leads among them in the latest Quinnipiac Poll, the new NBC/Marist polls show that they prefer the Republican Senate nominee by 5 points in Kansas, 6 points in Arkansas, 19 points in Colorado, and 30 points in North Carolina; the UNH poll shows Brown leading with them by 25 points. "Honestly, it's not clear how much progress we are making with non-college white women," says one top Democratic pollster. "And when I say it's not clear, I mean its clear [we're not]."
Similar divisions among white women are evident when they are viewed by marital status. In the latest NBC/Marist surveys, Udall, Braley, Orman, and Pryor all hold double-digit advantages among single white women; only Hagan trails among them. But except for Orman, who runs essentially even, those other four candidates all trail among married white women, with deficits ranging from 5 points for Udall to fully 22 points for Hagan. (In all five races, Republicans lead among married men, usually by gaping margins. Single men mostly back the Republican in Arkansas, North Carolina, and Colorado and break slightly against him in Iowa and Kansas.)
The fissures among women are rooted in their attitudes on key issues. In the ABC/Washington Post survey, the noncollege white women say they trust Republicans over Democrats to handle the threat of ISIS by almost 3-to-1, to deal with immigration by more than 2-to-1, and to manage the economy by exactly 2-to-1. (Both college and noncollege white men also give the GOP big leads on those three issues, while minorities strongly prefer Democrats.)
In that survey, college-educated white women preferred Democrats on immigration, but tilted narrowly toward the GOP on the economy (46 percent to 39 percent) and decisively on the threat of terrorism (45 percent to 26 percent). In the Pew survey, college-educated white women, like their counterparts without a college degree, placed more trust in Republicans on all three issues.
But in both surveys, college-educated women were more likely than other whites to trust Democrats to defend the interests of people like them or the middle-class more broadly. Perhaps even more tellingly, in the ABC/Washington Post survey, college women preferred Democrats by 65 percent to 25 percent on "issues that are especially important to women," while the noncollege women split evenly between the parties on that question. That stark contrast captures both the power of social issues for Democrats with upscale white women-and their limits with the waitress moms.
In 2016, a strong performance among the growing populations of minorities and college-educated or single white women might be all Democrats need to hold the White House: Their support allowed Obama to win a relatively comfortable reelection in 2012 despite struggling among most other whites. But maintaining Senate control behind such a narrow coalition is a much stiffer challeng—especially when the road to a majority runs through so many interior states dominated by the older and blue-collar whites hardening in their alienation from the Democratic Party.