Save America's Small Businesses
Economically and socially disadvantaged firms are currently under pressure from all sides.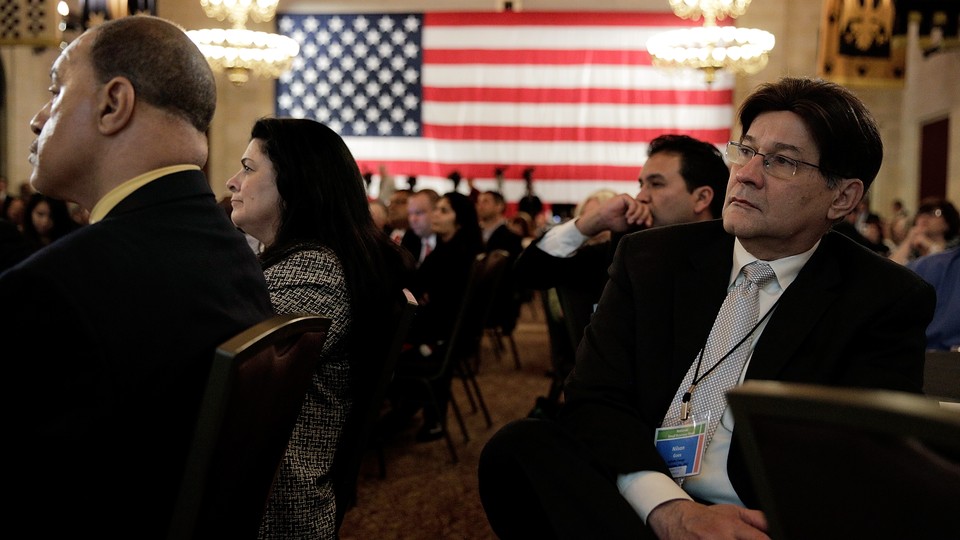 Our nation's growing economic inequality receives significant attention in public policy debates and in national media, with most people focusing on the labor side of economic inequality. To some degree, this makes sense when so many workers struggle to make ends meet.
But this focus ignores the fact that wealth in America is not usually created through wage labor but through building businesses. If we are to truly address economic inequality, we need to emphasize efforts to encourage and grow businesses. In particular, we need to do more to focus on businesses run by those who come from historically disadvantaged communities.
Since the 1950s, the federal Small Business Administration has worked to grow and strengthen small businesses, especially through the use of federal contracting opportunities. One of the key programs operated by the SBA is the 8(a) Business Development program. This program assists firms owned by individuals (and communities) that are determined to be both "economically and socially disadvantaged."
The program provides participants with resources to grow their business through professional counseling, and it provides a smaller pool of competitors for federal contracts. Firms can also receive negotiated direct awards to help grow and build past performance. This is designed to provide experience to these growing businesses so that at the end of the nine-year program, it creates more successful businesses that can compete in the marketplace.
The development program provides a strong opportunity for economically and socially disadvantaged individuals. The definition of "economic disadvantaged" is specific, but "socially disadvantaged" does allow some flexible consideration by the SBA. They key is that the individual meet not only the definition of being from a disadvantaged group, but that she herself is also economically disadvantaged. It does not guarantee success, but instead promotes entrepreneurship for individuals who are not typically represented in the 1 percent.
This would seem to be a win-win for the government: provide the proverbial hand up in exchange for goods and services. And the program has shown success. There are currently more than 5,000 firms in the program, and cumulative revenues for 8(a) firms totaled more than $30 billion. For fiscal 2013, the government significantly exceeded its statutorily mandated 5 percent goal for the 8(a) program. Contract revenue totaled 8.62 percent. This revenue helps the owners build wealth and create jobs simultaneously
However, a combination of legal cases and trends in the market, in addition to decisions made by Congress, are slowly threatening to undermine and potentially undo the program. As a result, the key program that aims to help small businesses owned by disadvantaged individuals may go the way of the dinosaurs and with it one tool to fight economic inequality.
Because overall dollars spent on contracting declined in 2013, the government spent more money on 8(a) contracts in fiscal 2012 than in 2013, despite a higher percentage last year. The cause of the decline in contract dollars is a confluence of factors, including focused efforts to spend more efficiently. However, the blunt tool known as sequestration is impacting government contractors, including small businesses. While the congressionally created policy zombie is temporarily detained, it could rise again with future budget battles on the horizon.
Fewer dollars to spend means small businesses face a tough road, and likely will see a declining pie of available small business dollars, even if the government meets its percentage based goals.
There are still larger threats to the bottom line than sequestration—and programs that support economically and socially disadvantaged businesses—in pending court cases.
Two years ago, the U.S. District Court for the District of Columbia ruled in DyanaLantic v. Department of Defense et. al that the 8(a) program was generally constitutional, but its use in a specific industry was unconstitutional. The court ruled that because the federal government did not prove that companies had experienced discrimination in that specific industry (military simulator manufacturing to be specific) use of the 8(a) program was unconstitutional.
Both the plaintiff and the government appealed that decision, but it eventually settled early this year. The settlement precludes use of the 8(a) program in the military simulator manufacturing industry "without articulating a strong basis for doing so."
Another case may have broader consequences on the program. Rothe Development Inc. v. Department of Defense and SBA, challenges the constitutionality of the entire 8(a) program. Rothe argues the racial component of the 8(a) program is unconstitutional because it prevents the company from competing with 8(a) firms on an equal basis, violating its equal protection rights. Unlike the DynaLantic ruling that ruled the program unconstitutional in a specific industry, Rothe challenges the entire program on its face. Rothe is being considered by the same court that considered DynaLantic.
The outcome of the case could have a profound impact on small-business goals for the federal government. The outcome could also impact and add to the discussion of economic inequality in the United States. If wealth is created through business ownership, and the government can no longer run the 8(a) program that specifically targets economically and socially disadvantaged businesses, its ability to address economic inequality is hindered.
The federal government is required to spend 23 percent of its contract budget on small businesses. It is required to spend 5 percent on economically and socially disadvantaged firms. In 2013, 8(a) contract revenue accounted for 8.6 percent of small business contract revenue. Given that 8(a) revenue accounted for one third of the small business contract spend, it is debatable if the government could meet its small business goal without the program.
Dennis Worden is legislative director for the Native American Contractors Association.