Running Against Obama, Republicans Positioned for Midterm Sweep
Most of the battleground Senate races are trending in the GOP's direction, while Democrats are playing defense in the House.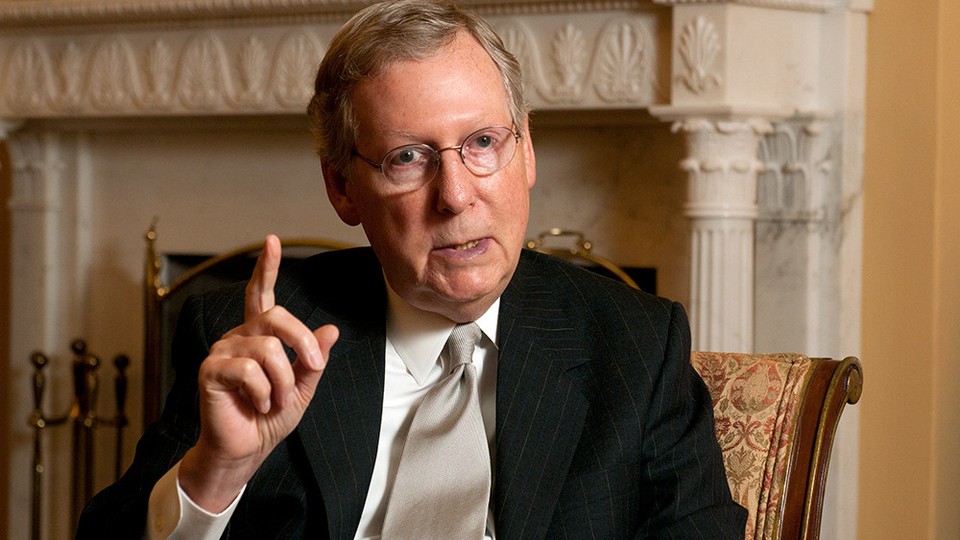 In baseball, not long ago, there was a long-standing feud between scouts and number-crunching sabermetricians. Baseball traditionalists resisted the influx of new thinking into the game, while the data gurus too often adopted a dogmatic position that numbers always trumped personal reporting and observation. It quickly became obvious that the most successful teams are the ones that utilized a hybrid model—the best in scouting and statistics—and the Moneyball war in baseball subsided.
That's not all that different from what's happening in politics, where armchair pundits and number-crunching congressional-race modelers frequently overhype the latest polls, while downplaying the broader environment. They're directly related. The leading fundamentals of an election—presidential approval, right track/wrong track, and the congressional generic ballot, among them—are like "park effects" in baseball. If a hitter is playing in the thin air of Denver's Coors Field, it's much easier to hit a home run. Likewise, in a political landscape where the president is deeply unpopular, it's much easier for the messages of the other party's challengers to resonate, even if they're running weaker campaigns.
In July, I wrote that the odds of a nationalized election were growing because of that worsening environment for Democrats. Back then, there were clear signs that the red-state races were tilting in the GOP's direction, while Republicans were running surprisingly strong campaigns in swing states. Those trends have only solidified since then. The national environment can change over time—few could have predicted a panic over Ebola in the summer, for example—but it was hard to see the issues dragging down the president and his party subsiding by the fall. Now, it's becoming likely that Republicans will win more than the six seats necessary to retake control of the Senate.
Throughout this election cycle, the Democrats have been dogged by the president's health care law. Dissatisfaction over Obamacare, compounded by its disastrous rollout, sent the president's approval ratings tumbling. They haven't recovered. The law's popularity hasn't improved since then, even with the administration delaying unpopular provisions until after the midterm elections. When Democratic senators spent time strategizing on how to inoculate themselves from their past support of the law instead of defending it, it was clear that this would long remain a vulnerability for the party. Indeed, despite conventional wisdom that health care has diminished as a top issue in the midterms, it's still (by far) the dominant theme in Republican congressional campaign ads, according to The Cook Political Report's Elizabeth Wilner. Not only does it mobilize angry Republican voters, but it persuades disaffected independents as well.
In the latest NBC News/Wall Street Journal poll, support for the health care law isn't far from its all-time low, with 36 percent supporting and 48 percent opposing (a whopping 43 percent opposing strongly). After the health care website debacle in December 2013, 34 percent supported and 50 percent opposed. Its potency as an issue isn't too far off from 2010, an election where Republicans made historic gains in the House. Before the 2010 midterms, 36 percent of voters listed health care as one of their top two issues. Now, it's at 30 percent, ranking below economic growth, partisan gridlock, and military action against ISIS—but still a potent campaign theme.
Over the summer, worsening foreign policy was also an issue that looked bound to get worse for Democrats, not better. Presidential speeches and promises can only do so much in combating the reality of terrorists gaining ground in the Middle East and Russian President Vladimir Putin making a land grab in eastern Ukraine. As George W. Bush learned in his presidency, when events turn bad overseas, it's rare that they improve quickly. President Obama is now talking about defeating ISIS in terms of decades, not months or years. The limited airstrikes in Iraq and Syria have only had a limited effect, with the terrorist group creeping closer to Baghdad despite the U.S efforts. As a result, the president's approval ratings on foreign policy and national security—a first-term strength—have dropped to at or near all-time lows, and haven't recovered much with his prime-time address.
All told, the cascading number of controversies and scandals in the president's second term has fed into the perception that this administration is out of its depth in doing its primary job: managing government. And that's not good for Democrats, both the party in power and the party associated with an activist federal government. The dominant theme in the campaign's final month is Democratic Senate candidates struggling to distance themselves from the president, from Arkansas Sen. Mark Pryor's awkward assessment of the president's handling of the Ebola crisis to Kentucky Senate candidate Alison Lundergan Grimes's refusal to discuss whom she voted for in the 2012 election.
Republicans now are positioned to net between six and nine Senate seats in the upcoming midterms, with the higher end looking more likely. Most of the battleground Senate contests are now either trending in a Republican direction or remaining stable with a GOP advantage. Trailing in the North Carolina Senate race throughout much of the fall, Republican Thom Tillis has lately put Sen. Kay Hagan on the defensive by connecting her to the president's management of the ISIS threat and the outbreak of Ebola. In Colorado, GOP Rep. Cory Gardner has led in all of the six public polls released in October, with leads ranging from 2 to 6 points. Early voting data out of Iowa is looking favorable for Republican Joni Ernst, consistent with public polls showing her with a small advantage. The Cook Political Report recently moved the New Hampshire race between Sen. Jeanne Shaheen and Republican Scott Brown into toss-up status, indicative of polling showing Shaheen still ahead but with a rapidly narrowing lead. Outside of Kansas, political analyst Stuart Rothenberg now has Republicans holding an edge in all the red-state races, reflecting a nationalized environment against the party in power.
Democrats are hoping to upend the rough environment in conservative states like Kansas, Georgia, and South Dakota. All those GOP-held seats feature Republican candidates who have run weak races. Thanks to effective ads targeting David Perdue's history of outsourcing (and his ham-handed responses to the attacks), Democrat Michelle Nunn holds the momentum in the Georgia Senate race, though it's still likely to head into a January runoff. A late Democratic investment in South Dakota is keeping the four-way race competitive, but GOP reinforcements should push former Republican Gov. Mike Rounds over the finish line. Even Sen. Pat Roberts of Kansas, who has run a dismal campaign, has gotten some late traction against independent candidate Greg Orman, thanks to a flurry of outside GOP involvement. In a neutral environment, Democrats would hold a good shot at an upset or two. But in a nationalized midterm, Republicans should catch breaks in states where the fundamentals favor them.
All the trend lines in the House favor Republicans, as well. The Democratic Congressional Campaign Committee pulled their advertising in races that were expected to be among their most winnable, including against Rep. Mike Coffman Colorado, Rep. Dan Benishek of Michigan, and Virginia Republican candidate Barbara Comstock—moving the money to protect blue-district incumbents. Outside Republican groups are now spending millions on solidly Democratic turf, including districts in New York, California, and Hawaii where Obama won by comfortable margins. One senior House Democratic official told National Journal that internal polling in Iowa shows Ernst leading Democratic Rep. Bruce Braley in all three of the state's battleground seats, making it challenging for downballot House candidates to put away winnable races—even in Iowa's Democratic-leaning districts.
Put it all together, and it paints the picture of a nationalized election favoring the GOP. Democrats are hyping their superior turnout efforts, a similar argument to what Republicans employed before losing the House and Senate in 2006—and not (yet) backed up by the early voting evidence. While even Republicans are avoiding premature talk of a "wave" election, those type of labels often become apparent after the fact.
With anxiety over Ebola running high, renewed fears of terrorism, and most Americans not feeling secure economically, it doesn't take much imagination to see how voters could decisively punish the governing party. Republicans nominated their strongest slate of Senate candidates in at least a decade, and are benefiting from the fickle public mood. When Democrats are relying on winning races they weren't even planning to contest in South Dakota and Kansas, it speaks volumes about the state of play two weeks before Election Day.