Republicans' Anger With the CDC
Lawmakers will grill Thomas Frieden over why the U.S. wasn't better prepared for Ebola.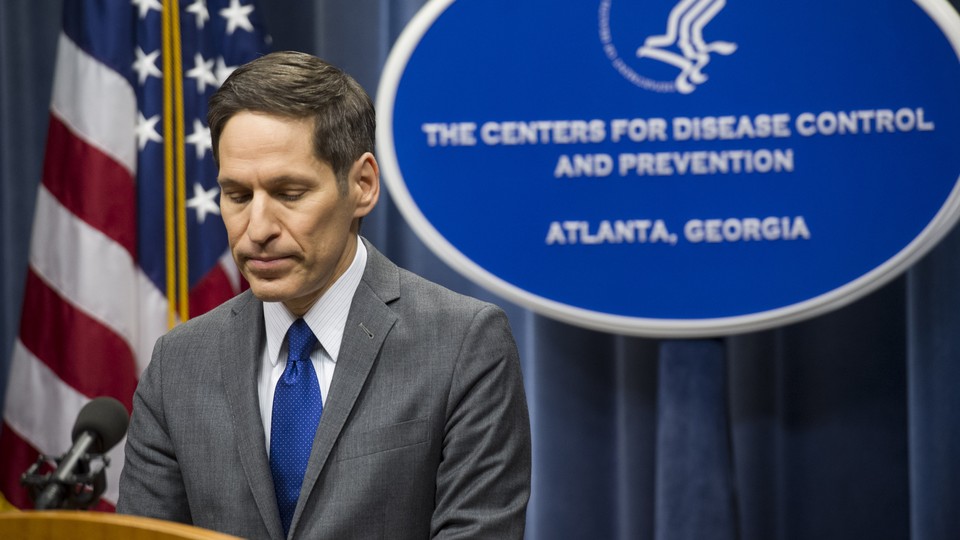 Dr. Thomas Frieden will take his turn under the congressional klieg lights on Thursday, as Republicans plan to grill the CDC director over his agency's flawed response to Ebola in the United States.
Lawmakers on the House Energy and Commerce Committee are briefly leaving the campaign trail to hold a hearing on the public health crisis that has quickly become a top issue in the midterm elections. President Obama is now facing growing calls from Republican officials and candidates to overrule Frieden and institute a commercial travel ban from the West African countries where the epidemic is centered.
Frieden, who has become the public face of the administration's response, will testify at the Capitol alongside several other federal and local officials, including Dr. Anthony Fauci, the longtime head of the National Institute of Allergy and Infectious Diseases. He has already acknowledged the CDC erred in not sending a team to Dallas immediately after the diagnosis earlier this month of Thomas Eric Duncan, who later became the first person to die of Ebola in the U.S. Two nurses who treated Duncan were infected, and it was disclosed on Wednesday that one of them—identified as Amber Joy Vinson, 29—boarded a commercial flight in Cleveland after recording a fever.
Among the likely questions Frieden will face is why CDC officials apparently told Vinson she could travel after she called the agency several times before getting on the flight. Frieden told reporters Wednesday that Vinson "should not have traveled" commercially and that from now on, the dozens of health workers who came in contact with Duncan will be restricted from travel.
He'll also have to answer for why the CDC's initial protocols for health workers were considerably less stringent than those employed by Doctors Without Borders, which has extensive experience treating Ebola in Africa.
Another major topic at the hearing is likely to be the question of a travel ban, which has become the policy change du jour for Republicans on the campaign call. GOP candidates in tight races in Iowa, Colorado, Arkansas, and elsewhere have called for the restriction, and House Speaker John Boehner on Wednesday night lent his voice to the movement by saying the change "is something the president should absolutely consider."
Frieden and Fauci have strongly opposed a ban, saying it would make it more difficult to get aid to the region. Their opposition puts Republicans in the position of essentially asking the president to ignore his commanders in the field.
The debate over the travel ban likely will draw the most attention from Republicans, but there is another question with increasingly more resonance: Why weren't hospitals better prepared for Ebola?