Rand Paul Unites the GOP. For a Day.
The Kentucky senator fused together two sides of his party in Virginia this week. But it'll be hard to keep it that way.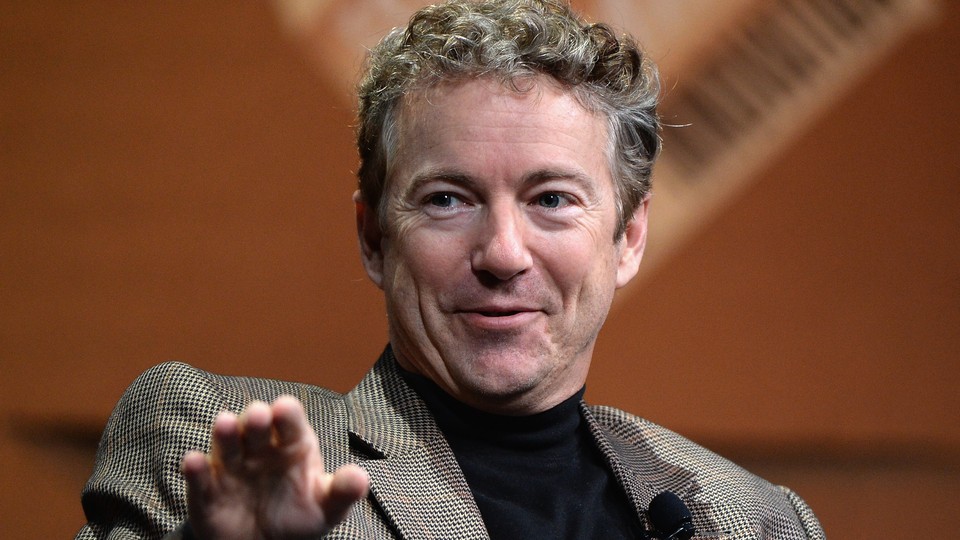 ASHLAND, VA.— The dream of 2010 is alive in Ashland, Va.
Wednesday was a dreary, overcast day in this Richmond suburb, pop. 7,200. Driving into town, you pass a Waffle House, a Motel 6, a handful of chain restaurants. It's the kind of town that a member of the D.C. media elite might call "sleepy."
But the mood inside the Hanover Arts and Activities Center on Wednesday afternoon was hardly somnambulant. A crowd of roughly 200 packed into the small auditorium to watch Sen. Rand Paul stump for fellow Republicans David Brat, who upset former House Majority Leader Eric Cantor in a primary, and Ed Gillespie, the veteran Republican operative who is trying to unseat Democratic Sen. Mark Warner.
By Paul's telling, the Kentucky senator is a Great Uniter of sorts—able to bring together fringey tea-party characters with Bush administration vets in one big, warm tent sheltered from the storm of party in-fighting.
Paul's speech on Wednesday dovetailed nicely with that idea. "I see unity, and I smell victory," he told the crowd. "Be a part of it."
And indeed, Brat and Gillespie looked unified—they even bro-hugged at one point.
"We told you this would be a rally!" Brat told the jubilant crowd.
Still, Brat and Gillespie make for an odd couple. Brat is a libertarian economics professor who's taught at a small college here for 18 years; Gillespie is a lifelong politico who worked in the Bush administration and was a lobbyist for Enron. They in many ways represent the two, uneasy wings of the Republican party that Paul is trying to line up behind him on his way toward a likely presidential bid.
In the speech that followed, Brat fired up the crowd with a fiery screed against the Obama administration that seemed straight out of the tea-party heyday of 2010. The crowd loved it. He said that, as the sole economist in the House, he would combine the messages of economics and ethics.
"That's been my life's work," Brat said. "I want to curb Congress's endless spending addiction."
Ashland is home to Randolph-Macon College—the fighting Yellow Jackets!—where Brat has taught economics since 1996. During the primary, the Cantor campaign tried to paint Brat as an egghead, liberal college professor. And that depiction worked, somewhat. One rally attendee, Robert Wait, said he voted for Cantor in the primary, but now supports Brat.
"Had we known what we knew after the election, we would have voted for him," Wait told National Journal.
Brat has said he's a libertarian—he once coauthored a paper titled "An Analysis of the Moral Foundations in Ayn Rand"—but is not a full Randian. Now, a literal Rand-ian is campaigning for him.
Paul has become a stalwart surrogate for Republicans across the board on the campaign trail. A senior strategist for the conservative U.S. Chamber of Commerce called Paul a "secret weapon" in 2014. Before the public event, Paul spoke with Brat at a smaller, better-dressed private event.
Having tasked himself with expanding his party's tent, Paul has zigzagged from the Values Voter Summit, to the University of California-Berkeley, to Ferguson, Mo., and now to suburban Virginia.
Paul continued his message of tent-embiggening on Wednesday. "If you are poor or you live in our cities, what has the president done for you?" He said the GOP needs to "become the party of compassion" by lessening drug sentences, to which he received polite applause.
But while more moderate voters may support Paul's views on prison reform and foreign policy, they may also be turned off by his views on cutting the budget and environmental regulations, as Jamie Weinstein wrote in the Daily Beast on Tuesday.
While Paul's narrative may be easy to digest in the midst of a campaign—"we're all friends here!"—it will be more difficult to prove once those disparate candidates take office. Simply put, philosophical differences matter.
That point may best be exemplified by Brat's own upset over Cantor—the first time a sitting majority leader was unseated since the creation of the office, 115 years ago—despite being outspent by Cantor by a factor of 12-to-1. Brat achieved victory by hammering Cantor as an Obama stooge on immigration and health care; he once wrote that Cantor was "the No. 1 cheerleader in Congress for amnesty." Cantor wasn't an immigration hard-liner, but he wasn't bosom buddies with immigration activists, either—he supported the House GOP's immigration principles, but he was a regular target for reform advocates.
Gillespie, by contrast, agrees that the U.S. needs to secure its border, but wants to create a system that gives illegal immigrants a path to legal residency—not citizenship. He also called the Gang of Eight bill (which would have provide a pathway to citizenship) the "right approach," but later said he would not have voted for it.
Len Van Haren-Tull wholeheartedly agrees with Brat. She has a hair salon in Ashland, and she's also a first-generation immigrant from the Netherlands. Van Haren-Tull said it took her family seven years to come to the U.S. legally, and said the government shouldn't reward undocumented immigrants with amnesty.
"I know what immigrants have to go through to get here, and I think it's an atrocity that our government wants to amnesty illegal aliens," Len Van-Haren Tull said. "I don't think that we should give them amnesty just because they slipped in."
Other attendees took an even harder line on immigration—"party of compassion" be damned. "We need to stop letting people in this country, period, until every person in this country is taken care of," Donnie Perry told National Journal. "There are too many people looking for jobs in America today. We're America. It should be America for Americans first."
If Gillespie and Brat were in a primary, instead of in separate races, Brat would probably pillory Gillespie's immigration stance. As it stands now, they are one big, happy, GOP family.
Brat will almost surely win his election, and not because of anything Rand Paul's done. Virginia's 7th Congressional District voted for Mitt Romney over President Obama in 2012, 57 percent to 42 percent.
Gillespie's electoral fate, meanwhile, is less rosy. Although Gillespie has worked in the periphery of politics for his entire career, this is his first time actually running for office. RealClearPolitics puts incumbent Mark Warner over Gillespie by 11 points.
Matt Martin, a senior at Randolph-Macon College, was an unexpected sight among the conservatively dressed crowd: he wore a Blink-182 T-shirt, a cluster of rubber bracelets on each arm, and had EMO FOREVER written in Sharpie on one toe of his black Converse All-Star sneakers. Martin supported Brat in the primary, though he hasn't had him as a professor ("not a big fan of economics," Martin explained).
Martin said he likes Paul's unifying message, but isn't sold on it. He said he'd like to see Wisconsin Gov. Scott Walker run for president in 2016.
"I feel that he's a middleman between the Republican establishment and the tea party, because that's what screwed us up last time," Martin told National Journal. "The establishment people don't like Rand Paul, and the tea party won't like Jeb Bush. I think Scott Walker is the guy who can do it."
And so Paul will continue his zigzagging tour across the country, trying to change the minds of people like Martin, playing the Great Uniter and winning recruits.