Rand Paul Touts Tillis in New Ad From U.S. Chamber of Commerce
The Kentucky senator endorsed Tillis's opponent in the GOP primary, but now has cut an ad on his behalf for the chamber.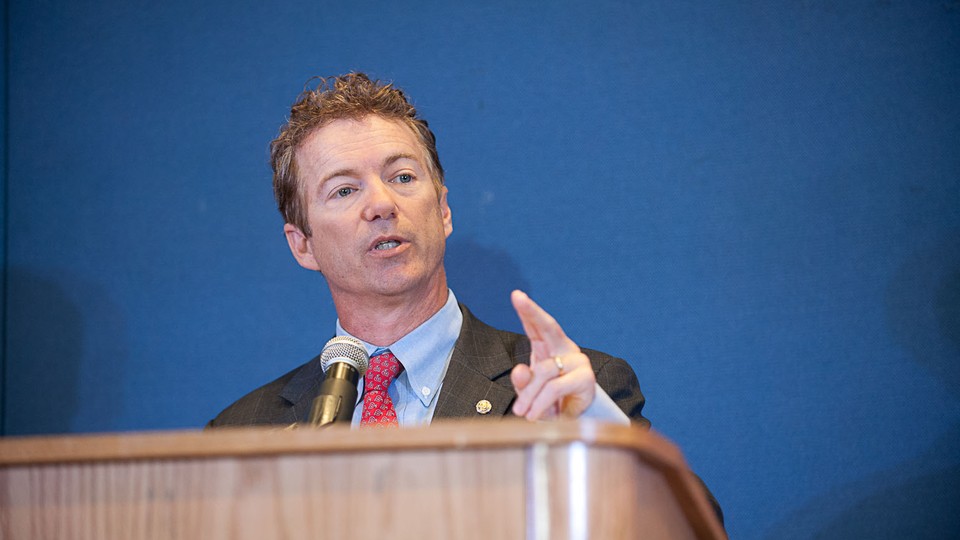 Sen. Rand Paul may have endorsed Thom Tillis's opponent in the GOP North Carolina Senate primary, but now the Kentucky Republican is going to bat for Tillis in a new ad from the U.S. Chamber of Commerce.
The ad, part of a six-figure buy and shared early with National Journal, features Paul facing the camera and saying that Democratic incumbent Kay Hagan's actions "bother" him.
"As a physician and a senator, it bothers me that Kay Hagan doesn't think you're smart enough to choose your doctor," Paul says in the ad. "Show Kay Hagan you're smart enough to choose your doctor and your senator."
The new ad is Paul's latest for the chamber; all so far have been focused on helping GOP Senate candidates avoid losing votes to Libertarian candidates in highly competitive races. In North Carolina, Libertarian pizza deliveryman Sean Haugh is polling just high enough in matchups of the race that, should he continue to gain support, he could potentially hurt Tillis's chances of ousting Hagan.
Paul doesn't offer up any specific praise of or comments about Tillis in the 15-second ad—but as he speaks, a photo of Tillis comes on screen, with text that says, "Vote for Thom Tillis."
The Chamber of Commerce endorsed Tillis's Senate bid this spring, during the GOP primary, and went to bat for him against fellow GOP candidates Greg Brannon and Mark Harris. The chamber, along with a handful of other outside groups, is often credited with helping Tillis reach the 40-percent threshold necessary to avoid a runoff.
And although Paul endorsed and campaigned for Brannon, a fellow physician and tea-party-aligned candidate in the primary, this is not Paul's first postprimary foray into the North Carolina race: Paul went to the state earlier this month to campaign for Tillis.