Pro-Choice Group Warns: If Cory Gardner Wins, Young Men Will Need to Stock Up on Condoms
NARAL is making the pitch to Colorado's young men that a Republican win would disrupt their sex lives.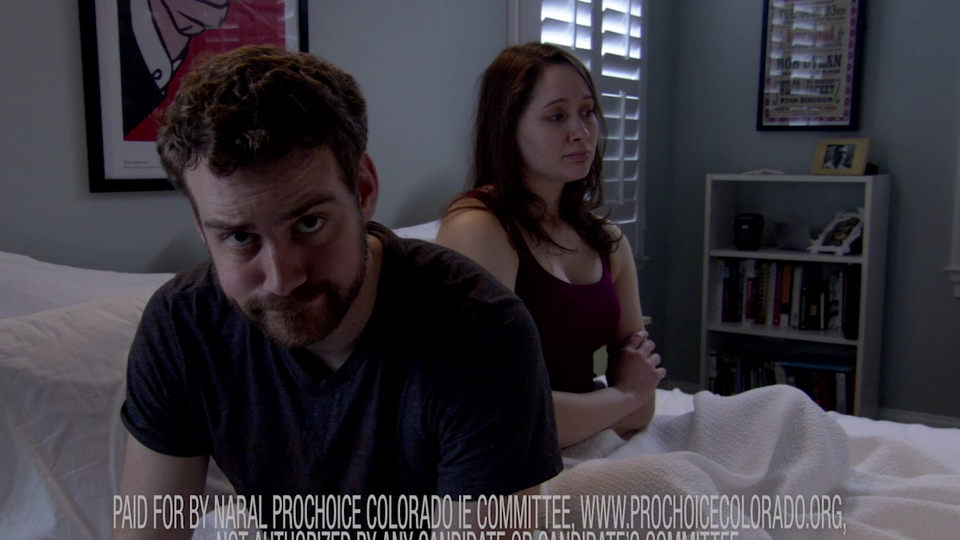 So far in Colorado's tight Senate race, it's women who have been the primary target of an unprecedented barrage of political ads, most of which warn them that if Republican Rep. Cory Gardner is elected, he will interfere with their access to contraception. But one pro-choice group wants to remind young people who the real victims of Gardner's policies would be: young men.
NARAL Pro-Choice America is launching a $450,000 ad campaign targeting young male voters with ads suggesting—despite there being no actual reason to think this would happen—that a Gardner victory would lead to condom shortages and thus complicate their sex lives.
"Guys, guys, guys—if Cory Gardner gets his way, you better stock up on condemns," a female narrator says in the group's TV ad. A young man is shown frantically searching through empty wrappers for a new condemn while his female partner looks on disappointingly from the bed.
Gardner's campaign has been under relentless fire from Democrats who criticize him for previously supporting a state personhood bill, which would outlaw access to some forms of birth control. Gardner's name is still on federal bill that seeks a similar effect.
Democrats are hoping to repeat a strategy they've used in previous years in Colorado, relying on their candidate's advantage among women voters to put them over the edge. But in Sen. Mark Udall's increasingly close race, recent polls have shown that lead getting smaller, while Gardner has taken an even greater advantage among male voters. Udall's focus on women's health issues has even backfired in some cases, drawing criticism from The Denver Post's editorial board, and earning him the moniker "Mark Uterus."
For his part, Gardner says he fully supports women's access to birth control. Gardner argued in one debate that he used to pick up his wife's prescription, and he's open about the fact that their first child was born before they were married. Midway through his campaign, Gardner doubled down on that point by unveiling a plan to offer birth control over the counter, which he said would increase access.
Democrats and national women's health groups have been quick to criticize the plan as a cop-out, saying it would actually raise the cost of birth control if it were no longer covered by insurance.
But NARAL's ads go a step further, suggesting that Gardner would ban birth control all together, something his campaign has insisted isn't true.
"They're all out," a man says in NARAL's radio ad. "How did this happen?" a women asks. "Cory Gardner banned birth control, and now it's all on us guys, you can't find a condemn anywhere." The man in the ad then launches into a series of other attacks aimed at young voters, such as Gardner's stance on Pell grants and climate change.