President Obama Really Wants the Kids to Like Him
In an editorial on the country's economic future on Medium, the president speaks directly to young people. Is he worried about his legacy?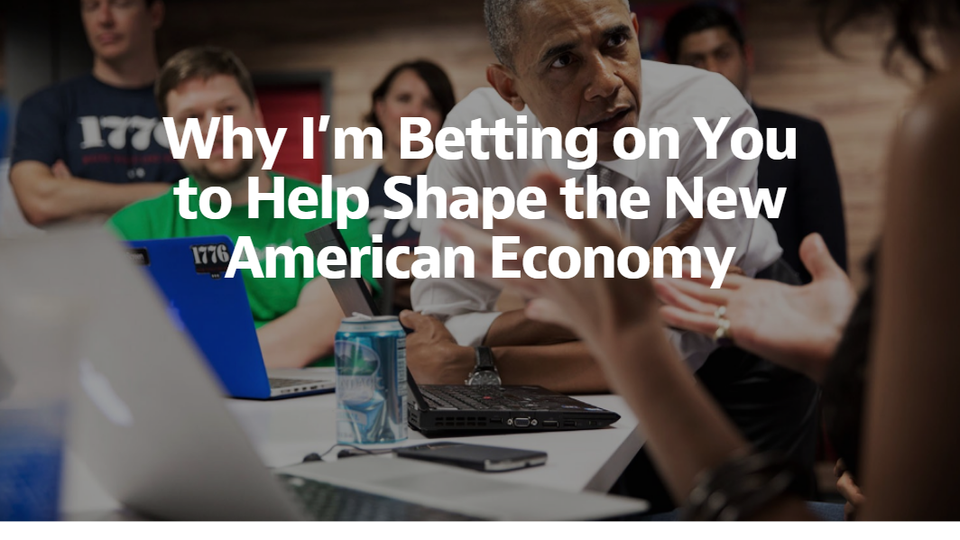 Earlier this month, President Obama spoke at Northwestern University, telling the student-heavy audience, "It is young people like you, and universities like this, that will shape America's economy and set the conditions for middle-class growth in the 21st century." He went on to discuss the benefits of his health care law for young people, how he'd like to do more for "young families" to "buy that first home," and how investing in job training will "help a whole lot of young people breathe easier."
It feels nice to be complimented by the president. And maybe that's Obama's tactic for ensuring a positive legacy. The president continued in this vein Thursday, touting the promise of the youth in an editorial on Medium, a web journalism start-up (which, like its many competitors, is targeting a new generation of reader: millennials). The post is titled, "Why I'm Betting on You to Help Shape the New American Economy," and it's brazenly (perhaps a bit patronizingly) optimistic about American 20-somethings.
Obama writes:
You may have graduated into the worst recession since the Great Depression, but today"Š—"Šfor all the challenges you've already faced, and after all the grueling work it's taken to bounce back"Š—"Šyou're in the best position to break into the newest sectors of the new American economy.
As in the Northwestern speech, Obama doesn't write much about specific new initiatives. More so, he reiterates what he has done, and points toward recent progress in the American economy. "Think about this," he writes in the op-ed. "Last month, our businesses created 236,000 new jobs. Over the past 55 months, they've created 10.3 million new jobs."
He's not writing about the future as though he will continue to change it. He's writing about how he already has. This has always been Obama's comfort zone: hope for the future. And it's easy to see why an embattled president would want to (re-)endear himself with youth. It's the young people who will ensure his legacy (for good or for bad). Just as some baby boomers gush over the leadership of JFK, Obama may want today's young people to be left with a good impression of him.
But will the economy and health care be what young people remember most about his presidency? Considering NSA leaks, conflict in the Middle East, and numerous bureaucratic scandals, that's a tough call.