'Of No Party or Clique' at The Atlantic
The big-tent principle applied to a former U.S. senator and a current U.S. adversary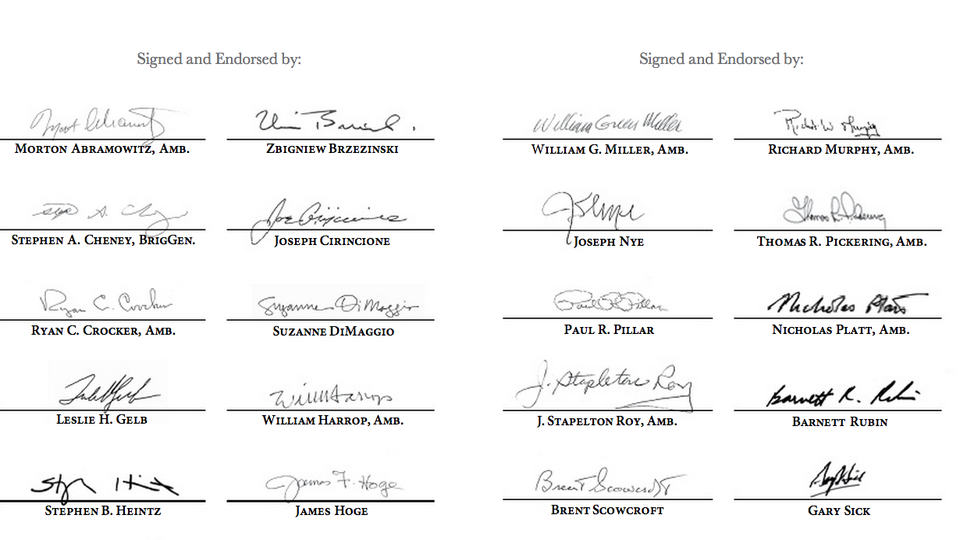 "Of no party or clique" was the founding motto of our magazine, 157 years ago next month. In practice this mainly means that we should aspire to present each article or argument on its merits, and not as expressions of some other agenda. (Though of course we all have our larger worldviews, blind spots, favorites, etc.) Sometimes it means there are disagreements in the arguments presented in our pages or on this site.
For the record I want to note two recent disagreements, one about a journalistic tone and one about a diplomatic goal.
1) Gary Hart. Last week I wrote that I found Matt Bai's All the Truth Is Out to be valuable and worth reading in full, perhaps especially if you'd read the interesting but not-quite-representative excerpt in the NYT Magazine. The book as a whole considers the real career, achievements, and, yes, "character" of former senator and presidential candidate Gary Hart, including his original and decades-long work as a defense reformer—and it contrasts that with the smirking shorthand of press references to Hart as a man forced out of politics because of Monkey Business.
Yesterday The Atlantic ran a short news item about Hart that demonstrated the smirking shorthand tone. Indeed, I thought the item had little point except as an occasion to mention Hart this way—that is, it probably wouldn't have been written if some other former senator was going on a diplomatic mission. It began:
Gary Hart hasn't made a whole lot of headlines in the quarter-century since the outing of his extramarital affair cost him a shot at the presidency and, arguably, changed American politics forever.

But less than a month after a new book thrust him back into the news, Hart has a new job, and it comes courtesy of a fellow member of the semi-exclusive club of presidential losers, John Kerry.
This is just too easy, and there's just too much of it in political media. I'm sorry that we added to the supply. Before you ask, I have discussed this with the item's author, Russell Berman, and I know that he never meant to leave the impression I am talking about. But that's all the more reason to note it in public, as an illustration of the tone we often take by reflex, without meaning to or thinking about it—and because we are talking about real people.*
2) Iran. Over the past month, David Frum has written several articles warning that the U.S. is being tricked or lured into a bad nuclear deal with Iran. Notably "Why Is the U.S. Yielding to Iran Now?" and "How Iran Scammed America Out of a Nuclear Deal." He also published a reader's response here.
My view all along has been more or less the opposite: that the greatest opportunity for the United States is re-integrating Iran into normal international relations, and the greatest risks for American interests and the world would come from Iran's continued isolation under extremist leaders. For background: Ten years ago I argued in a cover story that a military "solution" to Iran's nuclear ambitions was a fantasy. It hasn't gotten any more realistic since then. Last year I wrote about the ways in which re-integrating Iran resembles and differs from the Nixon-era accommodation with China. Because it's relevant to the Iran question, I should also mention that David Frum is generally credited with having come up with the line calling Iraq, Iran, and North Korea the "axis of evil" in George W. Bush's State of the Union Speech in 2002. On the 10th anniversary of the speech, Frum wrote that the phrase stood up well.
By all means read these latest pieces by Frum. Then please consider this detailed report by "The Iran Project," which argues (as I would) that the risk/reward calculation of long-term dealings with Iran favors more active attempts at engagement.
The people running The Iran Project are about as august a group of experts as you could find, largely former ambassadors or security advisors from both Republican and Democratic administrations. The image at the top is a screen-grab of a signature page showing some of their names. One member of the panel, longtime CIA official Paul Pillar, has explained its implications this way:
A premise of the report is that a successful nuclear agreement, by resolving the issue that has so heavily dominated for years the U.S.-Iranian relationship in particular, is likely to have other repercussions in the Middle East. This is partly because it would open up opportunities in the U.S.-Iranian relationship itself to address other problems of mutual concern. It is also because, given the importance of the United States to many states in the region, there are apt to be secondary effects involving the relations of those states with Iran.
Robert Hunter, a former U.S. ambassador to NATO (and a colleague and friend of mine back in the Carter administration days), made a similar case as negotiations neared a deadline this summer, in "The Hopes and Fears of an Agreement With Iran."
Read them all, decide for yourself, and remember the big-tent spirit we aspire to here.
---
* For some reason, this old standard comes to mind: "Though boys throw stones at frogs in sport, yet the frogs do not die in sport but in earnest."