Obama's Latest Headache: Israel and 'Chicken Dot-Dot-Dot-Dot'
White House official's reported rant against Netanyahu adds to administration's problems.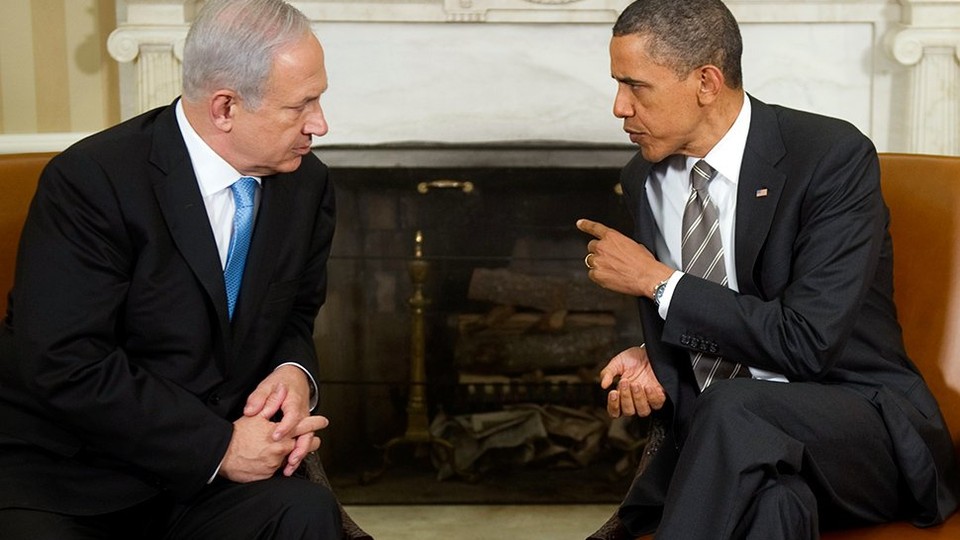 The colorful flap over U.S. relations with Israel that exploded on the scene Wednesday is the latest proof that, only six days before the crucial midterm elections, President Obama's luck keeps getting worse and worse. This fresh clash between Washington and Tel Aviv is very bad news for Democrats who already were limping toward Election Day under the tattered banner of an unpopular president.
It is bad news not because it uncovers a dysfunctional relationship between the president and Israeli Prime Minister Benjamin Netanyahu. We already knew about that. And not because American Jews side with Netanyahu against Obama on the question of Israeli settlements in the disputed territories. Most of them don't, polls suggest. And not because Jewish voters hold the key to the closest races being contested. Those races are in states with an insignificant Jewish vote.
It is bad news because it feeds the Republican narrative that the president has lost control of his administration, that we as a country have lost control of events, and that no one is at the national rudder as we drift from crisis to crisis. That is why House Speaker John Boehner pounced quickly after the firestorm was ignited in an article by Jeffrey Goldberg, national correspondent for The Atlantic. Boehner didn't talk about settlements policy in his statement. Instead, he focused on broader themes that match GOP attacks in this campaign, even reviving the long-discredited Republican talking point of an Obama "apology tour."
"When the president discusses Israel and Iran," stated Boehner, "it is sometimes hard to tell who he thinks is America's friend and who he thinks is America's enemy. ... Over the last several months, I have watched the administration insult ally after ally. I am tired of the administration's apology tour. The president sets the tone for his administration. He either condones the profanity and disrespect used by the most senior members of his administration, or he does not. It is time for him to get his house in order and tell the people that can't muster professionalism that it is time to move on."
No one doubts that it really was a senior administration official targeting Netanyahu. Even White House press secretary Josh Earnest praised Goldberg as a "very well-respected journalist" and "somebody that has a lot of sources inside the administration." And no one at the White House has made much effort in the last five years to deny the many reports of personal friction between the two leaders. Their occasional efforts to call each other "Bibi" and "Barack" have never covered their obvious disdain for each other.
But it is Obama's bad luck that the comments reported by Goldberg were so colorful and so memorable that even voters who know nothing about settlement policy and don't follow the often-convoluted peace process will remember that this White House used a barnyard epithet to insult an allied leader. The offending remark was in the opening to Goldberg's article. He attributes to "a senior administration official" the comment, "The thing about Bibi is, he's a chickenshit."
While Earnest joked that it is often his job to take chickenshit and turn "it into chicken salad," never before has that term come so close to being voiced openly at a White House briefing. Darlene Superville of the Associated Press asked about "chicken dot-dot-dot-dot." CNN's Jim Acosta followed up with a query on "that comment that rhymes with chicken split." Less scatological but just as damaging, CBS' Major Garrett grilled Earnest about the other descriptions of Netanyahu attributed to Obama policymakers—"recalcitrant, myopic, reactionary, obtuse, blustering, pompous."
Obama certainly is not the first U.S. president to clash with an Israeli leader. Dwight Eisenhower and John F. Kennedy clashed with David Ben-Gurion; Lyndon Johnson had disputes with Levi Eshkol; Richard Nixon and Golda Meir had their disagreements; Jimmy Carter and Menachem Begin were furious at each other; every president since Carter has challenged Israel's settlements policy; and Bill Clinton was often livid at Netanyahu during his first stint as prime minister. But the Obama-Netanyahu sideshow has played out unusually publicly, with neither man making much effort to hide the friction. As Mitchell Bard, director of the nonprofit American-Israeli Cooperative Enterprise, told National Journal this year, "They despise each other."
That has been well known. But it hasn't meant much in American domestic politics. Obama won the Jewish vote 69-30 over Mitt Romney in 2012, down a little bit from his 78-22 margin over John McCain in 2008. The fact is that Israel is not the top voting issue for American Jews; the U.S. economy and social issues have been more salient. Making the link between Israel policy and this year's election more tenuous is the fact that there is no Senate race in the six states where 70 percent of American Jews live—New York, California, Florida, New Jersey, Pennsylvania, and Massachusetts. The states with the closest Senate races have only a negligible Jewish vote, topped by Colorado with a meager 1.8 percent of the electorate, Georgia with 1.3 percent, and Virginia with 1.2 percent. No other state with a contested Senate race has even 1 percent of a Jewish electorate.
The danger in these states is that Jewish and non-Jewish voters alike could turned off by such undiplomatic talk and reminded that things generally are off track. Voters in Iowa, Arkansas, and North Carolina may not know much about Israeli settlement policies. But these are, after all, big poultry states. So they do know a lot about chicken-dot-dot-dot-dot.