Obama's Gitmo Provocation?
Shuttering the terrorist detention center despite an explicit congressional ban would be the president's boldest move yet.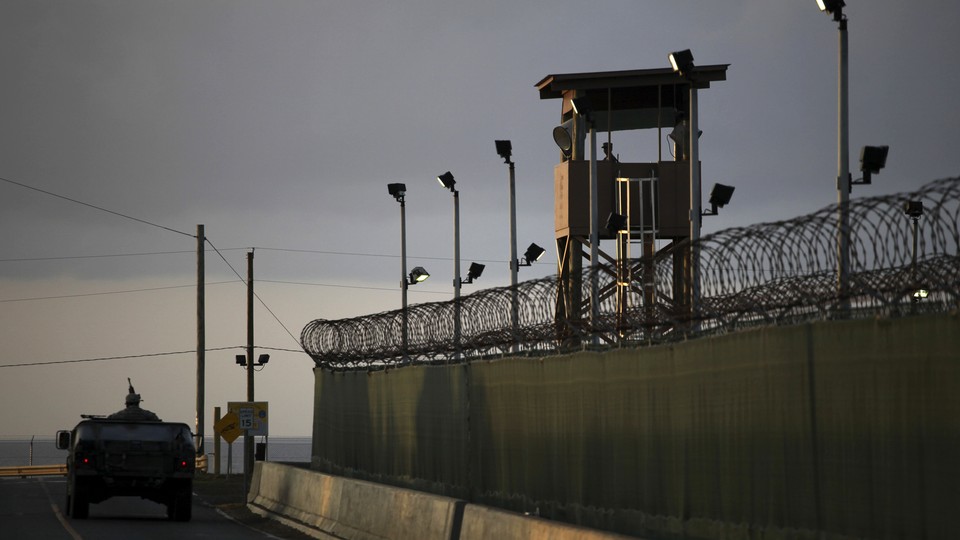 It didn't take long for Speaker John Boehner to decry a new report that President Obama might override a congressional ban and close the terrorist detention center at Guantanamo Bay, Cuba.
The Ohio Republican said the possible move, reported Friday in The Wall Street Journal, would extend the Obama administration's "legacy of lawlessness," and he stopped just shy of threatening to impeach the president if he went forward with it. One of the Senate's most vulnerable Republicans, Pat Roberts of Kansas, vowed to "shut down the Senate" if Obama defied Congress.
It was a predictable campaign-season response to a puzzling suggestion.
With his agenda stalled in Congress, Obama has made it clear he intends to go around Capitol Hill however he legally can. Republicans say he crossed the constitutional threshold long ago and are preparing to sue him for unilaterally delaying the implementation of his healthcare law without congressional approval. And both parties are girding for a bare-knuckle fight if and when Obama follows through on his promise to take executive action that would grant legal status to potentially millions of undocumented immigrants.
Still, a move to close Gitmo and transfer many of its remaining detainees to prisons on U.S. soil would, by far, be the president's most provocative act yet.
Whereas most of Obama's other executive came in response to legislative inaction, the president would have to defy an explicit congressional ban on prisoner transfers. The Journal said the president might either veto the annual National Defense Authorization Act expected to pass in December, or he could sign the bill while objecting in writing to its provisions blocking the transfer of Gitmo detainees.
Obama has issued signing statements on the issue previously, in 2010, when he argued that the Gitmo provisions infringement on his executive-branch authority as commander in chief.
But he has never actually flouted the law by sending prisoners to the U.S. Instead, he has continued to reduce the detainee count in Guantanamo by getting foreign governments to take them off his hands and, in the most controversial case, by exchanging five Taliban prisoners for the release of Sergeant Bowe Bergdahl earlier this year.
The White House was incredulous on Friday, essentially saying it had no idea where The Journal report came from.
"We do not know what new press reports are referring to when they say the administration is 'drafting options' intended to 'override a congressional ban,'" Caitlyn Hayden, a spokeswoman for the National Security Council, said in a statement. "It remains true that we continue to object to congressional restrictions, as we've made clear many times, including in our Statement of Administration Policy on the House-passed National Defense Authorization Act."
"The president has been clear about the administration's strategy with respect to Guantanamo Bay. To the greatest extent possible and consistent with our national security interests, detainees will be repatriated or resettled, or prosecuted in federal courts or military commission proceedings."
The failure to close Gitmo is Obama's original broken promise.
He signed an executive order immediately upon taking office in 2009 pledging to shutter the facility within a year. Nearly seven years later, the detention center remains open, but it is one issue where Republicans hardly deserve the lion's share of the blame for obstruction.
Congressional Democrats have raised objections on political grounds for years, and the original law banning detainee transfers to the U.S. passed the House in the waning days of Nancy Pelosi's speakership.
It was this point that Boehner hit most emphatically on Friday, as he noted that "bipartisan majorities in the House and Senate oppose importing the terrorists imprisoned at Guantanamo Bay into the United States."
"While Republicans stand united against this ploy, each and every Democrat should make their position known.  Do they support the president's maneuver to override a bipartisan law, thumb his nose at the American people and the Constitution, and bring these terrorists to U.S. soil?  Or do they stand with the American people and oppose this dangerous plan?"
The speaker's comment, coming weeks before a congressional election, is politically laced. But the answer is the clearest reason why Obama is unlikely to send dozens of detainees from Cuba to U.S. soil. Unlike many of his other executive actions, he may not have his entire party behind him.