Obama's Climate Diplomat Explains What a Paris Emissions Deal Should Look Like
State Department climate envoy Todd Stern describes and defends the U.S. vision of a new global pact.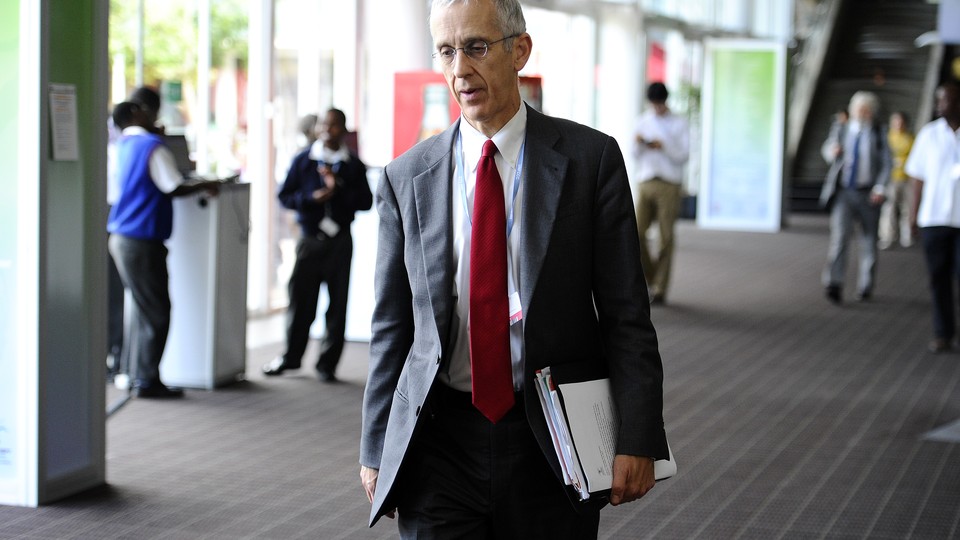 The State Department's top negotiator on climate change outlined on Tuesday the U.S. negotiating stance heading into the final year of talks over a new international global-warming agreement.
In remarks at Yale University, Todd Stern described and defended a proposal in which nations' pledges to curb emissions would not be legally binding—but other aspects of the deal would be.
The comments arrive ahead of the next round of United Nations climate talks in December in Lima, Peru. Negotiators hope to reach a final deal at make-or-break talks in Paris in late 2015.
Stern said the "most interesting proposal" floating around now is a plan from New Zealand officials "under which there would be a legally binding obligation to submit what they call a schedule, but basically your commitment, for reducing emissions, plus various legally binding provisions for accounting, reporting, review, a periodic updating of the schedules, and so forth."
"But the content of the schedule, of the commitment itself, in the New Zealand proposal would not be legally binding at an international level," said Stern, the State Department's special envoy for climate change.
He also added what else the U.S. believes should be included in the structure.
"We have also suggested that a country might buttress the force of its submission by including a description of the domestic, legally binding measures that will be used to help meet the stated goal," Stern said, arguing that it's important for countries to make clear which specific policies will be used to meet their emissions targets.
Several years ago, the U.S. vowed to cut its emissions by 17 percent below 2005 levels by 2020. The U.S. and other nations are preparing to offer post-2020 emissions pledges to the talks during the first quarter of 2015.
His remarks about this emerging hybrid system—a pact with some kind of binding element but that doesn't impose emissions mandates on nations—underscore the intricate task that negotiators face.
The talks are aimed at crafting a plan that can win buy-in from big developing nations that did not face obligations under the 1997 Kyoto Protocol—including China and India, the world's largest and third-largest carbon emitters, respectively. The U.S. never joined the Kyoto treaty.
In addition, a new formal treaty would be dead on arrival in the U.S. Senate for the foreseeable future, so many observers expect the talks, if they succeed, to yield some kind of pact that would not need formal U.S. ratification. Stern's remarks, however, did not address that topic.
Stern defended the idea of a pact in which nations' pledges to cut or slow emissions would not themselves be binding against charges that it would be too weak. Instead, he argued that countries' ambition would shrink if their hands were tied.
"Many countries, if forced to put forward legally binding commitments at the international level, are inevitably going to lowball their commitment out of fear—anxiety about what it means for their commitment to be internationally legally binding," he said.
Stern also said that it's important for nations to offer emissions pledges that are "unconditional," that is, are not reliant on getting financing or on what other countries do. "A commitment that is entirely conditional is not really a commitment at all," he said.
Negotiators hope to have the architecture of the pact done well in advance of the Paris conference.
United Nations climate chief Christiana Figueres said recently that one of the lessons drawn from fractious talks in Copenhagen five years ago is that it's "really stupid to put 300 pages in front of presidents at the last minute and give them a red pen."
She told the Montreal Council on Foreign Relations late last month that she wants the "cleanest possible draft text" available for governments by April 15.
U.S. officials have argued that President Obama's stepped-up second-term work on climate change, including upcoming Environmental Protection Agency regulations to cut power-plant emissions, will help provide leverage heading into Paris.
"It gives us a level of credibility, and it gives us a level of leverage that we have not had in the time I have been here," Stern said.