Obama and the Democratic Governors
The Democrats' Senate contenders don't want anything to do with the president, but statehouse candidates are rolling out the welcome mat.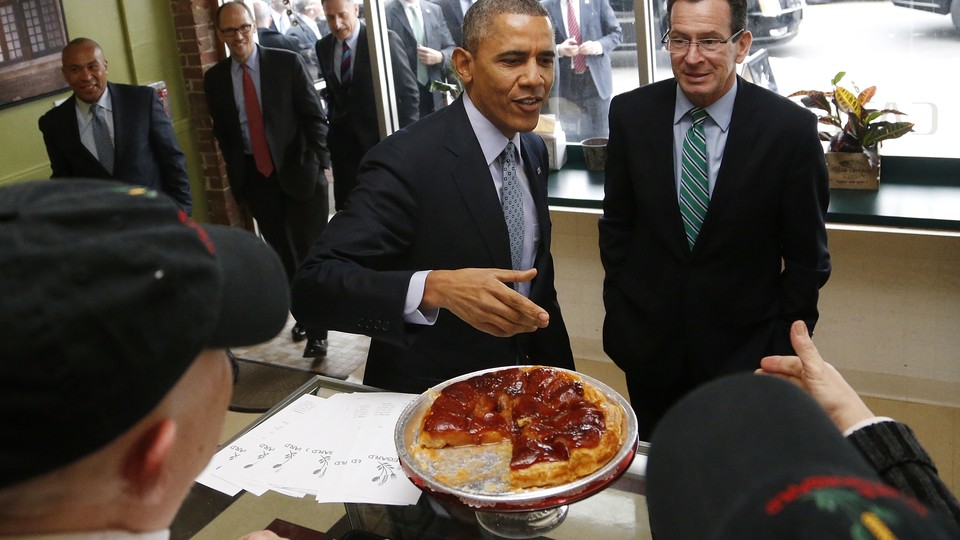 When it comes to campaigning for their party's candidates, presidents usually go where they're wanted. For President Obama, that means shoring up Democratic governors in blue states in the final weeks before the November elections.
The White House on Wednesday announced seven states where Obama plans to stump this fall, and the list is long on governors and notably short on Democratic Senate and House contenders.
Yet while the party's struggle to hold onto the Senate has drawn the most attention in 2014, incumbent governors across the country—and in both parties—are equally endangered. Obama therefore plans to campaign in Connecticut with Governor Dannel Malloy, who is running nearly neck-and-neck with his Republican challenger, Tom Foley. And the president will seek to boost another vulnerable blue-state incumbent in Illinois, Pat Quinn.
Obama also will appear with Democratic gubernatorial challengers Mary Burke in Wisconsin and Tom Wolf in Pennsylvania. Burke is battling Governor Scott Walker in a tight race, while Wolf is running well ahead of Governor Tom Corbett, who could lose in a blow-out. All told the seven states where the president will appear—Connecticut, Pennsylvania, Wisconsin, Illinois, Maryland, Michigan, and Maine—are ones he carried in 2012. Of those, the only Senate candidate with whom Obama plans to campaign is Gary Peters in Michigan, who is narrowly leading Republican Terri Land, according to polling averages.
The states are safe choices for a president with an approval rating that touched 40 percent on Wednesday. And it's not as if Democratic Senate hopefuls in red states like Arkansas, Kentucky, Georgia, or Alaska are clamoring for a photo-op with Obama. (At least one of them won't even say whether she voted for the president.)
Still, as Matthew Yglesias pointed out at Vox, state and local races can be just as important as congressional ones. That's even more true in the age of the Affordable Care Act, where states can choose whether to participate in an expansion of Medicaid or whether to set up their own insurance exchanges. Democrats didn't quite realize it at the time, but the election in 2010 of conservative Republican governors like Corbett in Pennsylvania, Walker in Wisconsin, and Paul LePage in Maine meant that the number of Americans who quickly gained access to health insurance was much less than initially projected because they blocked the Medicaid expansion. Under political pressure, Corbett has since come around, but Walker and LePage have resisted the expansion.
So although he can't be much help in the Senate battlegrounds down south, the legacy-minded Obama is wisely keeping a close eye on the statehouses farther to the north.