Standing Up for Ebola Health Workers
President Obama took on Chris Christie's quarantine response and said the U.S. must keep up the fight in West Africa.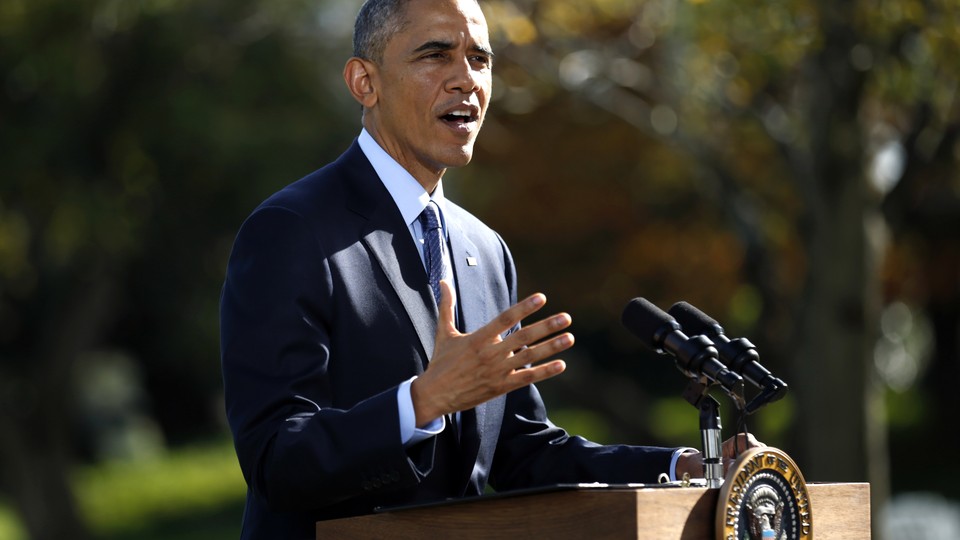 President Obama never mentioned Chris Christie's name during his brief update on the government's Ebola response on Tuesday afternoon. He didn't need to.
To anyone who has followed the shadowboxing between federal officials and the governor of New Jersey over the last several days, it was clear to whom Obama was referring when he spoke up repeatedly in defense of health workers who treat Ebola patients in West Africa and insisted that public health policies must not discourage them from fighting the virus at its source.
"America cannot look like its shying away, because people are watching what we do," the president said before hopping a helicopter for Wisconsin. "America, in the end, is not defined by fear. That's not who we are," he added. "We don't just react based on our fears. We react based on facts, and judgments."
Obama was lending his voice to a debate over quarantine policies in states that are receiving doctors and nurses who returning from the front lines of the Ebola battle in Liberia, Guinea, and Sierra Leone. The White House and senior public health officials made little secret of the fact their displeasure with Christie, a Republican, and with Governor Andrew Cuomo of New York, a Democrat, after they hastily announced a new policy on Friday in which returning health workers would face mandatory 21-day quarantines. Cuomo quickly shifted his tone under pressure from critics in his state, but Christie has shown no remorse for the way New Jersey treated Kaci Hickox, a nurse who was detained over the weekend in a tent behind a Newark hospital.
Christie's unapologetic attitude is in keeping with his brash brand of politics. But as Obama sees it, such public disregard for the sacrifices of health workers–intentional or not–threatens the global fight against Ebola that the U.S. is leading. As the president and others have repeated seemingly ad nauseam, stopping the outbreak over there is the only way for people to feel genuinely safe over here.
"We don't want to discourage our health care workers from going to the front lines and dealing with this in an effective way," Obama said. That extends to the policies governments put in place, which he said must be "supportive of their efforts."
Yet despite the presidential prodding, the federal government is continuing to send somewhat of a mixed message the Ebola response. The CDC on Monday issued new and detailed guidelines recommending no mandatory quarantines for workers and only monitoring without isolation for those who treat Ebola patients but don't come in direct contact with bodily fluids. Those are not formal directives, however, and the White House has said it can't prevent states like New York and New Jersey from enforcing stricter rules (even if federal officials don't agree with them).
At the same time, the military is closing in on a more restrictive policy for service members who are part of the West Africa mission. Soldiers returning from the region are being kept in isolation in Italy, although Pentagon officials say troops are not involved in the direct treatment of Ebola patients. Asked about the incongruity, Obama noted that the military procedures are already much more restrictive than those for civilians.
Lost in all the handwringing is the fact that just one person, Thomas Eric Duncan of Liberia, has died in the U.S from Ebola, and following the release of two nurses who treated him, Dr. Craig Spencer in New York is the only person currently infected with the virus. "Of the seven Americans treated for Ebola so far, all have survived," Obama said.
"This disease can be contained," he added. "It will be defeated."