No Buckeye Bump for Boehner Neighbors
Two Ohioans may lose bids for the Oversight Committee gavel, despite hailing from the speaker's state.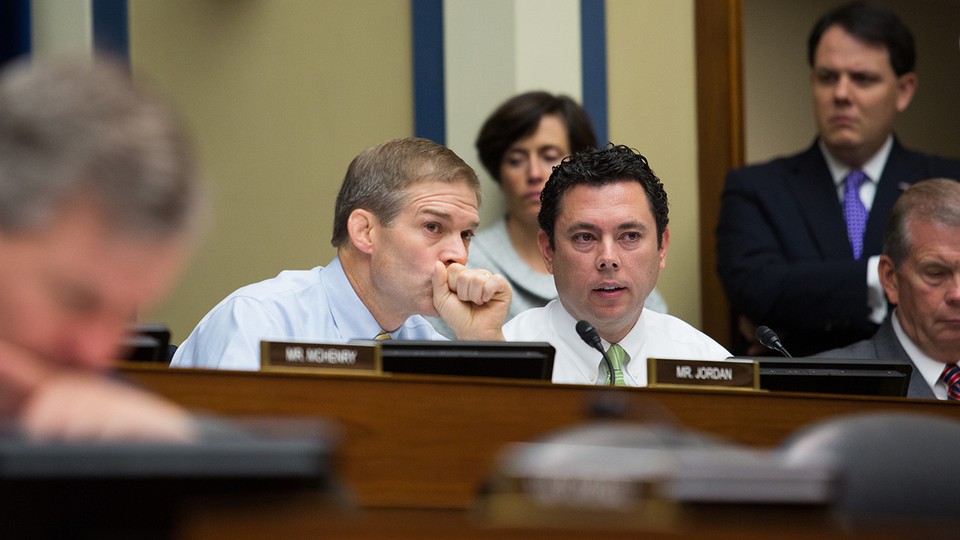 Reps. Jim Jordan and Mike Turner share a trait that would normally help in a contest to chair a House committee: Their districts both border one represented by the speaker of the House.
But don't expect a Buckeye bump for either congressman as the Ohioans battle each other and two other candidates to chair the Oversight and Government Reform Committee next year.
Both have rocky histories with Speaker John Boehner, who controls the lion's share of votes on the Steering Committee, a secretive panel that hands out the top GOP slots on most committees.
That past friction, paired with the fact that their candidacies could sideline Boehner and the influential Ohio delegation in the race, could pave the way for a third candidate—Rep. Jason Chaffetz of Utah—to run away with the gavel. Rep. John Mica of Florida is also running for the seat, but he does not have much support due to the perception that his tenure as chair of the Transportation and Infrastructure Committee was lackluster, sources said.
Chairmanship races are as much about personal and regional relationships as they are about legislative competence. Faced with a situation in which he could boost his home state's clout, Boehner might be tempted to back one of the two Ohioans in the race.
After all, Jordan's district neighbors Boehner's district's northeast side, while just a few dozen miles southeast is Dayton, the seat of Turner's district and the city he governed as mayor from 1994 until 2002.
Yet neither is particularly close to the speaker. Jordan has been a well-documented thorn in leadership's side, butting heads with leaders as chairman of the conservative Republican Study Committee in the 112th Congress. These days, leadership insiders view him as a freelancing hard-liner who routinely influences a cadre of conservatives to vote against leadership-backed bills.
Jordan declined an interview request. But his spokesman, Darin Miller, said there is no strain in the relationship. He said Jordan has been reaching out to members about his candidacy and traveling on behalf of candidates ahead of the November elections.
"Congressman Jordan would disagree with people saying he doesn't have a good relationship with the speaker," Miller said. "Congressman Jordan and the speaker have always personally gotten along well."
Because Jordan's and Mica's chances of advancing in the race are so slim, sources said Turner is Chaffetz's main competition.
Turner's spokeswoman also declined an interview request. But the rub in Turner's relationship with Boehner is more nuanced. Sources described the pair as stylistically different members of Congress: Turner requested millions of dollars in earmarks for his district before the House instituted a moratorium on the pork-barrel spending; Boehner has been a leading anti-earmark voice in Congress. Turner routinely took overseas trips on the taxpayer dime, including two dozen trips to Europe; Boehner urged members to cut down on CODELs and banned the use of military aircraft in such trips.
Part of the relationship strain stems from 2007, when longtime Reps. Dave Hobson and Ralph Regula, both Ohio Republicans, announced they would retire at the end of the term, leaving no more Ohioans on the Appropriations Committee.
The retirements sparked an intrastate showdown to assume the committee slots between Turner, who represents an area north of Cincinnati near Hobson's district, and then-Rep. Steve LaTourette, who represented a district near Cleveland, near Regula's territory.
LaTourette was in Boehner's inner circle, and was handed an Appropriations seat. Turner was denied and left offended, having to suffer news stories about how his region had lost clout in D.C. But that is all in the past, said LaTourette, who is still close to Boehner and recently met with the speaker and Rep. Pat Tiberi of Ohio, the regional representative to the Steering Committee, which decides chairmanships.
"There were some hurt feelings," LaTourette told National Journal. "But the consensus is that Mike Turner has really come a long way in burnishing his image and his reputation in getting along with people."
Turner has planted deep roots on the Armed Services Committee, chairing two different subcommittees since 2010, and having been named by Boehner as chairman of the U.S. delegation to NATO's Parliamentary Assembly in the 112th Congress and a conferee on the National Defense Authorization Act in the 113th Congress. Even LaTourette donated money to Turner's coffers through the Main Street Partnership, a group he heads that aims to elect centrist Republicans.
And after Boehner was elected speaker, Turner hosted a homecoming reception in January 2011 for the speaker-elect at the Dayton Art Institute.
His image rehabilitation notwithstanding, the fact alone that two members from Ohio are running could be harmful to both candidacies, sources said. Often when a member of a delegation runs for a chairmanship slot or leadership position, his or her home-state and regional colleagues support the candidate. With competing Ohio candidacies, the region could be sidelined, leaving each congressman's power base depleted.
Turner does have one important thing going for him: He is more senior than Chaffetz or Jordan. Though seniority is not the most important factor in chairmanship races, it does play a role. One former House staffer with Ohio ties said that could give him an edge over Chaffetz, who could be perceived as jumping rank.