Meet the Tech Donors Who Are Dominating the Midterms
Many of them are only just getting started.
Political donor classes are like the cliques that make up the different tables in a high school lunchroom. You've got your run-of-the-mill popular kids. You've got your hippie tree-huggers. You've got your eccentrics. And you've got your computer nerds.
So National Journal crunched the numbers and came up with a list of some of the most influential political donors in tech this cycle. It's hard to define the top members of any donor class, because there are so many ways to funnel money into politics without filing the donations under your own name.
That said, this list is a good jumping-off point if you want a rough picture of the tech donor class, circa 2014. Some names may be very familiar to you; others less so. Facebook founder Mark Zuckerberg didn't even make the cut, having donated a paltry $38,600 of his own funds to political causes in the 2014 cycle.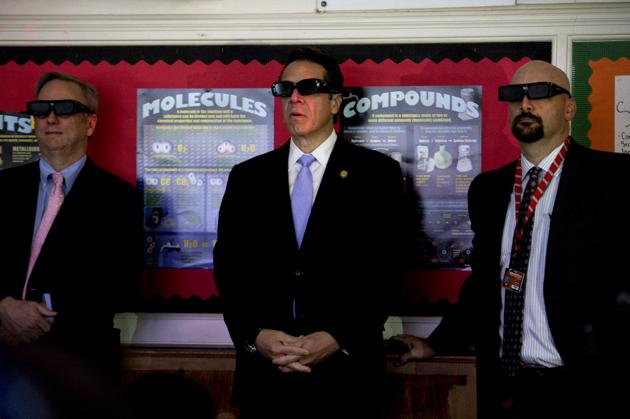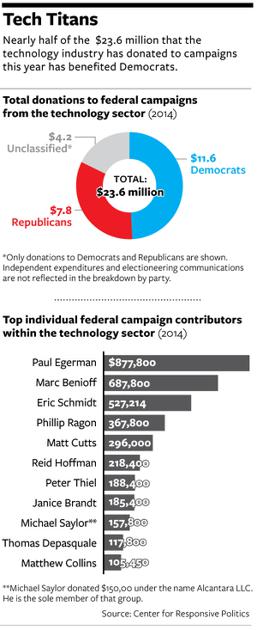 Overall, the list shows that the tech donor class remains largely Democratic. Nearly half of the $23.6 million donated by the tech industry during the midterms has benefited Democrats. It's difficult to say exactly how partisan the industry is, however, since $4.2 million is not classified by party.
Paul Egerman, a retired software entrepreneur, topped the list, having donated $877,800 to political candidates and groups in 2014, according to data from the Center for Responsive Politics. Egerman made his fortune during the dot-com bubble after founding eScription, a digital medical transcription company, and IDX Systems, a health care technology start-up. General Electric acquired IDX in 2005 for roughly $1.2 billion.
Egerman forayed into politics in 2012, when he led Sen. Elizabeth Warren's finance committee during her campaign against Republican Scott Brown. Egerman's (unverified) Twitter profile simply reads, "Enthusiastic supporter of Senator Elizabeth Warren." Egerman is a millionaire in the school of Warren Buffett — he thinks people like himself should pay higher taxes. It costs a lot of money to fight money in politics.
When looking at the donations made by tech billionaires, two trends emerge. The first: donations to super PACs that are fighting to reform the campaign finance system. The second: donations to a group called Virginia Progress PAC, which is supporting Democratic Sen. Mark Warner's reelection bid. The group has spent at least has spent $1.4 million in TV ads against Ed Gillespie, Warner's Republican opponent.
Warner, who will likely win, has been a big beneficiary of politically active tech entrepreneurs. Virginia Progress PAC, which is supporting Warner, has reaped a total of $450,000 from four tech titans alone — Saylor, Schmidt, Brandt, and DePasquale.
When you're running for office, it helps to have friends in low places — a valley, if you will. But in politics, as in start-ups, investments can be big gambles that amount to nothing. It helps if you have a lot of money to throw around and not miss too much if it goes to waste.
An annotated list of the donors:
Marc Benioff: CEO of Salesforce.com, which Forbes calls a "cloud computing king." His net worth is estimated at $3.3 billion. He's not just generous with political causes, though. "The self-made billionaire and his wife, Lynne, have donated $250 million to local children's hospitals and $4 million to address homelessness since 2010," Forbes reports. Curiously, Benioff donated $15,000 to the Democratic Congressional Campaign Committee this cycle, along with $25,900 to the National Republican Congressional Committee. He also donated $32,400 to the Democratic Senatorial Campaign Committee this cycle.
Eric Schmidt: He is the chief executive of Google — do you really need to know more? The $527,214 he donated to political causes in 2014 set him back all of 0.006 percent of his estimated net worth. He donated $250,000 alone to the Democratic Senate Majority PAC. His direct donations to candidates run the gamut — from Democratic Rep. Zoe Lofgren and New Jersey Sen. Cory Booker, to Republican House Majority Leader Kevin McCarthy and Senate Majority Leader Mitch McConnell.
Phillip Ragon: Ragon founded InterSystems in 1978 "and built it into a $463 million company, selling databases and other software tools," Forbes reports. Among InterSystems' clients are GE, Siemens, and Epic Systems, a successful health care software firm. During this cycle, he shelled out $32,400 to the DCCC and a combined $64,800 to the DSCC.
Matt Cutts: Cutts is head of the "webspam team" at Google. He's donated $295,000 this cycle to Friends of Democracy, a super PAC that promotes campaign finance reform and citizen-funded elections.
Reid Hoffman: Hoffman, the CEO of LinkedIn, donated $150,000 to Mayday PAC — a super PAC founded by a Harvard law professor Lawrence Lessig that is ironically working to get money out of politics. He also donated $32,400 to the Democratic National Committee's PAC.
Peter Thiel: Thiel, who cofounded PayPal, is a standout among his tech-billionaire peers in that he is the only solid Republican donor on the list. He's an ardent supporter of Ron Paul and his son, Sen. Rand Paul, and recently appeared on Glenn Beck's TV show to talk about the gold standard. In 2012, he donated $2 million to the conservative Club for Growth Action fund. This cycle, he injected his tech-forward politics into his donations, giving to tech-friendly candidates like Justin Amash, Ro Khanna, and Sean Eldridge — who is married to Facebook cofounder Chris Hughes. Watch for him to become a bigger political player among Republicans come 2016. Along with Hoffman, Thiel donated $150,000 to Mayday PAC.
Janice Brandt: Brandt — the only woman to make this list — is a "direct marketing wizard" who was hired as vice president for marketing at AOL during the early days of the dot-com boom. Today, she's vice chair emeritus of America Online/Time Warner. She has been politically active since the 1990s, and a longtime supporter of EMILY's List. She donated the maximum $64,800 to the DCCC, as well as $100,000 to the Virginia Progress PAC. If Hillary Clinton runs for president in 2016, Brandt will likely be an enthusiastic donor.
Michael J. Saylor: Saylor is the cofounder and CEO of MicroStrategy, a business intelligence firm. Though he hasn't donated much money under his own name, Saylor has donated quite a bit through the Alcantara — a limited liability corporation "wholly owned" by Saylor. Through Alcantara, Saylor donated $150,000 to Virginia Progress PAC. The Richmond Times-Dispatch reports that Saylor is personal friends with Warner.
Thomas DePasquale: DePasquale is executive vice president of Outtask, a software development company. He has donated $100,000 to Virginia Progress PAC this cycle, along with $10,000 to the DSCC.
Matthew Collins: Collins is an executive at 1 Source Consulting, which touts "synergy between business and technology." Aside from the buzzwords, Collins's group provides tech support for federal entities including the Homeland Security, Commerce, Justice, Education, Health and Human Services, and Transportation departments. In April, Collins donated $100,000 to the Democratic Senate Majority PAC.
Of all the donors, Egerman perfectly encapsulated the mixed feelings that some Silicon Valley political donors feel toward the system they're contributing to. On his (again, unverified) Twitter account on Tuesday, Egerman linked to a satirical New Yorker story. Its headline: "Midterms Prediction: Billionaires to Retain Control of Government."