Long-Dead Bigamist Congressman Still Haunts South Jersey
The ghastly true tale of Hezekiah Smith, inventor and House member, who was buried in an iron coffin and entombed in concrete. But did he rise again?
When he died in 1887, the Honorable Hezekiah B. Smith was buried in an iron coffin, which was sealed with iron straps and topped with iron spikes. Once in the ground, Hezekiah and his iron tomb were encased in cement.
Hezekiah wasn't a vampire, though the excessive burial restraints would have kept him from rising again. He was a bigamist, a congressman, a business leader of the industrial revolution in South Jersey, and an inventor. The story of Hezekiah Smith has everything: It's one of outrageous fortunes and spurned lovers, of politics and scandal. But that's just when he was alive. The story lives on, as Rep. Hezekiah Smith, D-N.J., still haunts his district.
"Absolutely," Larry Gladfelter, the 76-year-old president of the association that cares for Hezekiah's estate—the Smithville Mansion—said when I asked him if the grounds are indeed still haunted.
"They chase you with a net if you tell too many stories," he says during our phone call, acknowledging it all sounds crazy. Gladfelter has been working at the estate since 1981, and tells me has seen Smith's ghost several times. "Usually he would be seated in the chair next to an electrified pump organ," Gladfelter tells me. "He would materialize in there every once in a while." Smith would appear as if he were flesh. "Could you see the chair behind him—no," Gladfelter says. "Only when he faded, faded away."
Gladfelter is not the first to see Smith's ghost. In the 1890s, the now-defunct Washington Evening Star reported the story of a factory night watchman who lost his mind after repeatedly being visited by Smith's spectre in the factory the former House member used to own. As the Star reported in 1891:
Several times as he [the night watchman] sat in the mill office the door would open and the ghostly form of Mr. Smith would enter, walk to the desk with his hands behind him in his usual way and after standing there for a while as if in thought he would slowly walk out toward the mansion. The constant repetition of these visits had such a terrifying effect on Gilbert's mind that he lost his reason and was today conveyed to the asylum for the insane at Trenton.
Another watchman reported to the Star that he also had seen Smith, and that his dog refused to enter the building (dogs, presumably, have a keener sixth sense).
But why would the ghost of this one-term House member linger, continually, 100-plus years after death? The answer, perhaps, lies in the dramatic—at times unbelievable—story of his life.
Hezekiah Bradley Smith was born in 1816 in and died in 1887, having served one term in Congress and amounting a massive $500,000 fortune from the H.B. Smith Machine Factory he established near Mount Holly, N.J. "He was an amazing man," Gladfelter says, "extremely intelligent like Thomas Edison or other great inventors." He held 40 patents, such as this probably unsafe steam-powered tricycle and this novel sewing machine design. Locally, he was a celebrated champion of industry: The village where he established the factory was renamed in his honor while he was still alive. They called it Smithville.
But Smith held a secret. He had two wives. Just like modern times, his election to Congress in 1879 all but ensured that the devils of his past would surface. The New York Times printed the following in 1878, after his election, but before his swearing in:
Years before, Smith left his first wife, Eveline, with whom he had four children, in Vermont to start his factory in New Jersey. "If Eveline Smith had come with him, we wouldn't have a story," Gladfelter says. But she didn't go. And when Hezekiah Smith fell in love with Agnes Mitilda Gilkerson, a young (23 years his junior) medical student at the University of Pennsylvania, Eveline refused to agree to a divorce. So Smith improvised his own.
He burned all evidence of their correspondences, and expunged his name from her family's Bible. He disinherited their children from his will. And he started a new life with Agnes in New Jersey, pretending that his first marriage never happened. The people of Smithville never knew of Eveline. They thought Agnes was the only true Mrs. Smith.
Smith denied the newspaper allegations, and because Eveline told reporters she didn't "wish him harm" the scandal dissipated. Smith was ousted from Congress after one term, not because of bigamy, but because of politics. The 1880 election of James Garfield brought a Republican wave to Capitol Hill. Smith returned to his factory.
Agnes died of cancer in 1881 at the tragically young age of 43. Smith, heartbroken and absurdly wealthy, commissioned an Italian-made marble statue of her. He hated the completed work, but kept it, because he "could get nothing nearer the original," as The New York Times explained. He died six years later, and was entombed in iron and concrete, never to be exhumed.
Clearly, Smith intended his final resting place to be final. But this was not only a grand gesture of love from a tycoon with too much money. At the time of his death, Smith was clearly paranoid that someone would come to steal his body.
The crazy thing is, someone did. Or at least someone tried.
Smith's son Elton, whose mother was Eveline, came for his father. Elton, angry and disinherited from fortune, sought to bring his father's body back to Vermont, where he would lie beside his lawful wife. It wouldn't make up for the disinheritance (actually, a successful lawsuit would see to that) but it would symbolically right the wrong of his father's transgressions. He brought a crew of men to exhume the grave. "And that's when they struck the concrete," Gladfelter says. "He could have done tremendous damage with a power hammer, but he didn't dare."
Instead, Elton, angry and defeated, took his frustrations out on the marble statue of Agnes. The New York Times reported the incident: "[T]he work of art was within ten minutes being shoveled up and dumped into Rancocas Creek."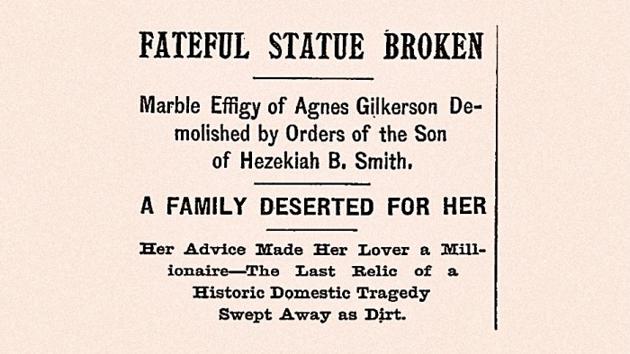 It was after the destruction of the statue when, in 1891, townspeople began to see the ghost of Hezekiah Smith roam the factory and mansion he once owned. The iron and concrete could hold his body in the earth, but his spirit they could not contain.
"I have seen it a dozen times," a Smithville townsman so spooked he moved to Mount Holly also told the Washington Evening Star in 1891. "And it goes along the path in a way that makes me all gooseflesh. I knew the old man ... as well as anyone about here, and if that ain't his ghost, I never saw anything."
The ghosts of Agnes and Elton, the angry son, may still haunt the house as well. In 2006, the South Jersey Ghost Research group found evidence of a haunting. Ghostly orbs of light were captured on film, and the group recorded a voice of a woman beckoning, "Inside, come inside." Is that the voice of Agnes, Hezekiah's true love and paramour? Gladfelter has not seen Smith's ghost in 15 or so years. But he still believes his spirit is there. "If he just got tired of my company, I don't know," he says.
Why have the ghosts of Smith and his family lingered on in this realm? It's possible the feud over the fortune left a lasting scar on their spirits, making the work of their lives unfinished, forcing them to retrace the steps of their days with ghastly languor for eternity. Gladfelter has a different theory. "I think he's there, basically, because it is his home."
To Gladfelter, this is more than a ghost story. Gladfelter's family's roots in the Mount Holly area of New Jersey go back to 1692, and he knows some of Smith's descendants. "It's part of the story of American industry," he says. It's a story of a remarkable man who took a small textile town and made it a thriving factory town. And along the way, he led a remarkable, complicated, messy life."
"He was a real piece of work," Gladfelter says.