Let Slip the Secret-Service Dogs
A pair of canines play hero in the latest fence-jumping incident at the White House.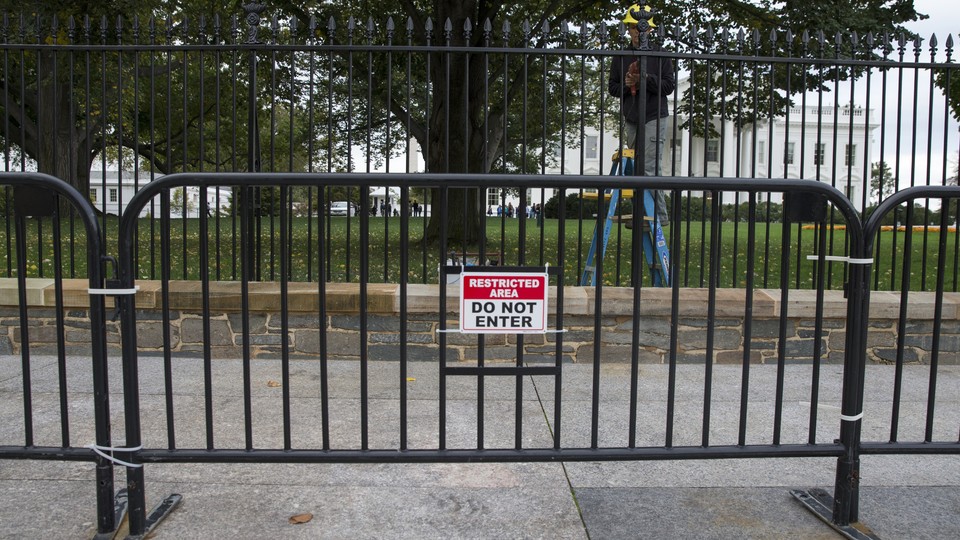 "Dogs got him."
That was the written update sent to reporters by Secret Service spokesman Edwin Donovan following news that yet another man had jumped the fence (now fences) at the White House on Wednesday night. The jumper, identified as 23-year-old Dominic Adesanya of Bel Air, Maryland, was unarmed and, unlike a recent infamous intruder, did not make it into the residence.
The two dogs–K-9s named Hurricane and Jordan–attacked Adesanya, and after a struggle in which he punched one of the dogs, Secret Service officers subdued the man and arrested him.
The latest breach at the White House is the seventh fence-jumping incident of 2014 and comes just over three weeks after Julia Pierson resigned following a series of embarrassing blunders by the once-elite security force. It concluded an unsettling day marked by heightened alert in Washington after the shooting outside the Canadian Parliament in Ottawa.
Adesanya was charged with two counts of assault on a police officer K9 (yes, that is its own crime), four counts of resisting arrest and unlawful entry, and one felony count of making threats. He remains in custody because of outstanding warrants.
Adesanya made it over a second, temporary layer of fencing added last month in front of the White House's wrought-iron fence. A panel is now reviewing more permanent changes to the complex's perimeter.
"That's an easy jump," Secret Service spokesman Robert Hoback said Thursday morning of the make-shift fencing, which is the kind of waist-high barrier found along parade routes. The second layer was intended to slow down a jumper intent on entering the White House, and that appeared to work on Thursday.
While there is no word yet on Adesanya's motives, each additional incident at the White House or toward the First Family speaks to a fear voiced last month by Representative Elijah Cummings of Maryland at the congressional hearing in which Pierson testified: The Secret Service's reputation is the most important deterrent against serious threats to the president and his family, and the more that people think they can make it past their agents, the more likely they are to try.
On Wednesday, it was Hurricane and Jordan who sprung into action. The Secret Service wouldn't say whether they did so on their own or on orders from an officer. "We don't want to let the next fence-jumper know our procedures," Hoback said.
The two dogs were taken to a veterinarian on Wednesday for "minor bruising." But by Thursday morning, they were cleared to return to duty, and later in the day, the Secret Service released photos of the seemingly-happy canine heroes.