The Jeb Bush Effect
A presidential bid by the former Florida governor would complicate the party's case against Hillary Clinton.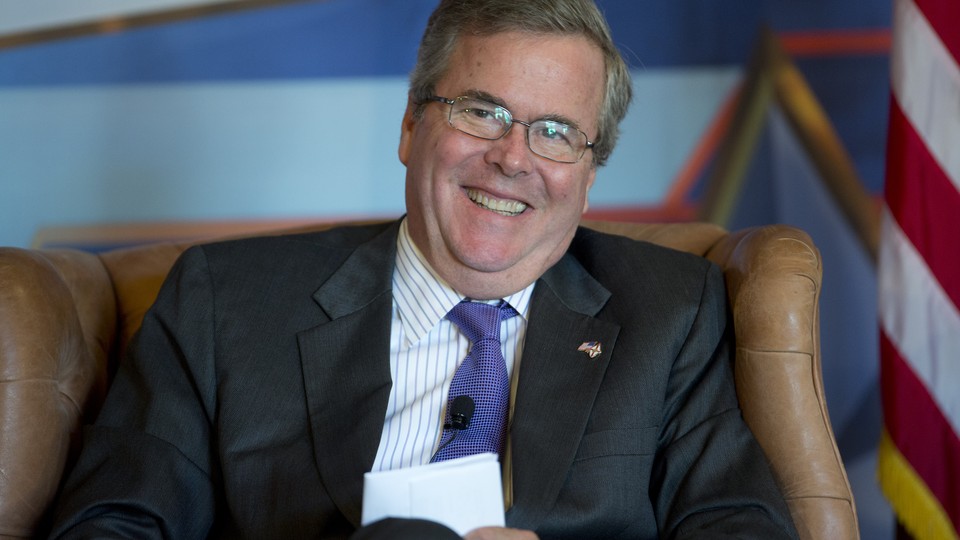 It has been clear for some time that a significant portion of the Republican establishment in Washington wants Jeb Bush to run for president in 2016. Speaker John Boehner of Ohio, the party's senior-most elected official, has even departed from his formal posture of neutrality to openly pine for the former Florida governor to enter the race. Bush's family name notwithstanding, Boehner and other top Republicans see him as the candidate with the gravitas and fundraising potential to overcome a flawed field, unite the party, and stand on equal footing with Hillary Clinton, the prohibitive Democratic favorite.
If this weekend's headlines are an indication, the GOP pooh-bahs may get their wish. Bush's eldest son, George P. Bush, told ABC News that his father was "more than likely" to run next year, and The New York Times reported Sunday night that Jeb Bush's family–save his famously reluctant mother–was urging him to do so.
Bush would be something of a elder statesman in a Republican presidential field expected to feature several relative newcomers to the national stage, including Senators Rand Paul, Ted Cruz, Marco Rubio, and Governor Chris Christie. Governor Rick Perry ran in 2012 and led Texas for the same two terms as Bush ruled Florida, while another potential contender, Representative Paul Ryan, was the GOP vice presidential nominee two years ago.
Yet more than the other candidates, Bush's presence in the race would force many Republicans to recalibrate their attacks on Clinton. So far, party officials have targeted her on a range of issues, from criticizing her handling of the Benghazi terrorist attacks in 2012 to lampooning her comment that the Clintons were "dead broke" after they left the White House. When Clinton went on her book tour over the summer, the Republican National Committee sent a intern dressed as a squirrel to trail her while wearing a T-shirt that said, "Another Clinton in the White House is Nuts."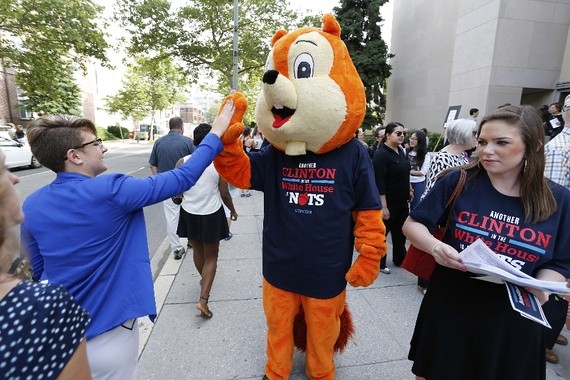 The undercurrent of the GOP's argument is that the 67-year-old Clinton is a relic whose wealth and cloistered life in the government for the last three decades has put her out of touch with ordinary Americans.
"People are kind of tired of this show, quite frankly. There's Hillary fatigue out there. It's setting in," RNC chairman Reince Priebus said on NBC's Meet the Press at the end of June.
Jeb Bush, of course, is no fresh face either, and the fact that a Bush or a Clinton has occupied the White House for 20 of the last 26 years is exactly what his mother, former First Lady Barbara Bush, had in mind when she spoke out in opposition to his candidacy in 2013.
"If you're planning to make a legacy argument, having Jeb Bush as the nominee would complicate that," said Doug Heye, a Republican strategist and former RNC spokesman. "But I don't think that's the best argument to make against Hillary Clinton." Heye said Republicans would be better off focusing on Clinton's record as New York senator and then secretary of state.
Bush would face his own obstacles in a Republican primary, particularly on the issues of immigration and education, where the party's base has moved to the right in the years since he served as governor and his brother, George W. Bush, served as president. And there is little doubt that Bush's opponents–particularly the more libertarian Paul–would argue that the country needed to move on from the Bush family just as it should leave the Clintons in the past.
Democrats would probably relish a Bush candidacy, even if some in the party would fear his strength with Hispanic voters who have been alienated by just about everyone else in the GOP in recent years. If both Bush and Clinton made it to the general election, a battle for nostalgia between the Clinton era of 1990s and the George W. Bush era of the 2000s would undoubtedly favor Democrats.
That in itself is a big reason why Republicans are now trying to link Hillary Clinton closer to her one-time rival, the unpopular President Obama, than to her more widely-admired husband. Jeb Bush, they point out, has his own stellar record as governor of Florida.
"She is so tied to this administration," a Republican strategist in Iowa, Tim Albrecht, said of Clinton on Monday. "Jeb Bush was part of one administration, and that was his own in Florida."