Inside Chris LaCivita's Plan to Save Pat Roberts
The fixers don't have time to make the Kansas Republican likable. So they're going full negative on his challenger.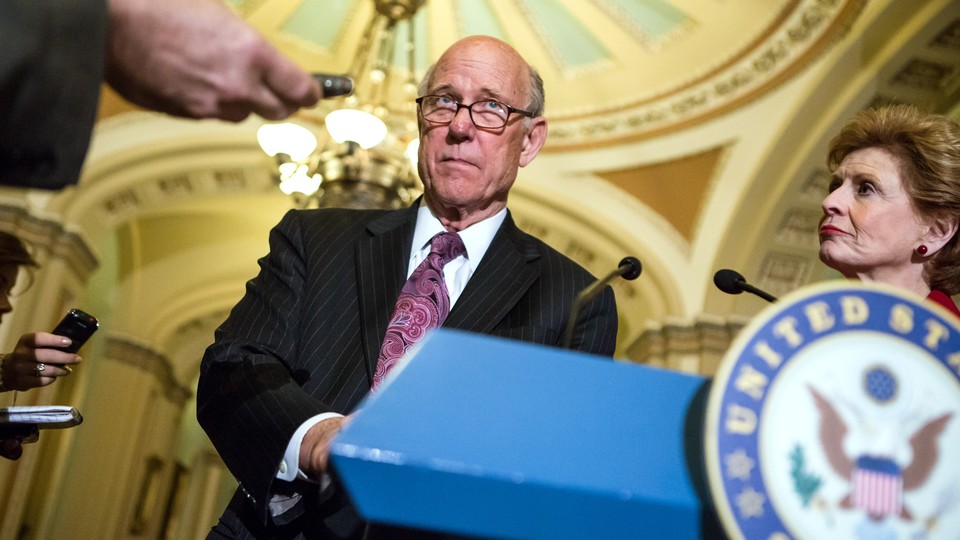 Chris LaCivita isn't trying to boost Pat Roberts. There's no time for that.
The Republican fixer and his team landed in Kansas in September knowing there was nothing they could to make Kansans like their senator. Instead, their strategy has been to make challenger Greg Orman as unlikable as Roberts himself.
So LaCivita and GOP operative Corry Bliss, who together replaced Roberts's original team, have designed and directed a fully negative, last-ditch attack strategy that they think is the only way for Republicans to hold onto this red-state seat.
"If you're given two months to run a campaign and you're faced with two options—run a campaign based on what your incumbent accomplished, versus educating the electorate on your opponent, especially when your opponent is essentially unknown—it's not a hard decision," LaCivita told National Journal.
Last week alone, Republican groups ran more than $3 million in ads that attacked Orman on everything from his past political contributions to his short-lived business venture in shrimp farming. The National Rifle Association and the U.S. Chamber of Commerce, for example, have come to Roberts's aid, not by promoting the work he's done in Congress but by painting his independent challenger as a Democrat.
"We know Greg Orman supports Barack Obama's agenda: amnesty, Obamacare, and higher taxes. But even more troubling is Orman's business record," the latest ad from the Roberts campaign boasts over dark and ominous music. "Greg Orman doesn't want you to know how liberal he really is. He's with the Obama administration on protecting the train wreck known as Obamacare," a Chamber of Commerce ad says as Orman's face is shown in the middle of an Obama campaign logo.
And it appears to be working. Among the September polls that found Roberts trailing Orman, the senator's approval was consistently low. But since LaCivita and Roberts's GOP allies have been driving this negative campaign, Orman's approval has fallen, and polls now show the race neck-and-neck. (An NBC News/Marist poll conducted at the end of September showed Orman leading by 10 points, with likely voters favoring him over Roberts, 48 percent to 38 percent. A survey conducted by Monmouth University a few weeks later showed the race deadlocked, as have other surveys. At the same time, Orman's favorability ratings have fallen in several polls.)
That means the damage LaCivita is inflicting on Orman took a race that was slipping away from the GOP and brought it back to deadlock.
Meanwhile, Roberts's approval numbers have remained low—in a recent automated poll by the GOP firm Remington Research, which showed Roberts with a slight advantage over Orman, more people said they viewed Roberts negatively than positively. Part of that is due to the beating Roberts took during the primary, as his tea-party challenger relentlessly attacked the senator for no longer residing in the state he represents. Though he still owns a home in Kansas, Roberts rents that property out, and sleeps on a recliner at a donor's house when he comes in from Washington.
And after limping through the primary with less than 50 percent of the vote, Roberts retreated to Virginia, giving his opponents yet more material to work with and leaving the airwaves open for Orman to attack. In fact, over six weeks, Orman ran more ads than Roberts had during the entire primary.
That's when the National Republican Senatorial Committee sent in the fixers. "First thing the Roberts campaign had to do was fix its right wing," LaCivita said of his team's strategy.
To repair the damaged relationship with conservatives after Roberts's primary, LaCivita said the campaign focused its attention on uniting Republicans. That plan has included visits on the trail from surrogates across the Republican spectrum, including former GOP presidential nominee Mitt Romney, tea-party favorite Sarah Palin, and even libertarian-leaning Sen. Rand Paul of Kentucky.
LaCivita sees a path to victory in getting Roberts to 75 to 80 percent of the Republican vote, a goal he deemed achievable if the campaign framed it as a race against the president.
About Roberts, who has served nearly 18 years in the Senate (preceded by 16 years in the House), Republicans have said very little, except that a vote for the incumbent would help ensure a GOP majority.
"I have a litany of things that Pat's done for Dodge City," former Sen. Bob Dole said at an event promoting Roberts late September. "But at my age I've forgot them all." Dole, age 91, gave an uninspiring speech about his former colleague, then sat for pictures with people at the event, whispering criticisms about Orman as they leaned in for the camera.
On the trail, even the candidate himself sticks to a scripted message that focuses heavily on his opponent.
But the negative route hasn't been without backlash. Three of Roberts's home-state newspapers have railed against him. The Hutchinson News labeled the incumbent "tired and cranky" for his negative campaign. He also has drawn the wrath of a coalition of former Republican lawmakers, who bemoaned Roberts's contribution to maintaining the status quo in Washington.
Orman's campaign says the focus on them is proof that Roberts doesn't have solid accomplishments to run on, and that he hasn't been fighting for Kansans during his decades-long tenure. "Senator Roberts has so little to show for his decades in Washington that he's running a universally negative campaign, hoping to hide his failed record and save his job," said Orman's campaign manager, Jim Jonas.
It's a frustrating dilemma for the groups that support Roberts, many of which don't advertise but feel strongly that his record deserves defending.
The Kansas Soybean Association, for example, is part of a coalition of agricultural groups that wrote a letter thanking Roberts for his service, but it doesn't have a PAC or a political organization to contribute to his campaign. Its CEO, Kenlon Johannes, says Roberts is essential to his industry, and should have no shortage of material to run on.
"Where do you even start?" Johannes said of Roberts's accomplishments that helped his group. He listed crop insurance, trade issues, and Environmental Protection Agency regulations among the issues on which the senator had led. "Every time we go into his office he's taken the time to meet with us and listen to our concerns, and many times, he knew our issues better than us"¦. I guess if voters don't understand what he's done for them "¦ I don't know what to say."