In Kansas, Independent Senate Candidate Holds Washington Connections
Greg Orman is proclaiming his independence, but the group backing his campaign sounds surprisingly partisan.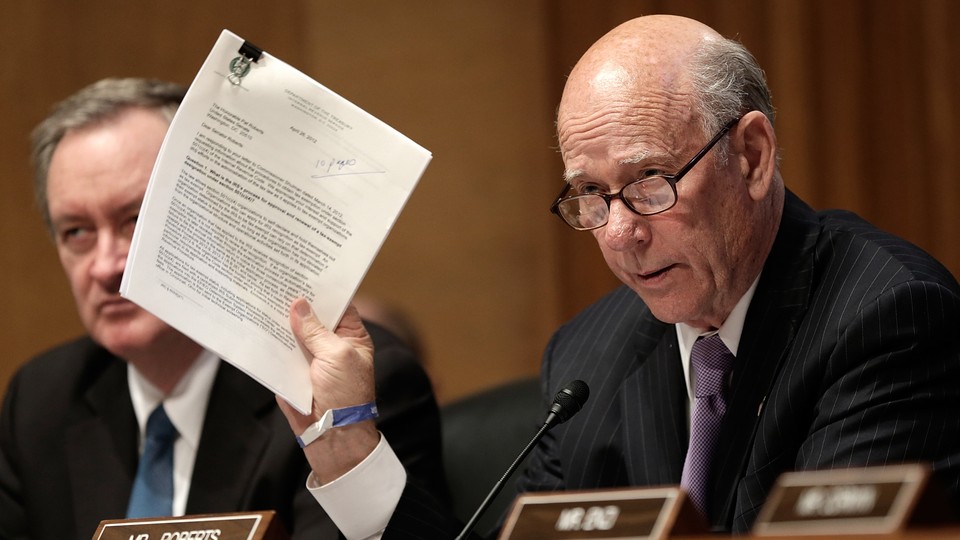 Leading in polls, third-party Senate candidate Greg Orman is walking a delicate tightrope in his Kansas campaign: He's running as an independent while Democrats hope he bolsters their chances of retaining their Senate majority.
That tenuous balance is evident in the way he staffs up and in the groups who are supporting him. The main super PAC supporting his campaign has sounded unusually partisan notes, posting comments about preventing a "right-wing takeover" of the Senate and touting Orman's ability to get Democrats to "coalesce" behind him.
The new outside group, Kansans Support Problem Solvers, headed by Kansas City lawyer Greg Wolf, was formed in late August just days before Democrat Chad Taylor dropped out of the race.
In one post, from before Taylor had exited the race, the group quoted from a "Women for Kansas" column about Orman, saying, "Greg could be Kansas's best shot at helping to prevent a right-wing takeover of the U.S. Senate." Since then, the group has cited another story saying Orman "could dislodge Roberts and prevent a Republican takeover of the upper chamber." It also quoted from a Vox.com article that says "Democratic support will likely coalesce behind the independent candidate, Greg Orman."
Wolf, the group's treasurer, also has ties to Democrats. He donated $500 to Orman's campaign back in June, according to Federal Election Commission records, but the rest of his political donations have been to Democrats: Sen. Claire McCaskill's 2012 campaign, John Kerry's 2004 presidential bid, and the Kansas Democratic Party, to name a few. Wolf did not respond to a request for comment.
The super PAC appears to be based in Washington: its address is a mailbox at the UPS store in Kansas City, Kansas, according to its filing with the FEC, and the bank listed is a Wells Fargo branch in the nation's capital.
The group helps illustrate the central challenge for both Orman and national Democrats in this race: the party's Senate hopes could very well hinge on an Orman victory in November, but Orman will have a tough time dislodging incumbent GOP Sen. Pat Roberts if he's seen as just another Democrat in conservative Kansas.
Part of his appeal—and the central argument of his campaign—is that he's disconnected from the dysfunction in Washington. But if he's hiring Democratic operatives and getting helped by groups that want to prevent a GOP takeover of the Senate, it's difficult for Orman to maintain his independence.
That said, he has to hire a campaign staff with experience, and finding those people outside either major party is tough. Getting Republican aides to join the campaign will be difficult, because they could face later retaliation for working against Roberts. That leaves Democratic aides—like Mike Phillips, the former Democratic Senatorial Campaign Committee staffer Orman recently hired as his spokesman. Still, the campaign does have staffers who have previously worked for GOP candidates: campaign manager Jim Jonas worked for former President George H.W. Bush and Tennessee Sen. Lamar Alexander, among others, and spokesman Sam Edelen has also worked for GOP candidates.
Orman, too, is striking that balance on the campaign trail. He has not said which party he'd caucus with should he be elected—"it's not in the best interests for us to say that," he told The Washington Post—and has also remained vague about his positions on key policy issues.
Roberts's campaign took advantage of that uncertainty Wednesday with a new ad aimed at Orman, saying his lack of positions on issues like Obamacare are proof of desperation.
"Greg Orman isn't telling you the truth because he's desperate to hide his liberal agenda," the ad says, noting Orman's past donations to Democratic pols like Senate Majority Leader Harry Reid.