If You Like Your Insurance, Can You Keep It This Time Around?
In the second round of Obamacare open enrollment, customers who don't shop around can hold on to their coverage but might see it get more expensive.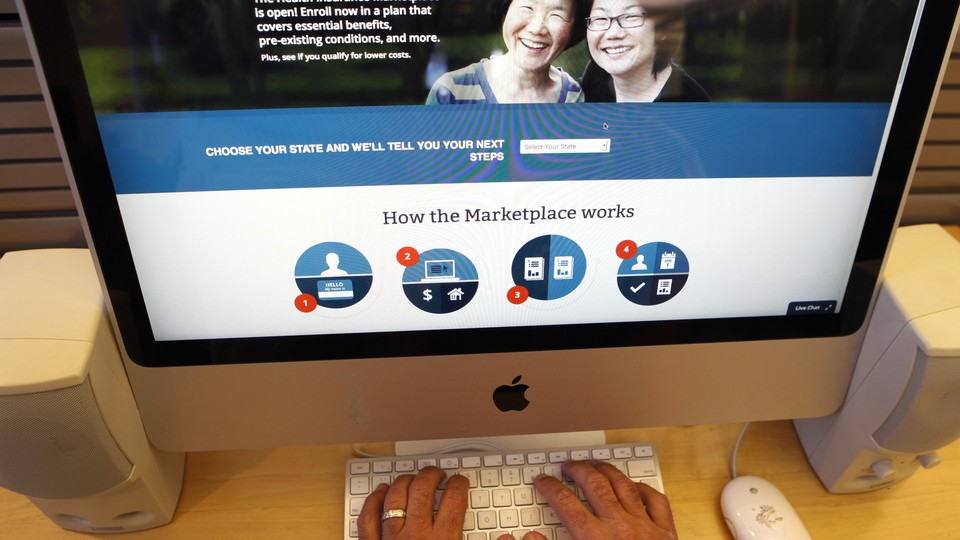 People who already bought health insurance through Obamacare will likely face another round of confusing technical issues as they try to re-enroll for a second year.
The health-care law's second open-enrollment period begins November 15. And by almost all accounts, HealthCare.gov will probably work much better this time, especially considering its disastrous debut.
Health insurance companies, at least so far, seem to think HealthCare.gov is on the right track to function more smoothly for new customers. But insurers still see gaps in the system for people who want to renew their coverage, including pitfalls that threaten consumers with duplicate enrollments, unexpected cancellations, or surprising tax bills.
Insurers aren't necessarily worried about problems as dramatic as last year's HealthCare.gov failure, but rather what one industry official called "a soup of kind of icky things" that could make life difficult for returning enrollees.
Some of the technical problems stem from the difficult balance between keeping people enrolled and encouraging them to shop for a better deal. Due to complicated behind-the-scenes changes in the way the law's tax credits are calculated, people who automatically renew their policies without taking another pass through the enrollment system are at risk for particularly large and often surprising cost increases.
To offset the risk of widespread premium hikes, the administration will encourage existing customers to go back through the system, update their personal information, and shop for a better deal. People who are willing to change plans can insulate themselves from most premium hikes—but that's where the technology starts to get tricky.
For starters, returning customers will have to use the old, 78-screen application. New customers can use a simpler, faster, and more streamlined 16-screen version.
Health and Human Services officials said the site will automatically fill in existing consumers' information, such as their address and income, to help speed them through the process even though they have to use a more cumbersome application. That makes sense, as long as consumers take the time to change pre-populated information that has become outdated.
"We don't have great concern that people will be confused by the technology," said Andy Slavitt, the principal deputy administrator at the Centers for Medicare and Medicaid Services, at a recent briefing with reporters.
The site won't fill in a 14-digit code that identifies their existing policy; consumers will have to go find that code on a letter from their insurance company and enter it themselves. Adding that step might help prod consumers into shopping around, but the industry official said there's concern that it will simply confuse customers.
And while major improvements have been made to HealthCare.gov's user experience, some parts of the system's "back end" are still under construction—including the mechanism that reconciles insurers' information with the federal government's—to make sure both systems acknowledge they've enrolled the same people.
As part of the reconciliation process, insurers will get a list of everyone the government has logged as re-enrolling in their plans. But they won't get a list of people who have decided to drop their plans, the industry official said.
This same information was often missing, incomplete, or wrong during the first open-enrollment period—that was the fuss over "834" transmissions—and, partly because of that experience, insurers are afraid some people will fall through the cracks.
Without a list of terminated policies, the insurance official said, insurers don't know whose coverage they should cut off and who was simply lost in the shuffle but intended to stay enrolled.
Again, none of these are fatal problems. Insurers managed to sign up nearly 8 million people largely by hand during the first open-enrollment period, and these technical challenges pale in comparison to last year's.
But to whatever extent these issues do trip up consumers, the shorter enrollment window might make the confusion harder to resolve, at least quickly.
The second sign-up period ends in February, soon after Obamacare enrollees are scheduled to receive a notice outlining the tax credits they received to help pay for their coverage. If their subsidies were too big and they owe the IRS money, that doesn't leave much time to go back and update their financial information for the next year, the industry official warned.
Even so, the risks from a messy process aren't nearly as great this year. Glitches will cause some bad headlines for the administration, and will require more technical work, but unlike last year, Obamacare is already on its feet. Year one was about getting a critical mass of people into the system so that the system could function properly—and the administration met that goal.
"If no one else ever signed up, it would function fine," said Jonathan Gruber, a Massachusetts Institute of Technology professor who helped design Massachusetts' health-care law.
That doesn't mean the law would succeed at its most fundamental goal—substantially reducing the number of uninsured Americans. It's too early for Obamacare's supporters to declare the law a success, Gruber said, because lackluster sign-ups in the second and third year could still prevent the law from covering enough uninsured people.
"I think that if it covers less than half [of the uninsured], I would be disappointed," Gruber said.
But in part because there's plenty of time to reach that goal, Gruber is bullish.
"I think right now on substance there's nothing to worry about," he said