How to Talk About Climate Change in an Oil-and-Gas Mecca
Houston Mayor Annise Parker, the first openly lesbian leader of a big city, cuts a pragmatic path on issues from global warming to immigration.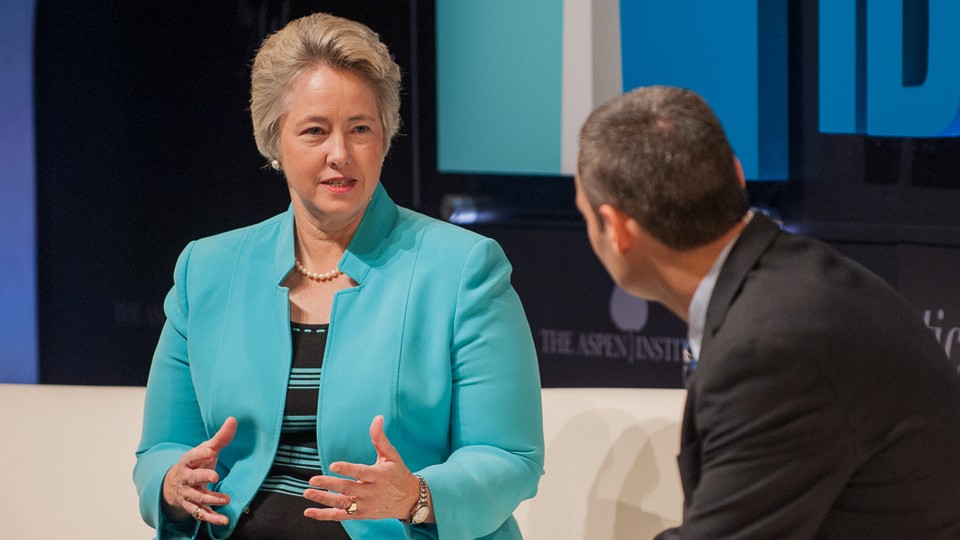 Houston doesn't seem like the sort of place where a progressive climate-change agenda could thrive. But then again, it might not seem like the sort of place that would elect a lesbian Democratic mayor, either.
But Annise Parker, the leader of the nation's fourth-largest city, sees all of this as evidence of a particularly Texan, and particularly Houstonian, mindset: practical, pragmatic, not especially interested in history.
"We don't really care who your people are, we don't care where you're from—we care what you can do, what you bring," Parker told Peter Beinart at the Washington Ideas Forum on Thursday.
That idea comes across most clearly on climate change. Parker herself worked in oil and gas for nearly two decades, for the Republican oilman Robert Mosbacher. And Parker says anyone who thinks the world or the nation can drop fossil fuels anytime soon is wrong.
"We can't suddenly stop fueling the world with oil and gas, but we have to be looking to the future and recognize that whatever our power source, we can do a better job in reducing greenhouse-gas emissions," she said. Yet the city of Houston is also the biggest municipal purchaser of renewable energy.
The trick is to avoid the thorniest debates, about questions like whether climate change is caused by humans—Parker rightly says it is, but she doesn't emphasize it. "I just focus on what can we do to reduce our greenhouse-gas emissions, what can we do to be more efficient, anything we do can to reduce the bottom line," Parker said. "That's very Houston, it's very Texas. I don't spend a lot of time on theory."
This practical approach might explain why Houston has elected two female mayors, still a rarity in big cities, and why it's the biggest city to elect an openly gay mayor. It translates to other topics, too—notably on immigration, where Parker's approach has been to focus on the results, not the rhetoric. She said border security is an important issue and noted that Houston had seen serious crimes committed by undocumented immigrants, but she also supports a path to citizenship.
How does that square with the strident voices of her fellow Texans—notably Governor Rick Perry or that guy in the Senate? And how is it that "amnesty" is so toxic in the Lone Star State?
"It's not toxic at all," Parker said, quipping, "I do my best not to talk about Senator Ted Cruz."
Drilling under the political talk, she said the state department of public safety, led by staunch Republican Perry, and the city police department, under herself, have exactly the same policy for dealing with undocumented immigrants. "The rhetoric in Washington is not reflected in the practicalities of governing the city, governing the state."