How to Resign From the Cabinet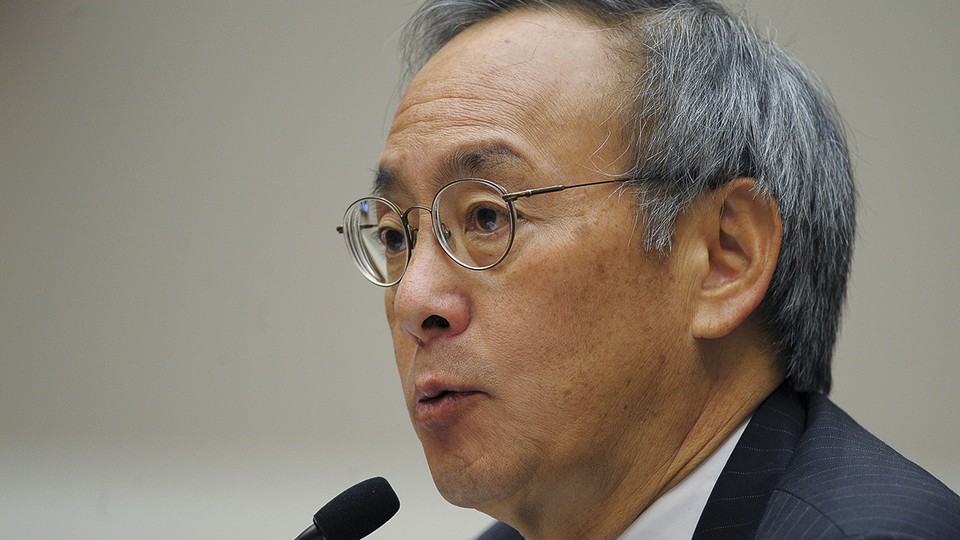 A few days after President Obama's reelection in 2012, each Cabinet secretary made a trip to the Oval Office to talk to the president about his or her intentions. "I'm not going to stick around for a second term," Steven Chu, Obama's then-Energy secretary, told his boss, according to a former senior administration official.
Former Energy Secretary Steven Chu waited for an opportune moment to announce his departure from the administration. (Mandel Ngan/AFP/Getty Images)It was a good start. Chu was eager to return to California, but he hadn't bothered the president during the campaign; he had waited until the votes were in and an opportune moment had come. Chu then completed the resignation trifecta: According to the former administration official, Chu agreed to help with the transition, including sticking around long enough to pass the baton smoothly to his successor—and he agreed to shut up about the whole thing until the White House could message the departure the way it wanted.
Before a Cabinet secretary can cash in with that big-bucks book deal and media tour, he or she needs to leave the administration. That process can go smoothly, leaving good feelings and good relations behind—or it can go so poorly that it causes a permanent rift between the president and a once-trusted adviser. What the public sees is largely theater—which, in the White House's ideal scenario, is well-rehearsed and carefully produced. But it can also be an improvised one-person show that leaves an angry administration scrambling to control the damage.
In Chu's case, after he delivered the news, the White House personnel team took over. Then-Director of Presidential Personnel Nancy Hogan and then-Cabinet Secretary Chris Lu formulated a plan. They asked Chu when he wanted to leave and worked backward to decide when to make the information public. And they emphasized the need to keep the decision quiet until they were ready to make the announcement.
Next, under the guidance of the general counsel—the president's top lawyer—a Cabinet secretary typically drafts a short, simple, "I hereby formally resign" letter. (Because the president isn't going to read it, and because most government correspondence can be made public under the Freedom of Information Act, less is generally more here.) The White House also gives departing secretaries an opportunity to thank department staff and to reflect on their Cabinet tenure in writing. Some secretaries make their farewells short and sweet. Others, like Chu, go on a bit longer. According to the former senior official, Chu stayed up late crafting his 3,800-word "Dear Colleagues" letter, which touched on his policy achievements, included a rebuttal to climate-change deniers, and incorporated a quote by Martin Luther King Jr.
The last item caught the White House off guard. When aides reviewed Chu's draft,"They were like, 'Is he comparing himself to Martin Luther King?' " says the former official, laughing. "And [his staff was] like, 'No, no, no. He's just using an illustrative quote.' "
If Chu stumbled anywhere in the process, it was at the end. The White House prefers a secretary to stay until his or her successor takes office, but the Senate took longer than expected to confirm Ernest Moniz to the post. Chu left in mid-April, before the transition was complete, and Dan Poneman, the deputy Energy secretary at the time, had to step in as acting secretary until late May. But Chu mostly got it right: He gave the White House adequate time to prepare, he communicated with officials, and he kept the news to himself until officials were ready to announce his decision.
What the public sees is largely theater—which, in the White House's ideal scenario, is well-rehearsed and carefully produced.
What the White House doesn't like are surprises. For example, if a Cabinet secretary wants to leave his or her post at the end of the first term, ideally that process begins with something like a call to the White House chief of staff, who then arranges either a phone call or meeting with the president, who thanks the secretary for his or her service.
What that process doesn't generally involve is telling a couple of reporters after a National Press Club event that you are planning to leave at the term's end. "This has been a great run," Ray LaHood, Obama's first Transportation secretary, said after one such event in October 2011, "I've enjoyed it"—although he hadn't yet told the president he was planning to leave. (LaHood, who declined to comment on his resignation process, ultimately stayed on the job until July 2013, when the Senate confirmed then-Mayor Anthony Foxx of Charlotte, North Carolina, to succeed him.)
Leaving an administration the wrong way can not only be impolitic—it can also be illegal or unethical. For example, White House lawyers need to know about even preliminary conversations any administration official has with prospective employers—and that official must then recuse herself or himself from any issue or business within the department that could constitute (or appear to constitute) a conflict of interest. For example, when Chu started talking to the University of California (Berkeley) and Stanford University about returning to academia, he had to file a recusal with the Office of General Counsel in the White House removing himself from any matter involving those institutions.
A former official must maintain this strict separation between the old job and the new one for two years after leaving the administration. One former senior official recalls dropping off a client at the door of her old department shortly after she left her post there, unable to accompany the client to a meeting. Another time, she says, she considered attending an event on behalf of a client, but found out that the deputy secretary of her former department was also planning to attend. She consulted the government ethics office, which agreed it would be a bad idea; a former official who breaks ethics rules in the first year out of the administration can face criminal penalties.
With the midterm elections approaching, White House officials will likely review the Cabinet to assess what changes may be in store for the last two years of Obama's presidency. Some secretaries may opt to depart. Others may be asked to do so, either directly or indirectly. Either way, how these top officials conduct themselves will become part of the way their tenure is viewed, both by the public and within the administration. "The most successful Cabinet members are the ones who understand that they serve at the pleasure of the president," says one former department chief of staff in the George W. Bush administration. "They don't expect anything more, and they don't expect anything less. It translates into when they decide to leave. It also translates into understanding that they could be asked to leave at any time."