How to Defend Democrats Without Defending Obama
Bill Clinton returns to stump in Arkansas, where he is loved but the president is not.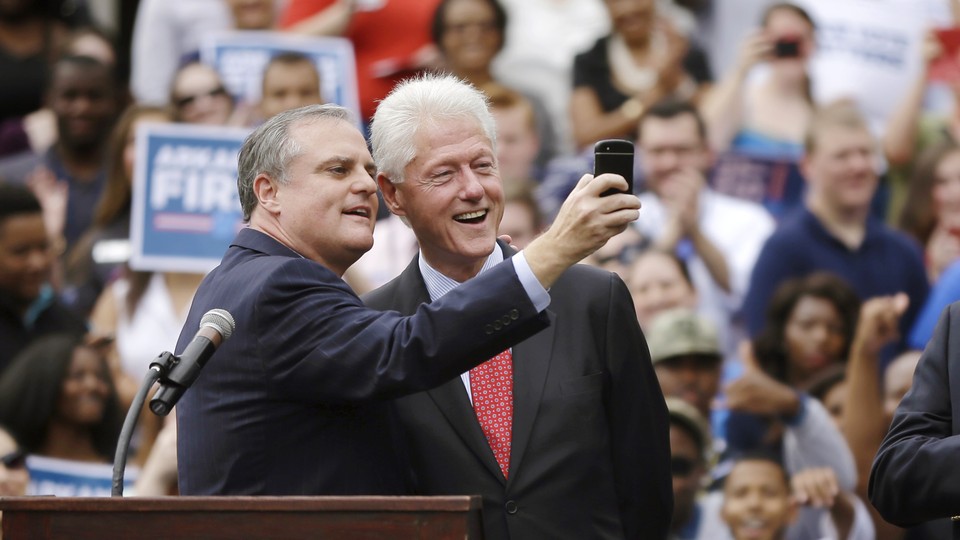 Bill Clinton came home to Arkansas on Monday to turn out Democrats in a state that has become a bright shade of red in the 22 years since he left the governor's office for the White House.
He didn't mince words.
"The president," he said, in reference to Barack Obama, "is unpopular in Arkansas."
It was a fact so obvious it was surprising Clinton said it at all.
Obama recorded an approval rating in Arkansas of just 31 percent in an NBC/Marist poll last month, nearly two years after he lost the state to Mitt Romney by 24 points.
In many ways, the deep opposition to Obama is why Clinton was there in the first place, filling the role of Southern surrogate he has played in every election since 2008. After all these years, Clinton is still very much welcome in Arkansas, even if Obama is not.
Clinton's own popularity was evident from the get-go, when Arkansas's senior Democratic senator, Mark Pryor, asked the former president to take a selfie with him, in a rather blatant bid to win the affection of the college-age audience.
Making the first of four appearances on university campuses, Clinton urged voters not to succumb to Republican pressure to take out their anger at Obama on Pryor, or on the party's nominee for governor, Mike Ross.
Clinton's argument was that the GOP was offering a bad deal: Any protest against the president would be "irrelevant" in two years when Obama leaves office, while the voters would still be stuck with Republican Tom Cotton for six in the Senate."They're really running against the president, aren't they?" Clinton said."They want you to make this a protest vote."
"It's a pretty good scam, isn't it?" he asked.
Rather than try to boost Obama, Clinton instead sought to link Pryor and Ross to the leadership style of Arkansas's popular outgoing governor, Mike Beebe.
"Mike Ross and Mark Pryor have proven that they will work with anybody to get something done," he said.
Clinton turned to healthcare as his headline example, and he ended up defending the unpopular Obamacare without ever saying its name. Instead, he gave credit to Beebe's implementation of the state's insurance exchange, which the state has dubbed "the private option." While Beebe chose to accept federal money for an expansion of Medicaid under the Affordable Care Act, the Republican governor in neighboring Louisiana, Bobby Jindal, rejected it. The result, Clinton said, has been that insurance premiums are going down in Arkansas and increasing in Louisiana.
It was a delicate rhetorical dance that Clinton tried as well in explaining the economic recovery, which he proclaimed a success even as he acknowledged that voters weren't feeling it.
Polling averages show both Pryor and Beebe losing to Republicans, and Clinton's efforts to bolster them might not be any more successful than his attempt to help Senator Blanche Lincoln, a Democrat who lost her seat in Arkansas in the GOP wave in 2010.
But with the political dynamic in Arkansas at play in several competitive Senate seats across the country, the popular former president offered his party a roadmap on how to defend Democrats without defending Obama.