Federal Recognition of Gay Marriage: Now Matching Public Opinion
As of today, the number of people who live in states where same-sex marriage is recognized is more or less the same as the number of people who don't oppose it.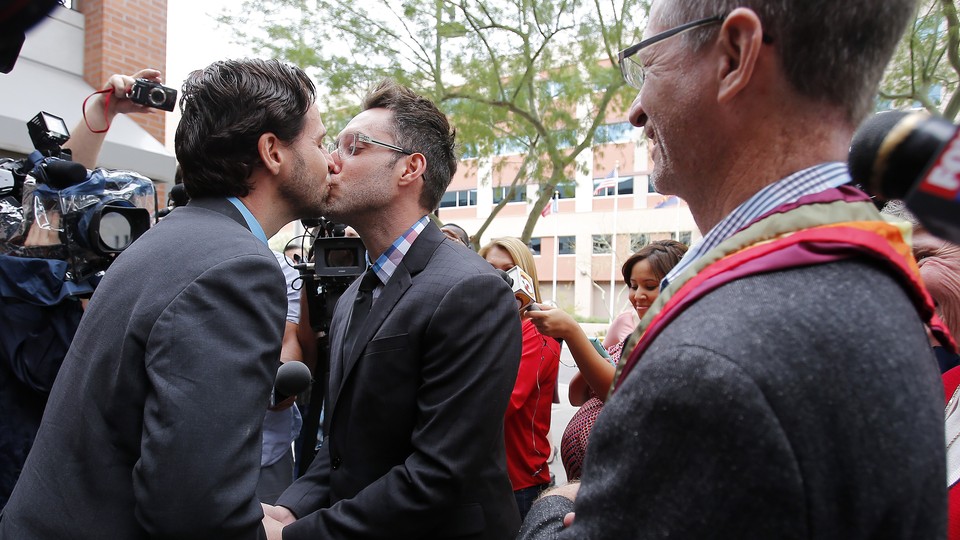 The federal government announced Saturday that it will recognize same-sex marriages in six additional states. Now, gay couples in Alaska, Arizona, Idaho, North Carolina, West Virginia and Wyoming eligible for a variety of federal benefits such as Social Security for widowers or the ability to file a joint income tax return—a move that puts the government more in tune with popular opinion.
"With each new state where same-sex marriages are legally recognized, our nation moves closer to achieving of full equality for all Americans," said Attorney General Eric Holder. "We are acting as quickly as possible with agencies throughout the government to ensure that same-sex married couples in these states receive the fullest array of benefits allowable under federal law."
Last week, Holder issued a similar announcement about seven other states: Colorado, Indiana, Nevada, Oklahoma, Utah, Virginia and Wisconsin. With Saturday's announcement, the federal government recognizes same-sex couples in 32 states and the District of Columbia. The two announcements come after the Supreme Court declined to hear appeals in cases that made gay marriage legal in each of these states.
According to the Pew Research Center, as of February 23, 39 percent of Americans oppose same-sex marriage and 54 percent support it—a sharp distinction from 1996 when 65 percent opposed and only 27 percent supported it. And it wasn't until 2011 that Americans were split on the question.
---
American Views on Gay Marriage Over Time
---
Coincidentally, with the addition of the six states today, now about 39 percent of Americans (roughly 120 million people) live in states where same-sex marriage is not federally recognized—which is the same as the percentage of Americans who oppose it, according to Pew. In other words, the number of Americans who don't oppose same-sex marriage is roughly the same as the number of Americans who live in states where it's federally recognized.

Of course, that doesn't exactly put the right people in the right place.