House Democrats Get Creative With Their Attack Ads
DCCC Chairman Steve Israel wanted his ads to be distinctive. He may save a few House seats, thanks to the extra investment.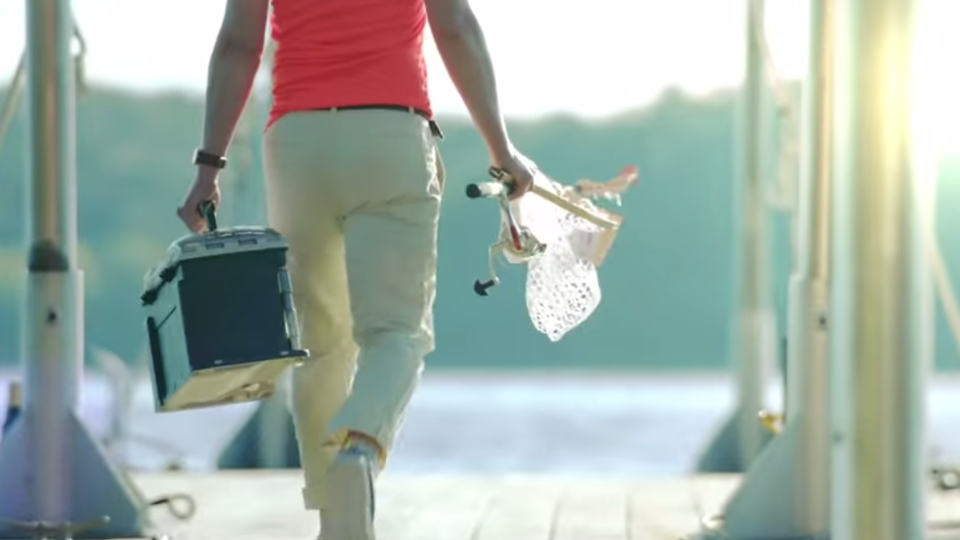 In one ad, a man in khakis and a polo shirt steps onto a yacht, flipping lobsters on the grill and running his hands through his long hair. In another, two elderly ladies look on as a man shouts, gesticulates wildly, and throws papers up into the air. A third features a drive down Wall Street—Wall Street in Hartford, Iowa, that is.
It's usually pretty easy to spot outside political advertising when you see it: ominous music, dark colors, and black-and-white, unflattering photos of the candidate being attacked. The airwaves have been plastered with an unprecedented amount of them this year, as midterm ad spending is expected to top $1 billion.
But these, from the Democratic Congressional Campaign Committee, aren't your average outside ads. They've been shot in restaurants, on planes, on boats—even in a police car.
House Democrats may be facing losses at the ballot box this fall—but the committee's creative, out-of-the-box independent-expenditure ads, tailored to each district, are a bright spot, and something aides argue have helped move the dial in a handful of tough races.
Facing an already-tough map at the start of the 2014 cycle, DCCC Chairman Steve Israel told staffers and aides that he wanted the committee's ads to be distinctive—even if it meant investing more into them. Given that the DCCC has raised a record-breaking $163 million since January of 2013, it's had additional resources to put toward better ad-making.
"From the beginning of the cycle, I made it clear to our candidates, consultants and staff that we needed to run ads that would break through the political clutter, tell stories about real people and give voters something to relate to," Israel said in a statement to National Journal.
Thus far, the DCCC's IE program has done 28 on-the-ground TV shoots. And in a year when voters are seeing an unprecedented amount of midterm television advertising—much of it from outside groups, rather than the candidates themselves—it helps to be distinctive.
"We hear from voters all the time: 'We hate negative ads, we hate negative ads.' But we also know that they're impactful," said Jef Pollock, whose firm, Global Strategy Group, works with some of the House candidates in question. "So "¦ the question is how do you make them more impactful and less hated? You make them look less like 'traditional' political ads."
The ads are a mix: Some document testimonials from voters in the district, while others, with actors depicting the GOP candidates in question, tend toward the theatrical. Perhaps the most talked-about example is a series of ads run against Stewart Mills, the Republican who's challenging Democratic Rep. Rick Nolan in Minnesota. Not only do the ads work to make Mills, who is independently wealthy, look Mitt Romney-esque—they actually created a faux personal monogram for the candidate.
"It's not your typical fish story: Stewart Mills III caught a big inheritance and a job at the family business that pays half a million a year," the ad says, as a man who looks like Mills walks down the dock and steps onto a fancy boat.
Both that ad and another in the series—all of which feature the sparkly-gold "Stewart Mills III" monogram—make reference to Mills's long hair, which has gotten attention. ("It costs a lot to get this look," another ad says, showing footage of Mills running his hands through his hair.)
While it's tough to gauge the actual effect of these ads—there are always myriad factors at play—the DCCC's internal polling out of Minnesota certainly paints a picture. The internal, done by Greenberg Quinlan Rosner Research, found that Mills's unfavorable ratings rose from 18 percent in July to 36 percent in September. (That said, an automated SurveyUSA poll out in mid-October put Mills with an 8-point lead; it didn't include favorability ratings, so it's unclear whether his image has rebounded recently.)
Another series of ads that breaks out of the norm targets Mike Bost, the GOP candidate running against Rep. Bill Enyart in Illinois's 12th District. Bost had a headline-grabbing rant on the floor of the Illinois House in 2012—and the DCCC's IE arm is using its ads to remind the district's voters of that incident. One ad shows footage of the rant playing on TV screens across the district; another features an actor impersonating Bost, throwing papers in the air and storming by voters.
There are others: an ad in Illinois's 13th District envisions GOP Rep. Rodney Davis in first class on a plane, ordering up champagne and lobsters ("Rodney Davis cares more about first class than the middle class," the ad says). And one in New Hampshire's 2nd District, targeting GOP candidate Marilinda Garcia, pictures a female doctor being arrested and put in the back of a police car for performing abortions ("Sending doctors to prison? Marilinda Garcia is extreme, even by tea-party standards," it says).
"There's humor when it's appropriate, there's intensity where it's appropriate, there's the feel of the district," said John Lapp, whose firm, Ralston Lapp, produced the Bost ads. "It's not screaming and yelling and insulting the voters, it's presenting them with information."
The DCCC isn't the only group experimenting with more original footage and unique ideas. Aides for its GOP counterpart, the National Republican Congressional Committee, say the committee has done 19 original TV shoots this year, many of them for direct-to-camera testimonials from voters in the districts in question. (Another, in Georgia's 12th District, features a live monkey.)
A series of those ads is running in West Virginia, where Republicans hope to oust longtime Democratic Rep. Nick Rahall from office next month. Featuring interviews with coal miners and residents in the district, the ads paint a picture of an incumbent who is out of touch with his district's needs.
"I don't know what I'm going to do if I lose my job. The EPA and the Obama administration is regulating us to death," says Joe McCormick, a coal miner from Seth, W.Va., in one ad. "When Nick Rahall votes with Barack Obama, that tells me that Nick Rahall don't really care about southern West Virginia."
NRCC spokeswoman Andrea Bozek said the ads are helping to shift momentum to GOP candidates in these key races. "Our ads are moving numbers in every race we have invested in," she said. "Our team has put in a lot of time and effort to produce strong effective that resonate with voters."
There's also the Tom Steyer-backed group NextGen Climate, which has run a handful of ads that are original—and at times a little strange. One 60-second ad in Iowa, which ran this summer, envisioned a smoke-filled, closed-door meeting with the Koch brothers laughing maniacally while talking about Ernst's tax pledges. The ad puzzled the D.C. political class, seemingly a bit too outside-the-box.
It's tough to tell how effective these ads will be at breaking through the clutter of cookie-cutter outside ads and candidate spots in the final weeks of the election—all the ads are running in tough districts, with candidates and incumbents facing difficult races. But ad-makers say it certainly can't hurt to be original.
"You certainly notice when a good ad goes up from an outside group," said Jon Vogel, whose firm, MVAR Media, made the New Hampshire ad. "You want something that's going to cut through a little bit better "¦ it's not a narrator just yelling at the voters about why the opponent is a terrible human being."