Homeland Security Announces Travel Restrictions for 'Protective Measures' Against Ebola
Flights between the U.S. and Sierra Leone, Liberia, and Guinea will now require additional screenings.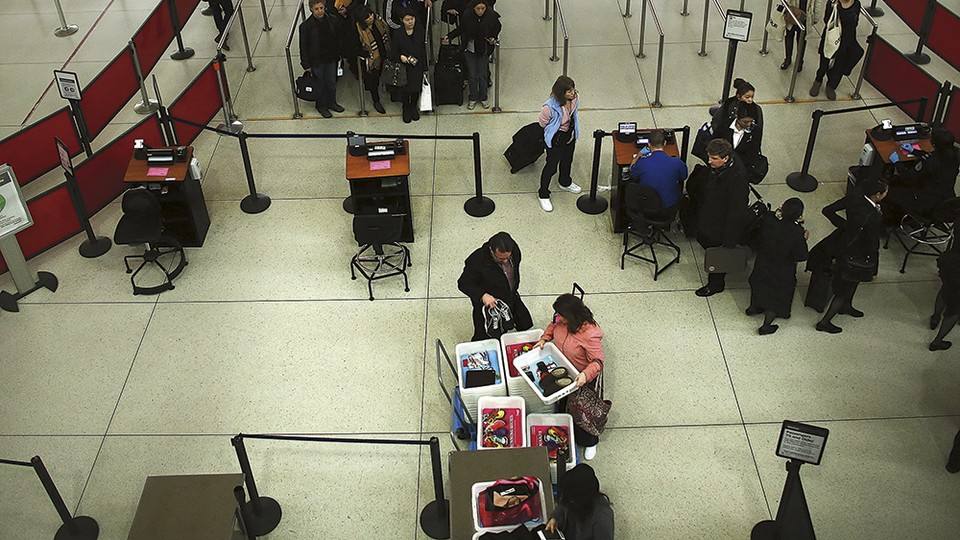 Travelers flying between West African nations affected by Ebola and the United States will now be subject to additional screenings and "protective measures" to help prevent the disease from spreading into the U.S., the Homeland Security Department announced Tuesday.
All passengers flying from Sierra Leone, Liberia, and Guinea into the U.S. will be required to enter the country through five major airports: Dulles International Airport in Virginia; John F. Kennedy International Airport in New York; Newark Liberty International Airport; Chicago O'Hare International Airport; and Hartsfield-Jackson Atlanta International Airport.
"These airports account for about 94 percent of travelers flying to the United States from these countries," Johnson said. "At present there are no direct, nonstop commercial flights from Liberia, Sierra Leone, or Guinea to any airport in the United States."
All five airports will now be required to specially screen passengers whose trips originated in any of those three countries and to submit passengers to "added protocols, including having their temperature taken," Homeland Security Secretary Jeh Johnson said in a release on Tuesday.
Johnson stopped short of announcing a full ban on travel between the three nations and the United States, despite increasing calls from members of Congress to do so. The White House has said as recently as last week that it opposes such a restriction. However, Johnson added: "We are continually evaluating whether additional restrictions or added screening and precautionary measures are necessary to protect the American people and will act accordingly."
The changes announced by Johnson on Tuesday will take effect on Wednesday morning.
These restrictions alone aren't likely to seriously quiet the calls from congressional Republicans and others for more restrictive measures, such as instituting complete travel bans from those countries or visa bans for their citizens trying to come to the U.S.
---
Matt Berman contributed to this article