HHS Says Obamacare's New Website Will Work. For Real This Time.
Officials hope rigorous testing will avert a repeat of last year's fiasco.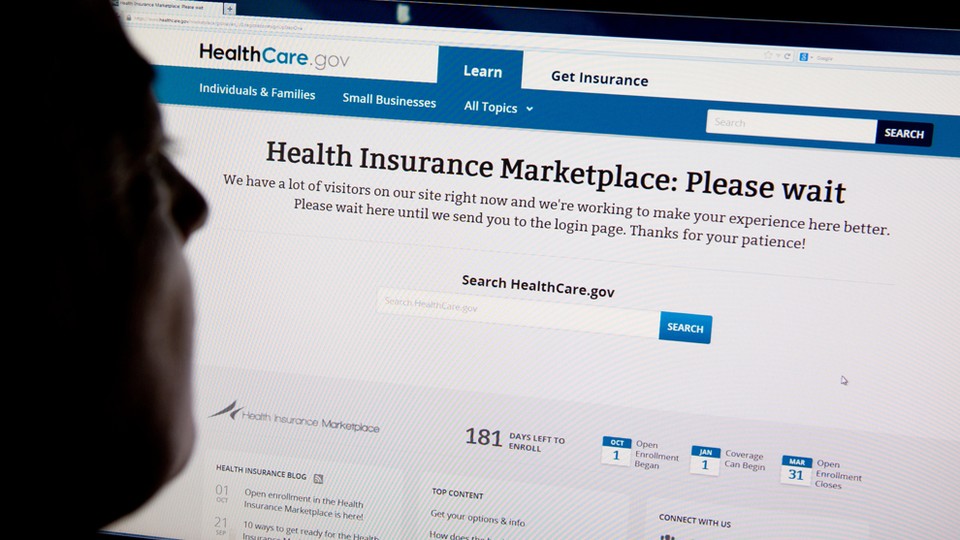 Federal health officials say they've reconfigured and rebuilt the Obamacare enrollment website to avoid a repeat of last year's disastrous launch.
HealthCare.gov did not work at all for nearly half of the first open-enrollment window, and it was also saddled with weird, cumbersome processes that made it a pain to use even when it was available. Not a big enough pain to deter some 8 million people from signing up for coverage, but bad enough that the Health and Human Services Department has spent months overhauling the application process to run more smoothly.
HHS officials previewed the new site for reporters on Wednesday. The highlights:
Among its many problems, the old HealthCare.gov didn't like it when people hit the "back" button on their browsers. It would take them all the way back to the beginning of the process. The new version will let you hit your "back" button.
The online application has been whittled down from 78 screens to just 16. Consumers will only have to enter their basic personal information once; the old system made them type in the same information several times.
About 70 percent of new customers should be able to use the new, streamlined application. People with complicated situations—for example, households where different family members are eligible for different programs—will be diverted back to the old, longer application.
Andy Slavitt, the principal deputy administrator of the agency handling most Affordable Care Act implementation, said the main priority throughout the entire rebuilding process was to begin end-to-end testing on Oct. 7. They met that goal; the fourth phase of testing began Tuesday. That's a big turnaround from last year, when the site wasn't fully tested until the last minute—and it failed.
It might have been possible, Slavitt said, to make the new, simpler site work for 75 percent of new customers, instead of 70 percent. But that extra time for development would have come at the expense of time for testing—"not a trade I'm willing to make," he said.
About 20,000 people have made it through the new system. It was initially opened up to about 1 percent of customers who were able to buy insurance outside of open enrollment, and has since expanded to 100 percent. Officials have used those experiences to test the system's performance on a more limited scale.
Officials wouldn't say how many people they expect the site to be able to handle at one time. Heavy volume overwhelmed the old HealthCare.gov. They said they want the new site to be able to handle "significantly more" than the old one, but wouldn't set a firm target until more testing has been completed.
When open enrollment begins on Nov. 15, the biggest challenge may not be the process for new customers, but rather for existing enrollees who want to renew their plans or shop around for a better deal.
The HHS officials didn't offer many details about the reenrollment process, which is bound by inherent contradictions: HHS has set up an auto-renewal process, which makes sense; obviously, HHS wants to make it easy for people to keep their coverage. But auto-renewal will in many cases cause customers' out-of-pocket expenses to rise, often significantly and sometimes unexpectedly. People will usually get a better deal if they reenter the system and shop around.
Kevin Counihan, the newly appointed CEO of the Obamacare exchanges, said HHS will nudge customers toward taking a look at their options.
"We're really going to make this as hand-holding as possible," he said.