Help Not Wanted In Iowa
The White House may just want to stay away from Bruce Braley's Senate bid until Election Day.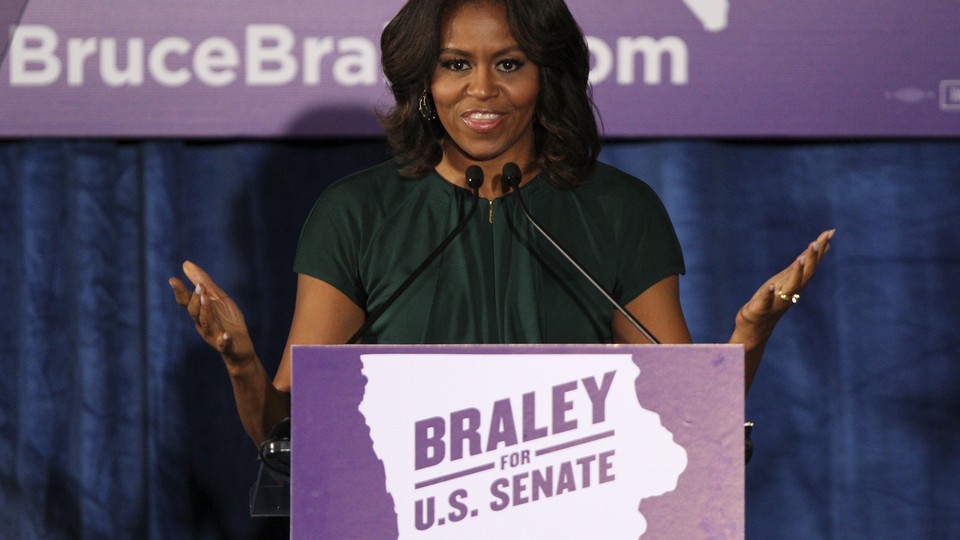 The White House is trying to help Bruce Braley win an open Senate seat in Iowa. It really is.
But in the last two weeks, between a stumble by First Lady Michelle Obama and a transcription gone wrong, the administration's attempts at assistance have resembled a comedy of errors.
The problems began when Mrs. Obama, during a campaign stop with the candidate on October 10, repeatedly mispronounced Braley's name as Bailey, to the point where she was directing voters to request mail-in ballots at an incorrect website. Finally, the audience shouted, "Braley!" at the first lady and she realized her error.
Mrs. Obama returned to the state to make it up to Braley on Tuesday, and her event went off well enough. "I am thrilled to be here today to support the next Senator from Iowa, our friend Bruce Braley.  Let's give it up for Bruce," the first lady began. "Now, let me say that one more time: Bruce Braley. Now, some of you may remember the last time I was here."
The crowd responded with laughter and applause, and one audience member yelled, "You got it right!" Mrs. Obama joked that she frequently mixes up her children's names and even mistakes the president for the first dog, Bo. "It just never works out really well," she confessed to laughs.
She finished her speech without incident, but when the White House sent out a transcript of the first lady's remarks, a staffer mistakenly labeled Braley as the Democratic candidate for governor instead of senator. Uh oh. Though a fairly innocuous error, it provided fodder for another round of laughs at Braley's expense, and the White House issued a corrected transcript a couple hours later.
Yet with control of the Senate in the balance and Braley struggling in a race many Democrats expected him to win, party operatives aren't finding the screw-ups very funny. Some were already seething at President Obama's comments that his policies were "on the ballot" in November, a statement at odds with the attempts by Democratic candidates to distance themselves from the unpopular president. "The ineptitude of the White House political operation has sunk from annoying to embarrassing," one senior Senate Democratic aide told National Journal.
The anonymous rhetorical missiles are part of the ritualistic, preemptive blame game when one party knows it's headed for electoral losses. The White House's flubs in Iowa shouldn't turn many votes, but just in case, the Obamas may want to leave the race to Braley from here on out.