Can Twitter Solve Hillary Clinton's Relatability Problem?
The former secretary of state has sometimes struggled to connect with voters on the stump. Maybe 140 characters suit her better.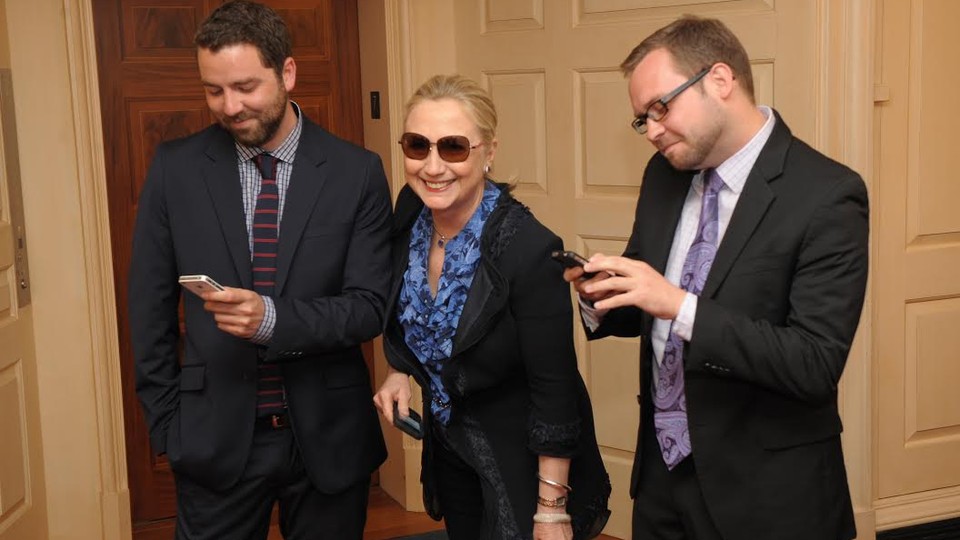 Since she entered the national spotlight more than 20 years ago, Hillary Clinton has struggled to connect with voters the way great politicians often do—look no further than her husband for a prime example of the dynamic, American pol. Well, Hillary has finally found a way off showing her softer side: Twitter.
In April 2012, a black-and-white picture of then-Secretary of State Hillary Clinton sitting in a military plane, wearing sunglasses, and holding her BlackBerry went viral thanks to a Tumblr account called "Texts from Hillary." The account, which was shared over 82,000 times on Facebook in one week, features the now-famous picture of the former first lady exchanging snarky text messages with celebrities ranging from Barack Obama to Meryl Streep.
"Brunch?" asks Meryl Streep. "Obviously," a stone-faced Hillary replies.
The main joke of Texts from Hillary is that the hard-edged, no-nonsense, steely-faced Clinton is the only adult in a world of celebrity toddlers. While we're laughing at the idea that Hillary Clinton actually texts with celebs, we're also laughing at the general incompetence of the people she's texting with. In this sense, Texts From Hillary managed to take had been one of Clinton's greatest weaknesses—her wooden, stern persona—and turn it into something positive and endearing: her no-nonsense competence and authority.
"She's going to love the new Justin Bieber video!" says a casually dressed Joe Biden, flanked by a smiling Barack Obama. "Back to work boys," Hillary replies.
The Texts From Hillary meme inspired national coverage, including a column by Maureen Dowd in The New York Times and articles in multiple other publications, from The Washington Post to BuzzFeed to CNN. Hillary even invited the Tumblr's creators, Adam Smith and Stacy Lambe—both communications professionals in Washington, D.C.—to the State Department, where she put on her signature sunglasses and snapped a picture with the pair. The Internet was laughing, and Hillary Clinton was finally in on the joke.
Shortly after Texts From Hillary blew up, Talking Points Memo's Benjy Sarlin wrote about the impact it had on reinventing Clinton's wooden public persona:
When she was running for the Democratic presidential nomination, Hillary Clinton was parodied as drab and calculated, especially compared with young and vigorous Barack Obama and winking and fresh-faced Sarah Palin. Now, she's fueling Internet jokes based on her own brand of badass cool.
Creating, or cultivating as Clinton has done, a brand of "badass cool" is not a small achievement for someone who has struggled to connect in more traditional forms of political communication over the past 20 plus years. During Bill Clinton's first presidential campaign in 1992, focus-group testing prompted pollsters to suggest that the public needed to meet "the real Hillary." When she was running for the U.S. Senate in New York State 10 years later, longtime media adviser Mandy Grunwald once again urged Clinton "to be real." And in 2008, Clinton often looked stiff next to the charismatic, young Barack Obama.
While four years away from rough-and-tumble domestic politics helped boost Clinton's popularity—she left the State Department in 2012 with a whopping 69 percent approval rating—her relatability problems still haven't gone away.
Look no further than her recent and seemingly never-ending book tour, where Clinton was again derided for what were seen as out of touch comments that she and her husband were "dead broke" after leaving the White House. While the couple did owe upwards of $10 million in legal fees, they also walked out of Washington into millions of dollars in book advances and paid speeches.
Despite her struggles to relate in interviews and during months of book tours, Hillary Clinton has been able to project a relatable persona on social media. In June 2013—with help from State Department social-media adviser Katie Dowd and Obama digital strategist Katie Stanton—Hillary joined Twitter, where she co-opted the tongue-in-cheek tone of Texts from Hillary. Clinton's first tweet even credited the meme's two creators as an inspiration:
What's more, Clinton's Twitter account employs the black-and-white "texting" picture from Smith and Lambe's Tumblr—the photograph was taken by Time magazine photographer Diana Walker on a trip from Malta to Tripoli in 2011.
Since then, Clinton—or whoever on her media team is tweeting for her—has used Twitter to give her 2.27 million followers a glimpse into her personal life.
In June, 2013 daughter Chelsea snapped a photo of the pair while they were backstage at an event for the family's Clinton Global Initiative in Chicago:
Hillary responded, "Having so much fun with Chelsea, taking selfies back stage." Taking selfies with your mom? That's something even regular people can do.
When Prince George was born later that month—an event that captivated U.S. popular culture—Clinton poked fun at her 1996 book It Takes a Village:
Congratulations from across the pond to the Duke and Duchess! Wishing you the best of luck and a bit of advice: It Takes a (Royal) Village!

— Hillary Clinton (@HillaryClinton) July 23, 2013
In June, Katy Perry offered to write Hillary a theme song at a book event. Clinton responded with a not so subtle reference to her book, Hard Choices:
.@katyperry Well that's not a Hard Choice. You already did! Keep letting us hear you Roar.

— Hillary Clinton (@HillaryClinton) June 22, 2014
Taking selfies, talking about pop culture, and tweeting at young celebrities? While the 67-year Clinton isn't in the running to become the next Perez Hilton, there's something hilariously endearing about the fact that she's trying so hard.
So, why does Hillary come across as more relatable on Twitter than she does in interviews and on the campaign trail?
"I think her team has done a great job of giving @hillaryclinton a distinctive, down-to-earth voice," said Laura Olin, who ran social-media strategy for Obama's 2012 campaign, including the @BarackObama Twitter account. "It really does feel like they took a page from Texts from Hillary and embraced the opportunity to let her personality and sense of humor shine through."
By poking fun at herself and the daily circus around her, Clinton looks like she's in on the joke. Although some politicians, like Democratic Representative John Dingell, display a level of humor on Twitter, the average elected official (or former top diplomat) often tweets with the straightforwardness of a boring, carefully drawn line. @HillaryClinton's line is decidedly more entertaining.
Compare her Twitter bio ("Wife, mom, lawyer, women & kids advocate, FLOAR, FLOTUS, US Senator, SecState, author, dog owner, hair icon, pantsuit aficionado, glass ceiling cracker, TBD…") with Mitt Romney's ("former Governor of Massachusetts") or potential 2016 presidential candidate Martin O'Malley's ("Official Twitter account of Governor O'Malley. A way to connect, share thoughts and make our state government work for the people of Maryland") or family values apologist Rick Santorum's ("Husband to @KarenSantorum, dad of 7, fighting for hard-working Americans... ").
Jena McGregor wrote about Clinton's Twitter debut in The Washington Post with the headline, "Hillary Clinton Joins Twitter, Sounds Human"—offering the clear implication that the former first lady can come across as, well, less than human. McGregor writes that Clinton's humanity, which has often eluded her in public, shines through in 140 characters.
Clinton (or at least her advisers) get that Twitter is a place to expose the person behind the professional veneer—at least a little bit .... Since her Twitter bio made waves in the news Clinton has continued this playful, human tone.
Can a relatable Twitter persona shine through in other, non-virtual forms? While her book tour shows that Twitter can't protect Clinton from old-fashioned gaffes, Olin noted that @HillaryClinton could positively affect the Hillary brand.
"Given how much attention the media seems to pay to Twitter and report out from it, that authentic voice could reflect how people beyond the Twitter audience thinks of her," she said. "Haters are gonna hate no matter what she does—so why not ignore them entirely, have some fun with her presence online, and probably reach a lot more non-haters in the process?" Olin added.
Clinton may not be ignoring her "haters," but she's taken the opportunity to poke fun at them like in this tweeted jab at Fox News during last year's Super Bowl:
It's so much more fun to watch FOX when it's someone else being blitzed & sacked! #SuperBowl

— Hillary Clinton (@HillaryClinton) February 3, 2014
The tweet went viral, reaching 56,085 retweets and making news across the web.
Eight months later, Clinton's Twitter flame shows no sign of flickering. Earlier this year, @HillaryClinton was one of only four political accounts to garner a coveted spot on Time's annual list of the best Twitter feeds of the year. What's most significant isn't Hillary's selection but the reason for her selection, which Time cited as a mastery of the"power selfie" and a knack for making "tweeted zingers" go viral. Put another way, Clinton, who has struggled to connect with average Americans over decades in public life, is winning the social media popularity contest.
On April Fools Day, Bill Clinton parodied the Texts from Hillary meme by tweeting out the now infamous Diana Walker photograph with the former president photoshopped into the picture. @HillaryClinton retweeted:
It's safe to say that both Clintons, whose public statements (and tweeted zingers) are carefully wrought, know that they've got a good thing going. Should she run for president in 2016—and everything says she will—being able to connect with voters on a large scale will likely be crucial for her campaign. Hillary Clinton may still not have her husband's charisma on the stump, but @HillaryClinton has created its own brand of badass cool on social media.