Gubernatorial Candidates Offer Rare Beacon for Bipartisanship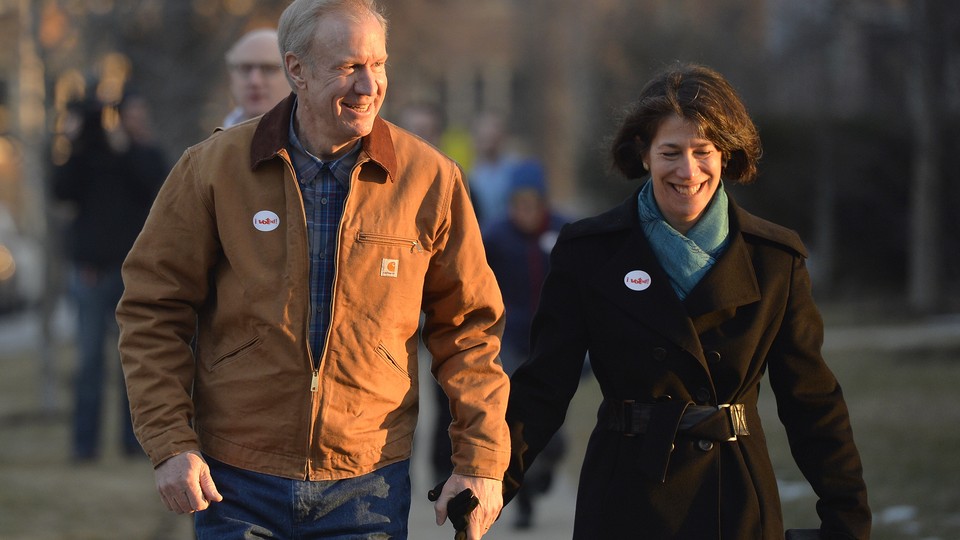 In a midterm election year increasingly guided by a polarized national political environment, a number of gubernatorial candidates are exhibiting a remarkable ability to distance themselves from their national party brands even in the most partisan of states—and they appear well positioned to win because of it.
While Democrats are predictably struggling in contested Senate contests in red and swing states, Democrats like Paul Davis and Jason Carter are overcoming low expectations in Kansas and Georgia. And while the biggest Republican gains in federal races are likely to be found in states already friendly to their party, Republicans including Duke Aiona, Tom Foley, Bruce Rauner, and Charlie Baker are keeping it close in traditional Democratic strongholds of Hawaii, Connecticut, Illinois, and Massachusetts, respectively.
The strength of these gubernatorial candidates is no accident—they purposefully aren't running as party standard-bearers. Each of them is instead seeking out centrist ground on issues unique to their states, and all are running carefully calibrated campaigns geared toward winning crossover voters, or at least not scaring them off, particularly on sensitive social issues.
University of California (San Diego) political science professor Thad Kousser, coauthor of The Power of American Governors: Winning on Budgets and Losing on Policy, says this phenomenon is nothing new.
"This is completely in the tradition of governors. Unlike senators or members of Congress, they don't have to go to Washington every week and toe the party line on the national issues of the day. This gives them the ability to craft their own politics in their state," Kousser said. "They can take positions at odds with party leaders, and party leaders have no ability to whip them."
The relative freedom to pursue their own agenda is especially apparent in states where gubernatorial and Senate races overlap, like Georgia.
"The challenge for [Michelle] Nunn is that she's running for a seat in the Senate, and for a Senate that hangs in the balance," said Bryan Thomas, spokesman for gubernatorial candidate Carter, of the state's Democratic Senate nominee.
The constant need to answer to the actions of an unpopular Congress, an unpopular president, or items in the national news cycle is "just not something that's part of our campaign," said Thomas, adding that generally speaking, "running for the governor's job instead of running for something in Washington, you're a little bit more protected from some of that partisan prejudging."
Carter, for example, sports an "A" rating from the National Rifle Association, while Baker in Massachusetts is one of few Republicans who openly and emphatically support gay marriage. In Illinois, the GOP's Rauner attended a gala thrown by the American Civil Liberties Union in celebration of abortion rights in May, while Democrat Davis is opposing tax cuts passed by Kansas Republican Gov. Sam Brownback not by proposing any increases, but by pitching a "freeze" on current rates.
For Rauner and Baker, particularly, making it clear their stances on social issues jibe with those of the many progressive voters in their states has been a necessary precursor to selling their agendas on fiscal and economic issues, which is still an arduous task. Rauner repeatedly insists he has "no social agenda," and has enlisted his wife Diana, a Democrat, to help make his case, while Baker's campaign emphasizes the personal nature of his positions. "When it comes to marriage equality, for Charlie it's a personal issue," said Baker spokesman Tim Buckley, pointing out that the Massachusetts Republican candidate has a brother who is gay. On the flip side, Davis and Carter in Kansas and Georgia are keeping nearly silent on social issues to allay potential conservative unease, and have kept their focus squarely on local issues concerning education and the economy, though their opponents are doing what they can to nationalize their races and tie them to President Obama.
One Democratic operative told The New Republic the Davis campaign sent out a "directive" to other Democrats to keep an airtight focus on education if they planned on promoting his candidacy, and Kansas Democratic Party Chairwoman Joan Wagnon told The Kansas City Star, "[Davis] is being very cautious trying to tell people where he's going "¦ without giving the forces of darkness the ammunition they need to take his head off."
As such, the only outside television ads run for Davis have fittingly come from a major teachers union, the National Education Association, and a local liberal group called the Kansas Values Institute. But for many of these candidates, the relative lack of outside involvement may be as much of a boon to their ability to stay on message as it is a detractor for the volume of cash spent on their behalf. "We haven't seen a dime of outside spending in our race, which is fine," Thomas said. "We're running our campaign on what we can raise and what we can communicate with voters directly."
Even for the most independent of candidates, however, winning significant crossover support remains elusive. GOP candidates like Baker in Massachusetts, Aiona in Hawaii, and Foley in Connecticut are staying competitive mostly because of their support from self-identified independent voters, not because of support from Democrats. Kansas's Davis appears to be the lone exception. The Democrat was shown pulling support from 30 percent of Republican voters in a recent Suffolk University/USA Today poll.
Success in November for any of these candidates would be more than an electoral novelty. It would dramatically increase the number of states operating under divided government, which currently stands at only 12. A majority of states, 38, are under single-party control.
Baker and Aiona frequently talk about bringing "balance" to state governments completely controlled by Democrats, while still emphasizing the necessity of making overtures to those in power. Whether it's about campaigning or potentially governing, Baker's spokesman Buckley said, "Obviously as a Republican in Massachusetts the only way to accomplish anything is to reach across the aisle and work with the other side."