GOP Group Urges Young Voters to Support Weed Candidate
The last-minute pitch is a bid to siphon votes from Democrat Kay Hagan so that the Republican can advance.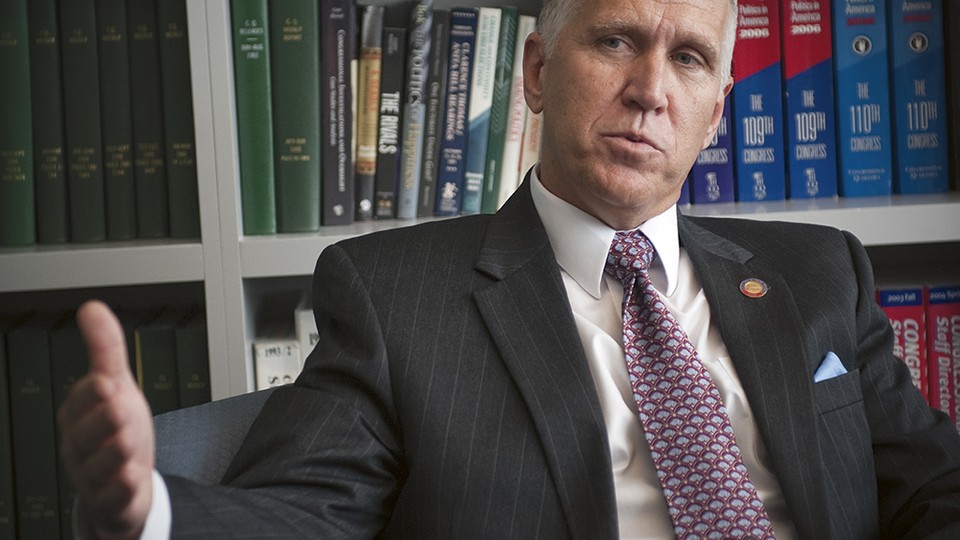 A Republican group is making a last-ditch effort to push the GOP Senate candidate in North Carolina across the finish line by urging young voters to get behind the marijuana-supporting libertarian in the race.
The American Future Fund, which is running the online ad campaign, touts third-party contender Sean Haugh as the only one in the Senate contest who supports legalizing marijuana and opposes war.
The move aims to siphon liberal support from Democratic Sen. Kay Hagan, who is locked in one of the country's tightest Senate races again Republican challenger Thom Tillis. (The ads might also persuade conservatives, many of whom generally wouldn't support the ads' message, to stop supporting Haugh.)
AFF was once primarily funded by the billionaire Koch brothers. But a spokesman for Freedom Partners, which doles out funding to vaarious in the Koch network, said it has not given the group any money in the last two years.
The ads appear to have been launched in secret. The group's website and Twitter feed, which contain news releases about other ad campaigns, does not mention the efforts to help Haugh.
A spokesman for the group says the digital buy is for $225,000, and the group could increase the buy later. The ad appeared to one reporter while watching Hulu, and the group has built a makeshift website that includes several different online spots.
The content of the ads is likely to get as much attention as the campaign itself: In one, a young woman says Hagan "doesn't share our values" because she supports war and opposes legalizing marijuana.
"Vote Sean Haugh," she says. "He supports our progressive values. Pro-legalization, pro-environment. More weed, less war."
The spot finishes with an image of a single cannabis leaf. Another ad features a young man wearing a shirt with a picture of Bob Marley smoking a joint.
Haugh, who still works as a pizza deliveryman while running for the Senate seat, has received a lot of coverage for drawing an unusually large amount of support for an underfunded candidacy. Interestingly though, his presence is seen as a bigger problem for the Republican Tillis, who has trailed in most public surveys of the race.
AFF appears to be trying to make Haugh a dilemma for Hagan as well, although it's unclear how effective a digital ad campaign will be in a race that has already featured more than $100 million in TV ad buys alone.
Update: This story has been updated to reflect comment from Freedom Partners.