George H.W. Bush Tells Michelle Nunn to Leave Him Alone Again
The Democratic Senate hopeful in Georgia is ignoring the former president's pleas not to use his image in her ads.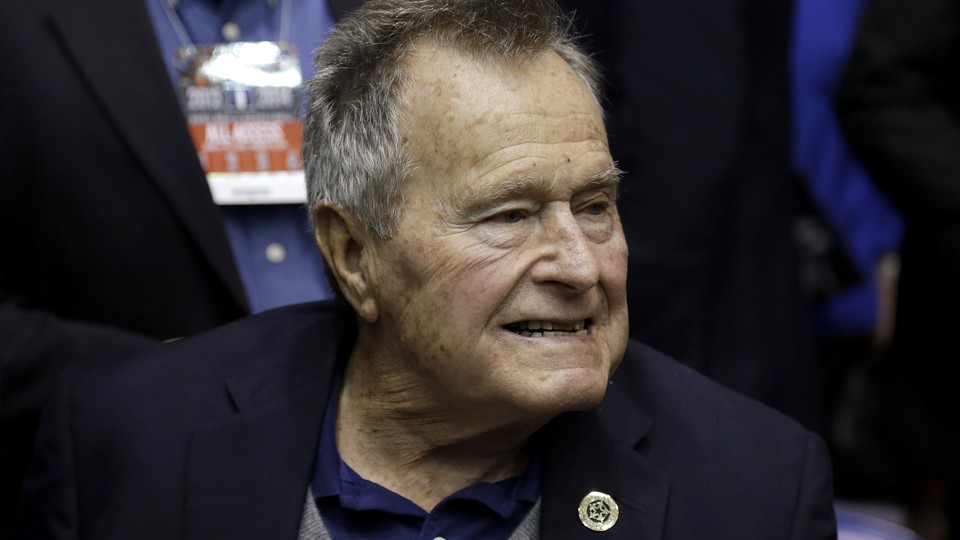 What is a Senate candidate to do when a former president tells her not to use his image in her campaigns ads? Ignore him, apparently.
Michelle Nunn, the Democratic nominee in Georgia, found herself in another spat with former President George H.W. Bush after she showed a picture of them together in her latest television ad, despite repeated requests from his office for her not to do so.
Nunn is making a surprisingly strong run for an open Senate seat in the red state, and she often touts the seven years she spent heading up Bush's Points of Light Foundation. In the new ad, she highlights her work with several presidents, including both presidents Bush and Barack Obama. The Nunn campaign insisted she just wanted the voters of Georgia to know how much she respected the elder Bush. Not so, said the former president's spokesman, Jim McGrath.
"Michelle and her team have been clearly, repeatedly and consistently told that President Bush did not want them to use his photo as part of this campaign. Apparently, the Nunn team feels they can repeatedly disregard the former president's wishes, which is very disappointing because it's so disrespectful."
Bush's people were similarly displeased when Nunn invoked his name and image in an ad in April. McGrath said in an email that "several of the president's representatives have discreetly and directly communicated to all levels of the Nunn campaign that his photo was not to be used under any circumstance."
Nunn spokesman Nathan Click wouldn't discuss the communications, saying only that she "has the utmost respect for President Bush and their work together at Points of Light."
Nunn has closed to within a point of Republican David Perdue in the RealClearPolitics polling average. With control of the Senate up for grabs, the battle has created an awkward situation for multiple members of the Bush family. As expected, the 41st president has endorsed Perdue, while his son, Neil, has risen to Nunn's defense against harsh attacks from Republicans.
Neil Bush is the chairman of Points of Light while Nunn served as CEO. Last month he released a glowing statement about her that, while not an endorsement, more or less validated the core of her campaign platform.
"We have a very complex organization, and she dealt with issues very wisely and well," he said, according to the Atlanta Journal-Constitution.
"She showed the right kind of visionary leadership – a non-partisan or bipartisan approach to our service world. It's evidence by the fact that Neil Bush, a member of a prominent Republican family, kind of teamed up with a Nunn, a member of a prominent Democratic family.

It just showed that, though our nation is divided in politics, we can come together as Americans to solve some of our more intractable problems. Michelle worked the nonpartisan part of the job really well. I have lots of admiration for her as a leader of our organization, and a lot of respect for her willingness to jump in and try to find ways to serve in other capacities."
The Bushes would probably just as soon be done with the Nunn unpleasantness, but that may not happen anytime soon. Either Nunn or Perdue needs to reach 50 percent of the vote on November 4 to avoid run-off that could take the election into January. If the polls stay where they are, that overtime looks more and more likely to happen.