From 'One Tough Nerd' to Embattled Governor
Michigan Republican Rick Snyder finds himself in an unexpectedly tough reelection campaign thanks to a backlash against his economic policies.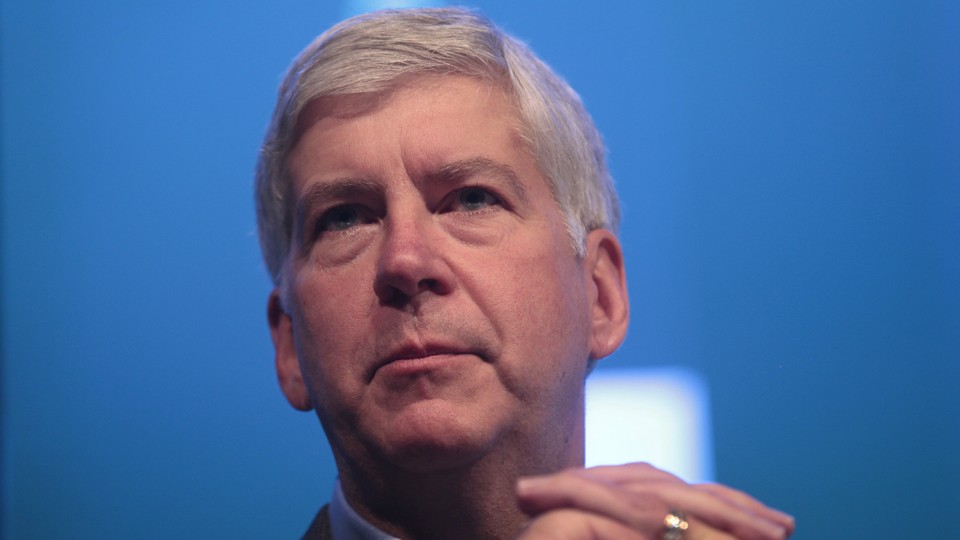 GRAND RAPIDS, Mich.—Rick Snyder, the governor of Michigan, is about to hold a town hall here, but I can't take my eyes off the left side of the stage, where a curious contraption sits. It's an inscrutable piece of machinery about three feet tall, with four jutting steel arms and a yellow smiley face affixed to the front.
As Snyder, tieless in a blue shirt and blazer, takes the stage in an Italian restaurant's faux-ornate banquet room, he makes no mention of the object. Nor do the two supporters he's sharing the stage with, Snyder's lieutenant governor and a tourism official. I begin to wonder if it's an errant piece of cooking equipment or a furnace component that's escaped the boiler room. Finally, after more than 10 minutes of reciting his education and jobs plans, Snyder points to the thing. "The Forest Hills Comets—there's their robot!" Snyder says, to polite applause. It belongs to a local school's robotics team. Michigan, Snyder boasts, is leading the country in robotics jobs.
Snyder, I later learned, is frequently in the company of robots. He marched in a Labor Day parade with a robot. He personally emceed a recent national robotics competition in Ypsilanti. When he signed the state's last budget bill, in June, a robot brought him the pen. You might think this was a campaign ploy to make Snyder, a 56-year-old former computer-company executive, look lively by comparison. It may not be that, but it does seem to be an attempt to rekindle the fading brand—"One Tough Nerd"—that launched Snyder in politics four years ago.
As his first term draws to a close, Snyder insists he's still the pragmatic, numbers-focused moderate Republican he campaigned as in his first, unlikely run for office in 2010. But his critics charge the slogan—unveiled in a Super Bowl ad that propelled him through a crowded primary—has proven to be a sham. Rather than steering the state in nonpartisan fashion toward economic stability, Snyder, they charge, has proven instead to be a hardheaded ideologue whose trickle-down policies have not produced results. "He campaigned as a bean counter. He said he was going to focus on jobs," Snyder's Democratic opponent, Mark Schauer, told me in an interview. "Our current governor's policies work for the wealthy, but they're not working for most Michiganders."
Despite such complaints, Snyder was initially widely expected to sail to a second term against Schauer, a little-known former congressman. (No Michigan governor has been denied a second term since 1962.) But Schauer and his allies have waged an aggressive campaign, attacking Snyder for cutting school funding (a charge he denies) and taxing seniors' pensions. The result is what looks to be a tight race. Most recent polling has shown Snyder leading, but there are exceptions, like a YouGov survey earlier this month that had Schauer ahead by 2 points. Overall, Snyder leads by an average of 3.5 points—a far tighter margin than his commanding 18-point victory four years ago.
"He campaigned as a nerd, and he didn't seem very threatening," Susan Demas, editor and publisher of the Inside Michigan Politics newsletter, told me. Snyder's persona isn't polarizing like Wisconsin's Scott Walker or Pennsylvania's Tom Corbett, and he seemed to fit with Michigan's long tradition of moderate Republican governors such as George Romney, William Milliken, and John Engler. Instead, Demas said, "He's governed very far to the right. A lot of the moderates, the independents, the conservative Democrats that gave him that big margin in 2010 have been scared off."
Snyder was slow to respond to Schauer's early advertising blitz, prompting concern among Republicans that he didn't seem to be taking the race seriously. As recently as a few weeks ago, party elders publicly complained about his reluctance to engage; they feared Snyder was surrounded by yes-men who didn't comprehend the political threat. In late September, Republican consultant Dan Pero, a former gubernatorial chief of staff, wrote on Facebook, "I must say the Schauer campaign is running one of the most message disciplined campaigns I've seen .... Hope our counterattack begins soon." Days after that message, Snyder began airing an ad featuring a teacher defending his school-funding increases, "in spite of what you've heard."
Pete Hoekstra, a former Republican congressman who sought the gubernatorial nomination in 2010 and lost to Snyder, told me he'd been surprised by the closeness of the race, which he attributed to Snyder's low-key style. "This is a guy who doesn't go around and tout his political accomplishments all the time," Hoekstra said. "He's spent more time managing the state than managing his personal political success—that's just the way Rick is." But Hoekstra said he believed the polling trend was turning in Snyder's favor, and he foresaw a strong victory. Another Snyder ally told me that the governor would outspend Schauer 2-to-1 in the coming weeks, an onslaught Schauer would be helpless to combat.
When I asked Snyder about the campaign, he insisted he wasn't taking anything for granted. "You had special interests coming into Michigan spending $1 million a week lying about my record," he said. "I'm glad we're responding." Still, his campaign is not particularly intense. At the town hall in Grand Rapids, the questions were notably friendly, attendees having been screened to keep out Democratic staffers and liberal activists. Three of the questioners identified themselves as Republican staffers or volunteers; their queries were variations on, "Why are you so great?" Another questioner wanted to know what books Snyder was reading. Snyder disclosed that, "being a good nerd," he goes for history and biography and tends to read more than one book at a time.
The "nerd" act had worked for a while. To liberals, the moment Snyder "ripped off the mask," as one put it to me, was in December 2012, when he signed the right-to-work legislation passed by the state legislature. Snyder had previously said he wasn't interested in such a measure, which he called "divisive." But he said the unions, who had pushed a failed ballot initiative to enshrine collective bargaining in the state constitution, started the fight—despite his urging them not to—and forced him to take a side. I told him that made it sound like he was justifying right-to-work as revenge on the unions. Snyder denied it, characteristically: "I don't do revenge. I don't fight with people," he said. "They created the environment that was divisive." The measure hasn't had the far-reaching effects either side predicted. Union membership hasn't plummeted as labor feared, but nor have jobs suddenly blossomed—the state's unemployment rate of 7.4 percent is sixth-worst in the nation.
A less charitable view of the right-to-work episode is that Snyder got steamrolled by conservatives in the legislature and caved to their demands. Some people see this as a pattern. Snyder's proclaimed indifference on social issues has allowed the conservative faction of the legislature's Republican majority to dominate, enacting restrictions on abortion and a ban on domestic-partner benefits for government workers. Another abortion bill passed over Snyder's veto. For nearly two years, Snyder has been trying to pass a massive package of road-improvement funds, funded in part by doubling the gas tax, but he's been stymied by some legislators' hostility to tax hikes.
Snyder told me he hoped to make the roads package a priority in the legislature's post-election lame-duck session. But Democrats are worried he will get it through by making a trade with Republicans who are pushing a plan to allocate Michigan's electoral votes by congressional district—a proposal that would have handed most of the state's votes to Mitt Romney in 2012. Snyder has refused to take the possibility off the table. And while he has encouraged legislators to consider an employment-nondiscrimination measure for gays and lesbians, he has not taken a position on the issue himself.
To me, Snyder insisted that the picture his opponents paint of him doesn't tell the full story. "The majority of bills I signed into law had broad bipartisan support from both parties," he said. Snyder pointed to his work to raise the minimum wage, accept the Affordable Care Act's Medicaid-expansion funds, and bring Detroit out of bankruptcy through a combination of public funds, private loans, and pension cuts. "I don't use a partisan lens, I don't use a political lens when I make my decisions," he told me. "I've tried to do the right thing and treat people with civility and make things better, and that's a model that's worked well and shows results in Michigan."
In many ways, the arc of Snyder's term has mirrored that of Colorado's Democratic governor, John Hickenlooper—a businessman-turned-politician who sought to forge a middle path by avoiding hot-button issues and forging bipartisan agreements. Like Snyder, Hickenlooper's own party has forced him to take sides on divisive issues, tarnishing his nonideological brand. And Hickenlooper, too, now finds himself endangered after voters stopped believing his common-sense shtick and started blaming him for all the elements of his split-the-difference compromises they didn't like.
In both cases, the man who once convinced voters he could rise above politics has ended up, instead, with everyone mad at him. "We've got to have a change," Cassandra Brown, a 64-year-old retired Detroit teacher, told me. Her former colleagues, she said, have seen their classes get bigger and been forced to spend their own money on classroom supplies under Snyder's budgets. "A lot of working people have been affected by all this."
The race has shaped up as purely a referendum on Snyder and his policies, both sides acknowledge. There has been little focus on Schauer, a former state senator and one-term member of Congress. After losing his House seat in 2010, Schauer took a job with the laborer's union, and he was pepper-sprayed in the protests over right-to-work.
When I spoke to him, Schauer blasted Snyder's restructuring of the tax system, which eliminated many business levies while imposing new individual taxes, including taking away the income-tax exemption many pension recipients previously enjoyed. He vowed to restore Snyder's budget cuts and give a tax break to the middle class, but when I repeatedly asked him whether he'd reimpose the business taxes Snyder eliminated, he refused to say. "I think we're all in this together," Schauer said. "Businesses benefit from roads, schools, and healthy communities. We have to decide together what things we value and how we're going to pay for them."
Back at the Grand Rapids town hall, Snyder was, by his standards, fired up. He described the attacks against him as "hogwash" and even "lies." "There's several ads out there saying I cut state investment in K-12 education since I've been governor," he said. "You know what? They're a lie. I used to use nicer words. We've invested a billion dollars more in education." While education spending has gone up under Snyder, much of the increase has gone into shoring up pensions, resulting in less classroom spending.
Snyder wasn't afraid to voice positions that might offend some conservatives: He defended the Common Core educational standards and talked about the need to welcome more immigrants. At one point, he strung together the business buzzwords "financial planning," "benchmarking," "best practices," and "time horizon," all in a single answer. And he insisted on what he terms "relentless positive action": "I don't blame people. I don't get angry. You didn't hire me to do that; you hired me to get things done."
The closest thing Snyder got to a tough question was a supporter who requested he explain his pension tax in detail. Snyder said it was a matter of fairness—people with the same incomes shouldn't be taxed differently according to the source of their money—and he noted that those older than 67 were exempted and that there was a new tax exclusion available for all seniors. "We need to be careful we don't just shift the tax burden onto our kids," Snyder said. "It's not free."
After the town hall, as workers began dismantling the stage and wheeling the robot out of the room, I asked Snyder about the lack of dissent in the room. A couple dozen protesters, waving "Middle Class Not CEOs" signs, had been kept safely at bay outside the restaurant. Snyder insisted he wasn't living in a congratulatory bubble; he was trying, he said, to reach undecided voters. "I actually appreciate it when I do get hard questions," he said. "It's a chance to make sure people get the right information." There was little doubt in his voice that, as long as these trifling misunderstandings were corrected, voters would see the light and reelect him.