Elizabeth Warren: 'We're All Looking at You, Colorado!'
A liberal icon rallies Democrats to support incumbent Mark Udall's struggling Senate campaign.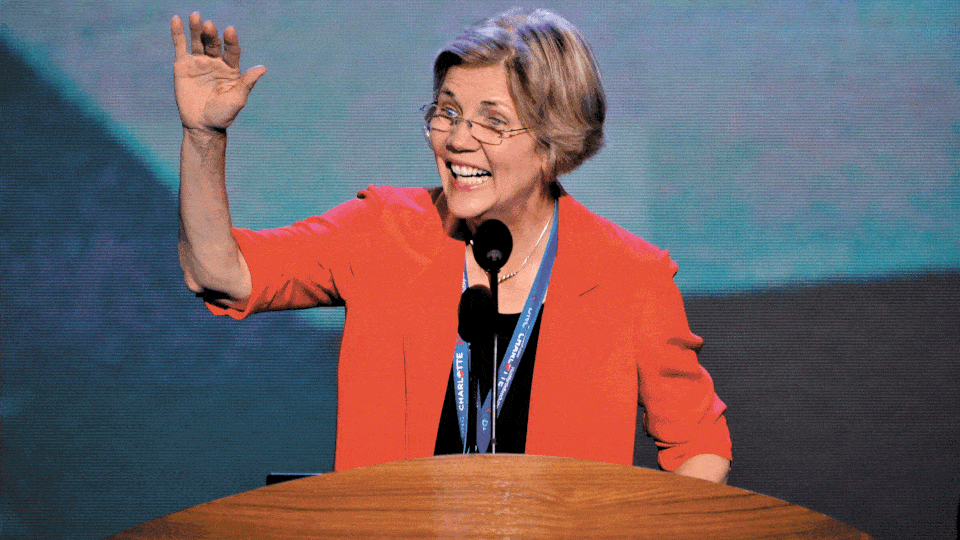 BOULDER, Colo.—With mail ballots arriving at voters' houses here this week and the in-person voting period about to start, one of the Democratic Party's biggest stars came to Colorado on Friday to rally the party base for endangered Sen. Mark Udall's reelection bid.
Sen. Elizabeth Warren, along with Udall and fellow Colorado Sen. Michael Bennet, drew a packed afternoon crowd to a chemistry lecture hall at the University of Colorado, where she exhorted students and other attendees to vote quickly and then get others to join them.
"What's going to determine this race in Colorado is you and people just like you across this state," the senator from Massachusetts said, discounting the millions of dollars worth of TV ads that have flooded the state. She added that Colorado could be the key to her party keeping control of the Senate. "I want to make it clear: We're all looking at you, Colorado. Yeah, we're looking at you."
Udall "is doing all he can do," Warren said later. "The fight comes to you."
Facing a difficult electoral environment, Democratic Senate campaigns across the country are hoping their expensive investment in get-out-the-vote efforts can deliver enough seats to maintain the Senate majority. Colorado, where Udall trails GOP Rep. Cory Gardner in public polling after leading a few months ago, may be the capital of that effort; the Democratic Senatorial Campaign Committee named its national field program, the "Bannock Street Project," after one of DSCC Chairman Bennet's Denver field offices from his close 2010 campaign.
Rallying the Colorado students Friday was a small part of that effort. "How many of you have voted?" Warren asked the crowd, as a scattered number raised hands. "How many are going to vote in the next 24 hours?" Nearly everyone in the auditorium raised hands and cheered.
After Warren's speech, field organizers with Udall's campaign intercepted people streaming out of the auditorium with sign-up sheets for volunteer shifts. "Come down on Sunday for two hours," one organizer told two young women. "We're talking to Democrats, getting them to turn their ballots back in, and it's a huge help."
Warren gave a version of the populist stump speech she's given in many other states this year as one of Senate Democrats' most popular surrogates. In front of her college audience, she focused on student-loan rates but also touched on same-sex marriage, immigration reform, raising the minimum wage, and a host of other core Democratic issues. In his own speech, Udall saved abortion for last—he's made abortion and contraception access his main issues against Gardner, and his line about "a woman's right to make her own choices for her own body" drew a loud cheer.
One of the biggest cheers of the afternoon, though, came after a shout to Warren from a woman in the crowd.
"Run for president!" the spectator yelled. The crowd got to its feet.