A new study shows that the U.S. economy would expand by $2.1 trillion in gross domestic product if racial minorities had equal access and opportunities in the job market. The report, "The Equity Solution," was released last week by PolicyLink and the University of Southern California's Program for Environmental and Regional Equity.
Each of the 150 major metro areas and 50 states studied stand to gain millions in additional annual revenue if the wage gap didn't exist and residents of color were able to earn, on average, what their white peers already do.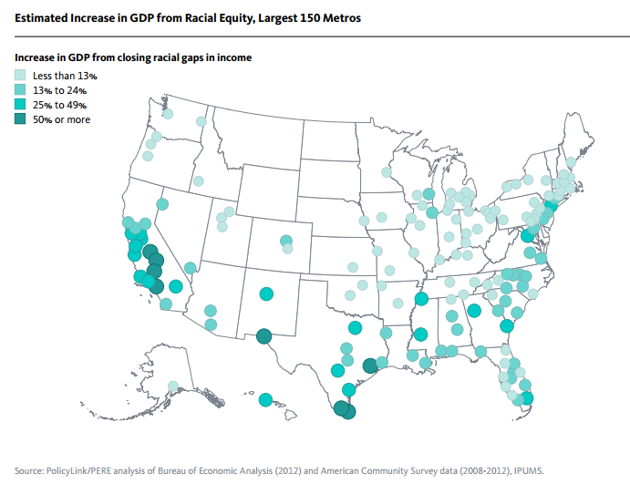 Cities that have high levels of diversity—think Los Angeles, Houston, San Antonio—understandably have more to gain from racial equality. But the research demonstrates that every single city in the list of the biggest 150 metro areas would grow its economy. Even Springfield, Mo., the city that would gain the least compared with the other 149, would still benefit from an additional $287 million in revenue if it could create better opportunities for the city's minorities.
"If people are not contributing fully to the workforce, for whatever reason, we all miss out on their potential contributions," says David Levine, cofounder and CEO of the American Sustainable Business Council. "Racial disparity is hurting our economy today. The sooner we address it, the sooner we can reap the rewards of a more equitable and vibrant economy."