Don't Count the Democrats Out Yet
The Senate is slipping away, but Republicans haven't locked it up.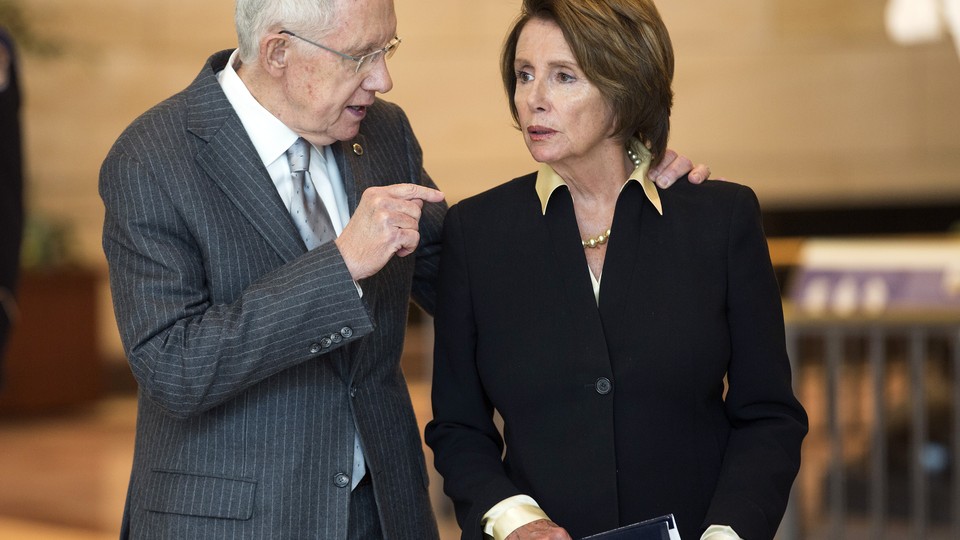 To read the headlines over the last 48 hours, you would think congressional Democrats have careened off a political cliff.
Their majority in the Senate, according to some prognosticators, is all but gone. Democrats have waved the white flag on their most prized target, taking out the Republican minority leader, Mitch McConnell of Kentucky. In the House, Democrats are now resigned to losing seats; they are giving up on ousting more than a few incumbent Republicans and are instead shifting resources to protecting their own embattled members.
Yet these reports should not be mistaken for sudden developments. They have been months in the making and represent the signposts of a party reconciling losses it long knew were coming.
What is more surprising is that three weeks before Election Day, Democrats still have a path to keeping the Senate, even if the House remains well out of reach.
As has been well-documented, 2014 is the midterm election of a second-term presidency, which is traditionally a nightmare for the party in the White House. Voters tend to get antsy at the six-year mark, and President Obama has fared little better in public opinion than his predecessor, George W. Bush, who presided over a wipeout for Republicans in 2006.
Foreign crises have buffeted the White House, as has the unexpected outbreak of Ebola and an embarrassing set of breaches at the Secret Service. Obama has seen no rally-around-the-flag bump following the launch of a military campaign against the Islamic State. In an ABC News/Washington Post poll released Wednesday, the president registered his lowest approval rating ever—40 percent—and in a separate NBC News/Wall Street Journal survey, just 31 percent of registered voters approved of his handling of foreign policy.
The bottom line is it's a troublesome environment for Democrats. While they talked a good game about retaking the House following last year's government shutdown, that opportunity quickly fizzled, and their focus has increasingly turned to limiting losses and keeping a majority within reach for 2016.
In the Senate, Republicans need to pick up six seats to win the majority, and they are now closing in on Democrat-held seats in red states that many analysts expected they would win. Those include Arkansas and Alaska, where GOP candidates have overtaken Democrats in the polls. Republican pickups in West Virginia and Montana are all but assured. The most stinging setback for Democrats has come in Kentucky, where they looked to the unpopular McConnell as a trophy. But without a more favorable national environment and watching their own candidate, Alison Lundergan Grimes, stumble, Democrats signaled surrender by withdrawing national television ads on Tuesday.
Democrats' best chance to retain control of the Senate now rests in a trio of states–South Dakota, Kansas, and Georgia—where they are surprisingly competitive. Senate Majority Leader Harry Reid had written off South Dakota months ago, but the rise of an independent candidate and the weakness of the Republican frontrunner has given Democrats a late opportunity. In Kansas, Democrats actually pushed their nominee out of the race to help a more formidable independent, Greg Orman, who is clinging to a lead against Senator Pat Roberts. Democrats had viewed Georgia as a long shot, but with Michelle Nunn gaining on GOP nominee David Perdue, the party essentially shifted the funds it had earmarked for Kentucky to that race.
It's far from an ideal scenario for Democrats to be relying on potential stunners in hostile territory at a time when their party's leader has an approval rating at 40 percent. But if not for those wild cards, the doom-and-gloom headlines would have come out even earlier.