Does Eric Holder Want to Prosecute Journalists or Not?
The attorney general continues to wrestle with how to handle national-security-leak prosecutions, but says leakers in Ferguson, Missouri, "need to shut up."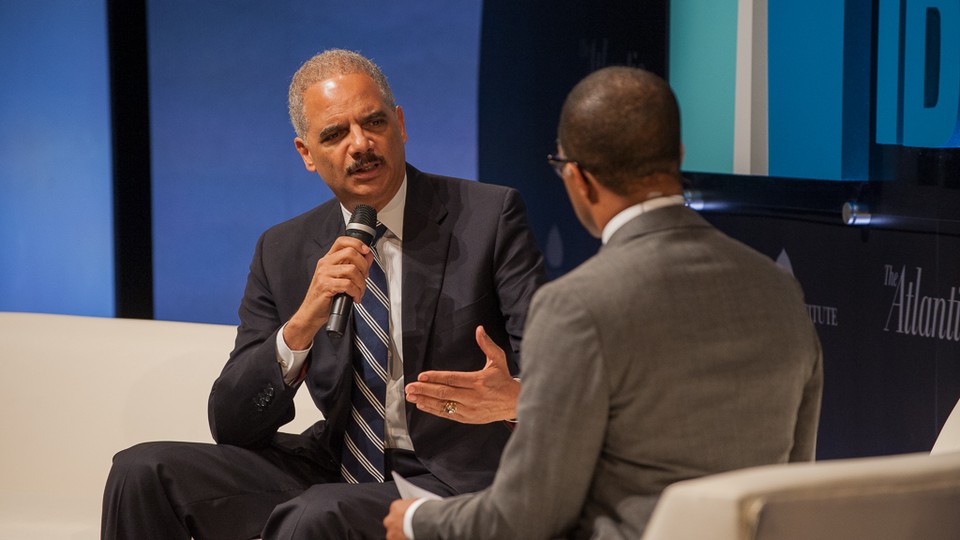 The attorney general has a problem. On the one hand, there's political pressure to clamp down on leaks about national security. On the other hand, going after leakers all too often means going after journalists, too. And Eric Holder, in the waning days of his term in office, still doesn't seem to have figured out an easy solution.
Take the case of James Risen, a New York Times reporter currently under threat of jail time for refusing to testify about sources he used for national-security reporting. Risen has said he's willing to go to prison rather than divulge his sources, and has become a cause célèbre for journalists, liberal civil libertarians, and conservative critics of the administration alike.
Interviewed by Jonathan Capehart during the Washington Ideas Festival on Wednesday, Holder trod carefully around Risen's case.
"We have been in touch with Mr. Risen's lawyers," he said. "I think there will be a resolution to that that will be satisfactory to everyone. No one's going to be going to jail while I am attorney general."
Later, asked what his biggest regret as attorney general had been, Holder mentioned a subpoena that named a different journalist, James Rosen of Fox News, as a "co-conspirator" in another leak case and suggested the investigation could have been handled more sensitively.
But pressed directly on the question of compelling testimony, Holder avoided a direct answer. And his vow that no reporter will go to jail while he's in office conveniently overlooks the fact that he has announced his intention to leave as soon as a successor is confirmed. The interview was briefly interrupted by a protestor who appeared to demand prosecutions for torture during the Bush administration; Holder replied by calling for the release of a Senate report on torture quickly and with as little redaction as possible.
Holder touched on a range of other subjects during the interview. While declining to comment on a report by MSNBC that Ferguson, Missouri, would move Chief Thomas Jackson and Officer Darren Wilson, who shot Michael Brown, off the force as part of a negotiation with the Justice Department, he said it was clear the police force needed "wholesale" change. He also had harsh words for those divulging information about investigations ahead of a grand jury decision on charging Wilson.
"Whoever the sources of these leaks are need to shut up," Holder said. "That's inconsistent with how we go through grand-jury investigations in this country."
Holder said he has backed off the language he used in February 2009, when he accused the United States of being "a nation of cowards," afraid to talk about race forthrightly, but he said the fact remains that Americans are uneasy and talk too superficially about racial matters. And he defended President Obama, who has been accused by some detractors of being just such a coward, refusing to talk about race directly despite his historic status as the nation's first black president. Some of these critics have suggested that Holder serves as Obama's mouthpiece on these issues, but Holder demurred.
"You have to look at the different jobs we have. I'm the nation's chief law-enforcement officer, so the things I talk about are in my ambit," he said. "The president has been forward-leaning," he added, citing Obama's emotional comments about the shooting of Travyon Martin, delivered without notes. And to black critics who objected to the linking of same-sex marriage—a favorite Holder cause—with the racial struggles of the 1950s and '60s, Holder said, "It is the civil-right issue of our time."