Did Republicans Blow the Michigan Senate Race?
The contest was touted as an opportunity to gain a seat, but now the party seems to be giving up on its candidate.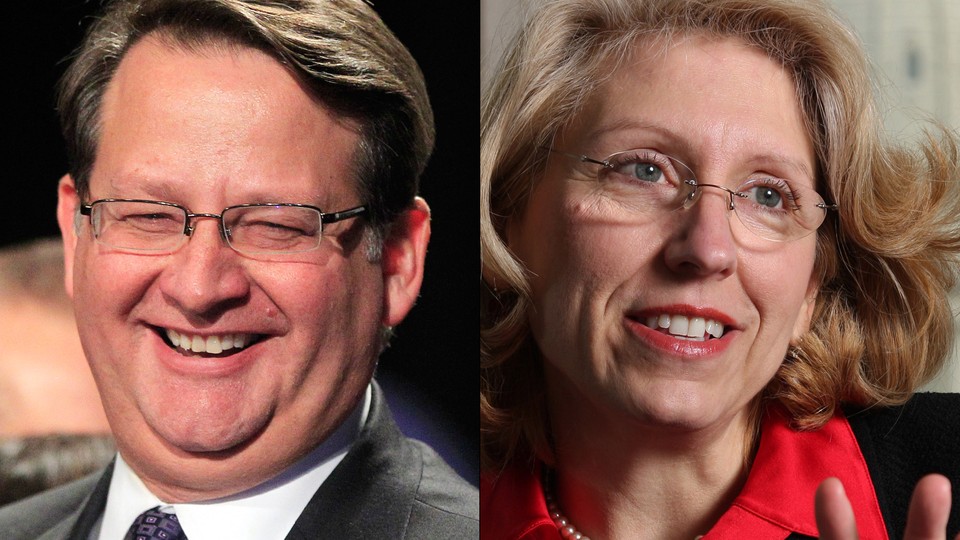 FERNDALE, Mich.—There's an easy way to get Democratic candidates to squirm these days: Ask them whether they think the president's doing a good job.
Last week, I put the question to Gary Peters, the doughy 55-year-old congressman seeking to succeed Carl Levin in the Senate. "Uh, on what particular issue?" Peters replied, explaining that he had areas of agreement and areas of disagreement with President Obama. Well, what about the question pollsters ask thousands of Americans every day—whether they approve or disapprove of the president's performance? "I don't like hypotheticals of one thing or another," Peters said, sitting across the table at a LGBT support center in this suburb north of Detroit.
That the question vexes Peters—who's running in a state Obama won by nearly 10 points, and who is the only Senate candidate Obama plans to campaign with this fall—is a mark of what an albatross Democrats believe the president has become. Senate candidates in other blue states—Iowa, Colorado, and New Hampshire—have snubbed him; it's even worse in red states like Kentucky, where Senate candidate Alison Lundergan Grimes won't even say she voted for him. Peters will appear with Obama, but that doesn't mean he'll praise him. "The president will come to Michigan to campaign, and I'm going to stand next to the president," Peters told me.
Early on in the Senate race, there were signs Republicans might have a shot here. The GOP hasn't won a Senate seat in Michigan since 1994, but the party controls the governorship and both houses of the legislature. The party's Senate candidate, Terri Lynn Land, led Peters in several early polls. A 56-year-old former two-time secretary of state, she had twice been elected statewide by large margins, whereas Peters was relatively unknown outside his suburban Detroit district. She was unopposed in the primary and had a substantial family fortune to boost her ample fundraising. Republicans championed Land, along with Iowa Senate nominee Joni Ernst, as walking refutations of Democrats' contention that the GOP is unfriendly to women.
And yet recent evidence suggests the state is slipping away from the GOP. Peters has held a consistent lead in polls taken in the last month. Last week, the independent-expenditure arm of the National Republican Senatorial Committee canceled the nearly $1 million worth of Michigan television time it had reserved for the last two weeks of the race, a move widely interpreted as a white flag. Land, when I spoke to her, insisted she was still in the hunt, pointing to the more than $20 million outside groups on both sides have poured into the race as proof of its competitive nature. "We always knew this was going to be a tough race from the beginning," she said. Her campaign insists the NRSC pulled out only because other outside groups agreed to pick up the slack—chiefly the Ending Spending Action Fund, the conservative super PAC backed by Chicago billionaire Joe Ricketts that has spent more on the Michigan race than any other outside entity.
Bolstered by such spending and Obama's sagging popularity, Republican candidates have remained competitive in other blue states. If they've missed an opportunity in Michigan, most blame Land, whose candidacy has ranged from awkward to bizarre. Two early missteps stand out. First, for her first ad, she faced the camera and said, "Congressman Gary Peters and his buddies want you to believe I'm waging a war on women. Really? Think about that for a moment." Then there are 12 seconds of silence as Land sips from a coffee mug, shakes her head, and looks at her watch. Republican pollster Frank Luntz called it the worst ad of the year.
A few weeks later, when Land faced the press at a Chamber of Commerce conference, she froze up in the face of questions. Pushing away the microphones aimed in her direction, she said, "I can't do this," and fled. It's a single substanceless gaffe from several months ago, but it has come to symbolize Land's campaign, in part because she hasn't given the media much else to report. Since that appearance, she has largely avoided the press and the public, relying instead on a heavy volume of television ads to get her message out. Unusually for a campaign underdog, Land has turned down several opportunities to debate Peters. "If you are a U.S. Senate candidate from Michigan, you should be able to stand in front of a crowd of citizens from this state and answer questions that are on their minds," Peters told me. "She's been unwilling to do that."
Local observers note that Peters isn't exactly Mr. Charisma, but Land's missteps have given him an easy time. "If you asked both of these candidates what time it was, Peters would give you a half-hour lecture on watchmaking," said Jack Lessenberry, a political analyst for Michigan Radio. "Terri Lynn Land would stare at the wall for a while and then tentatively say, 'Daytime?'"
Though Peters, a self-described centrist who is pro-business and socially liberal, has campaigned tirelessly, even top Democrats do not attribute his lead to his political skills. "A better Republican candidate could have won that race," John Dingell, the longtime Detroit congressman, told me. Land, he said, "has an enormous amount of money, but as my dad used to say, she only takes her foot out of her mouth long enough to put the other foot in."
Republicans, too, are publicly critical of Land's campaign. L. Brooks Patterson, the longtime executive of suburban Oakland County and Michigan Republican power broker, told me he'd been "disappointed" by the race she's run and said he had privately urged her to sharpen her "weak" stump speech. "She just doesn't have the killer instinct," Patterson said. "It didn't have to be this way. At one point in time, it was neck and neck." Peters's positions on issues like health care and the environment are far to the left of most Michigan voters, he contended. But "some of her early ads were insipid, and I think people looked at that and said, 'That's the best we got?'"
Land held some campaign events when I visited last week, but they were not announced to the press or the public in advance. When I spoke to her—by phone as she prepared to depart for a donors' retreat in Texas—she insisted she's been available: "Obviously, I'm talking to you!" She refused to say whether she thought, in retrospect, that the "Really?" ad had been a mistake. "I am a woman. I have children. I care about good-paying jobs and health care for my kids," she said, after I put the question to her more than once and she tried to change the subject. "I get that every day. To say that I don't is ridiculous."
First-time candidates, nervous and coached by their consultants to avoid gaffes at all costs, often come across as cautious and robotic. What's mystifying about Land's performance is that she's far from a first-timer; in her previous campaigns, she was even known for her grassroots touch.
In our interview, I found Land to be well-stocked with talking points but evasive when it came to explaining herself. She wouldn't say why she opposes embryonic stem-cell research, only that she supports adult stem-cell research. She wouldn't take a position on the Senate's Paycheck Fairness Act, instead repeating that she supports "equal pay for equal work" and pivoting to attack Peters for paying his women staffers less than the men in his office. She framed the contest as a referendum on Democratic control, with the potential to "change the majority of the Senate," but wouldn't commit to voting for Mitch McConnell for Republican leader. "Mitch is a great guy. He's in a race, too. We're both focused on our races," she said.
The relative vacuum left by Land has allowed Peters to claim the middle ground in the race despite being occasionally difficult to pin down himself. Last week, former New York Mayor Michael Bloomberg announced he would put several million dollars into Michigan on behalf of Peters and Republican Governor Rick Snyder, who is in a tight race as he seeks reelection. The bipartisan investment was a clever political move by Bloomberg, making it difficult for either party to criticize his interference in the state. Peters, when I spoke to him, put the Bloomberg endorsement alongside those he'd received from others who also supported Snyder, such as the Detroit Regional Chamber of Commerce and the former Republican Governor William Milliken. Their support, Peters said, is due to his record as "an independent problem solver who tries to find common ground," whereas with Land, "I think it's clear she's far to the right."
Peters's positions are squarely in the Democratic mainstream—he's an advocate of immigration reform and background checks for gun buyers, helped write the Dodd-Frank financial-reform legislation, and has strong reservations about the Keystone XL pipeline, though he says he could support it if it met environmental regulations. When I met him, he was about to campaign at the LGBT center with Senator Tammy Baldwin, voicing strong support for gay marriage and employment nondiscrimination.
Like Land, Peters still insists the race could break either way. (A prominent Michigan Democrat told me internal polls show it tighter than the public surveys, in which Peters leads by an average of eight points.) But it's perhaps more telling that, after months of demanding that Land debate, Peters is now the one accused of refusing to engage his opponent in public. He has decreed that he will only debate Land in a town-hall format with questions from the audience, refusing to participate in a traditional debate hosted by a moderator—a sudden particularity that suggests he now sees no need to gamble his frontrunner status. "The people of the state of Michigan should be able to ask those questions," he told me. "I'm happy to do it anytime, anywhere. But it has to be a town-hall meeting."