Can This Baker Ruin Democrats' Hopes in Upstate New York?
Third-party candidacies can siphon votes, and this year that might have a real effect on results.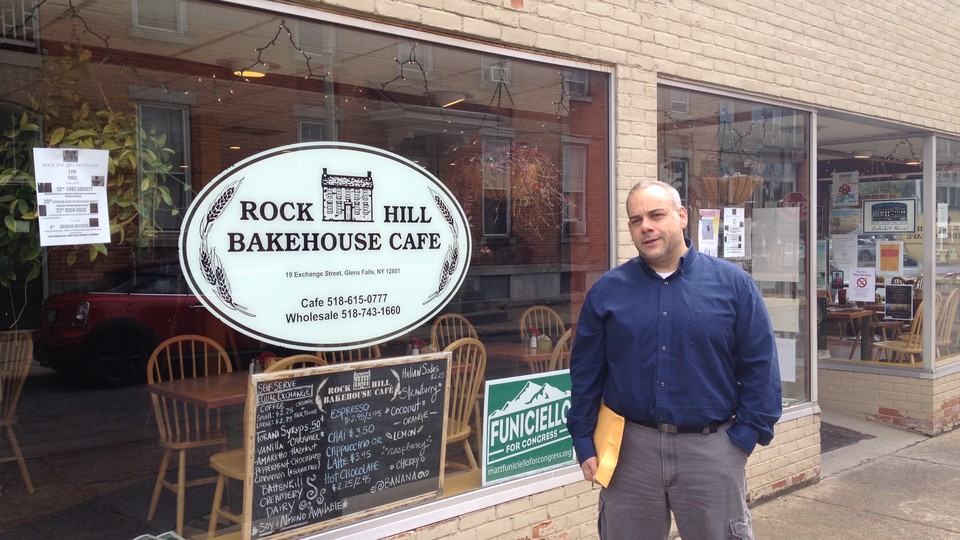 GLENS FALLS, N.Y.—Matt Funiciello, an organic baker with a booming business in upstate New York, says his friends and neighbors finally have a choice this year. "We don't have to choose between Whopper and Big Mac again," Funiciello said, sitting at a table in the back corner of his Rock Hill Bakehouse Café.
Funiciello isn't really talking about food. The Green Party candidate in New York's 21st Congressional District has sights on his Democratic and Republican opponents, not his business competition. And he's looking like one of the more successful third-party candidates of 2014 after reaching 10 percent of the vote in a recent poll from Siena College.
That, he says, is just his starting point. "Jesse Ventura says, just get in the debates," Funiciello said, referencing the onetime pro wrestler who won a third-party bid for governor of Minnesota in 1998 after rocketing up the polls following forums with his opponents. "You can say things they can't say. You can tell the truth."
Funiciello's chances of victory are slim, even in a year when an independent candidate in Kansas suddenly appears to have the inside track to a U.S. Senate seat. But the baker, who is running a social-media-centric campaign while managing a 50-hour work week, is still the type of candidate who scares both parties. When a third-party candidate gets as high in the polls as Funiciello has, it makes life very difficult for the candidate from the big party on the same side of the ideological spectrum, and people like Funiciello could have a real effect on races around the country this year.
In this case, there's evidence that Funiciello may be squeezing the life from Democrat Aaron Woolf's campaign from the left. Many of Funiciello's supporters might choose not to vote if the Green wasn't an option, and he says his anticorporate views have attracted some more conservative and libertarian-minded supporters too. But a good chunk would likely vote Democratic in a two-way race, and there isn't much room to spare in the vast, tightly divided North Country district, where Woolf's polling deficit was about the same size as Funiciello's support.
Republicans certainly felt that way in 2009 and 2010, when their nominees for special and regular elections didn't manage to secure the Conservative Party ballot lines. Democratic Rep. Bill Owens, who is retiring this year, managed to win each of his first two elections with just 48 percent of the vote. The name "Doug Hoffman"—the Conservative Party nominee in both elections—still upsets some Republican strategists in Washington.
Democrats' recent actions in the area lend credence to that theory of third-party candidacies. In September, Woolf and Owens took the unusual step of criticizing—or even mentioning—a so-called minor candidate, condemning Funiciello for his views on the 9/11 attacks. Local media uncovered past writings and comments from Funiciello questioning the "official narrative" of the 9/11 attacks (like Ventura), which Woolf called "troubling," "offensive," and "outrageous," according to the Watertown Daily Times.
Still, the Democratic Congressional Campaign Committee recently cancelled planned TV advertising here and has even shifted some of its money into more Republican-leaning congressional districts around the country—including one in Nebraska where a third-party candidate could draw votes from the Republican incumbent.
The way Funiciello sees things, it's Woolf who's hurting his own cause in New York. "My life would be easier if Aaron Woolf would recognize the futility of his run and drop out," Funiciello said, though he wondered "if Woolf dropped out whether he'd endorse Stefanik."
"We have to break this corporate stranglehold on our federal government," Funiciello said. "Here, we're strong enough people to weather not having a corporate congressman for a term or two because Matt Funiciello threw his hat in the ring."
Though not every third-party voter is "taken" from a Democratic or Republican candidate, the parties' political strategists definitely sweat the trend. In 2013, Arizona Republicans passed a bill making it more difficult for Libertarians and other minor-party candidates to get on the general-election ballot, after Democrats won three congressional districts with less than 50 percent of the vote (and Libertarians on the ballot) in just two years. One GOP state legislator even said publicly that the bill would help Republicans avoid leaking votes in future House races.
Ironically, even though the new bill never came into effect, Arizona Republicans won't have a Libertarian problem this year: Their candidates in the battleground 1st and 2nd Districts have one-on-one matchups against Democratic Reps. Ann Kirkpatrick and Ron Barber. But a few other third-party candidates could add an unpredictable dimension to several key House races around the country.
In Illinois, Green Party nominee Paula Bradshaw is running again in the 12th Congressional District, which has become one of House Democrats' key races. She got 6 percent of the vote in 2012, though Democrat Bill Enyart still won a comfortable majority of the vote. But Enyart is now one of the most endangered Democratic incumbents in the House of Representatives, and Bradshaw's presence on the ballot may reduce his already small margin for error against Republican state legislator Mike Bost.
Meanwhile, in Arkansas, the DCCC decided to spend more money on TV ads in the 2nd District, where President Obama only got 43 percent of the vote in 2012. But the party is betting on two things in one of the most difficult-looking seats it's chasing in 2014: First, that the district's old-line Democrats are still willing to vote for one of their own, the Clinton-supported former mayor of North Little Rock, Patrick Hays; and second, that a Libertarian on the ballot may cut into Republican French Hill's support on the right.
Similar scenarios are scattered throughout this year's battleground statewide elections, too. A Libertarian pizza-delivery man in North Carolina, Sean Haugh, has consistently polled in the high single-digits in the state's Senate race, a close contest between Democratic Sen. Kay Hagan and Republican Thom Tillis in which both have faced a historic barrage of attack ads. Third-party candidates often play especially large roles in Alaska, where Democratic Sen. Mark Begich won his first term with less than half the vote and is on a four-man ballot this election. And there's also Kansas, where Greg Orman could become the second newly elected independent senator in two years. Democrat Chad Taylor dropped out of the race in September after party members urged him to let Orman consolidate support against Republican Sen. Pat Roberts.
In Maine, independent Eliot Cutler finished a close second in the 2010 gubernatorial race, but he's running in third place this time—which could help keep the man who bested him last time in office. GOP Gov. Paul LePage hasn't topped 42 percent of the vote in any public poll and is persistently unpopular, but he's still running a close race against Democratic Rep. Mike Michaud. Like in Kansas, an Alaska independent is now leading the charge against that state's Republican governor as opponents sought to consolidate support behind one candidate. Florida's gubernatorial race also features a Libertarian who has attracted significant support in recent polls, as GOP Gov. Rick Scott and former GOP Gov. Charlie Crist, now a Democrat, trade harsh attack ads.
Back in New York, Woolf, the Democrat, dismissed Funiciello as a threat. "My strong sense is when people go to the polls on Nov. 4 and they look at the very real consequences of their choices, we'll have a lot of support."
Indeed, third-party candidates almost never get as many votes as preelection polls show. But it doesn't take much to get Democratic and Republican strategists alike reaching for their antacid.