Can Democrats Spin New Jobs Into Votes?
The unemployment rate dropped below 6 percent for the first time since 2008, providing an economic jolt a month before the midterm elections.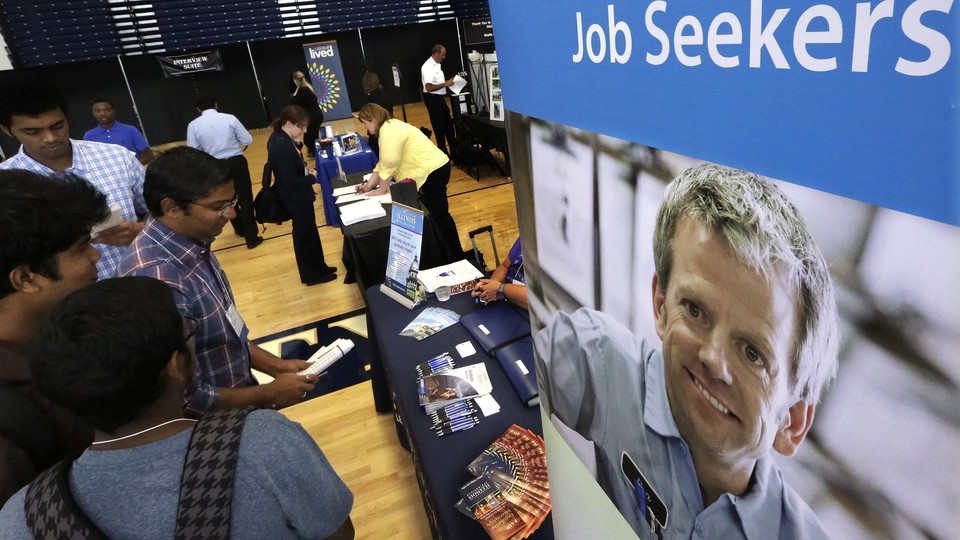 The unexpected drop in the jobless rate below 6 percent for the first time in more than six years offers Democrats their last, best hope to change the minds of voters who have long since soured on their economic stewardship.
But if history is any guide, the 248,000 jobs that employers created in September won't translate into many more votes for President Obama's party in November.
After all, the unemployment rate at this point in 2006 was a sturdy 4.5 percent, but that didn't stop voters angry about the Iraq War from sweeping out Republicans in a "thumping" rebuke of President George W. Bush.
It's not that the electorate doesn't care about the economy: Voters told pollsters as recently as last week that economic issues trump all other concerns by a wide margin.
Yet as Obama acknowledged in his address at Northwestern University on Thursday, most Americans' perceptions about the economy have barely budged in the last year, despite the creation of nearly 2 million jobs in 2014 alone and a drop in the unemployment rate to 5.9 percent from 7.2 percent over the course of 12 months.
An Associated Press-GFK poll found that the percentage of people who thought the economy had gotten better in the last year was virtually the same as the percentage who thought it had gotten worst, and most respondents said it had stayed the same.
Obama attributed the disconnect to income inequality, saying the gains in recent years are "not yet broadly shared." Republicans, meanwhile, argue the falling unemployment rate masks an underlying economic weakness that is demonstrated by the persistently low workforce participation rate, which remained unchanged in September.
"Every day I hear from people in my district who say no matter how hard they work, they still struggle to make ends meet," House Speaker John Boehner said Friday in a statement that notably made no actual mention of the rosy report from the Labor Department. "Instead of trying to convince Americans that things are great, Washington Democrats ought to show they're serious about helping middle-class families get ahead, not just get by."
The Republican Party chairman, Reince Priebus, hit on perhaps an even more salient point for voters: What took so long?
"While we're glad to see some Americans finally finding work," he said, "we can't lose sight of the fact that we should have been at this point years ago."
For Democrats, the booming jobs report could not have come at a better time, and it recalled the similarly positive data that arrived in September 2012, when the unemployment rate dropped 0.3 percentage points in a single month. That prompted former GE chairman Jack Welch to infamously speculate that Obama's "Chicago guys" were messing with the numbers to boost his reelection hopes.
Republicans probably won't make the same charge this time, although they may be wondering whether the president had gotten a peek at the report when he delivered his upbeat speech on Thursday.
Democrats trying desperately to hold onto the Senate must now hope that the crossing of the 6 percent threshold in the jobless rate provides a psychological jolt for voters, who after years of labor market torpor can finally look at the nation's leading economic indicator without grimacing.