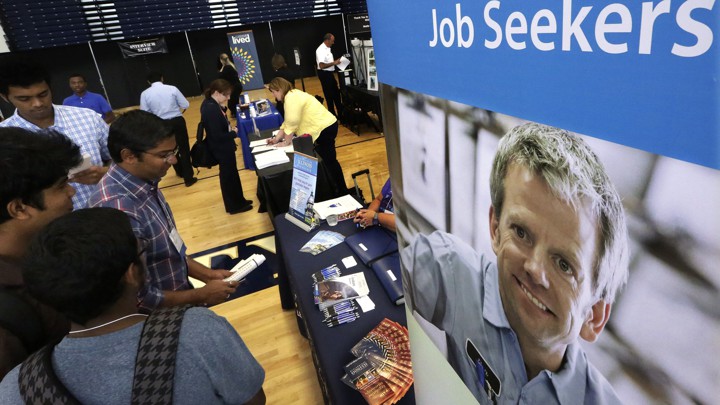 Obama attributed the disconnect to income inequality, saying the gains in recent years are "not yet broadly shared." Republicans, meanwhile, argue the falling unemployment rate masks an underlying economic weakness that is demonstrated by the persistently low workforce participation rate, which remained unchanged in September.
"Every day I hear from people in my district who say no matter how hard they work, they still struggle to make ends meet," House Speaker John Boehner said Friday in a statement that notably made no actual mention of the rosy report from the Labor Department. "Instead of trying to convince Americans that things are great, Washington Democrats ought to show they're serious about helping middle-class families get ahead, not just get by."
The Republican Party chairman, Reince Priebus, hit on perhaps an even more salient point for voters: What took so long?
"While we're glad to see some Americans finally finding work," he said, "we can't lose sight of the fact that we should have been at this point years ago."
For Democrats, the booming jobs report could not have come at a better time, and it recalled the similarly positive data that arrived in September 2012, when the unemployment rate dropped 0.3 percentage points in a single month. That prompted former GE chairman Jack Welch to infamously speculate that Obama's "Chicago guys" were messing with the numbers to boost his reelection hopes.
Republicans probably won't make the same charge this time, although they may be wondering whether the president had gotten a peek at the report when he delivered his upbeat speech on Thursday.
Democrats trying desperately to hold onto the Senate must now hope that the crossing of the 6 percent threshold in the jobless rate provides a psychological jolt for voters, who after years of labor market torpor can finally look at the nation's leading economic indicator without grimacing.
We want to hear what you think about this article. Submit a letter to the editor or write to letters@theatlantic.com.
Russell Berman
is a staff writer at
The Atlantic
, where he covers politics.