Bracing for a Political Wave
Voters are registering record levels of anger at their elected officials. Why that's not good for Senate Democrats—or any politician on the ballot—in November.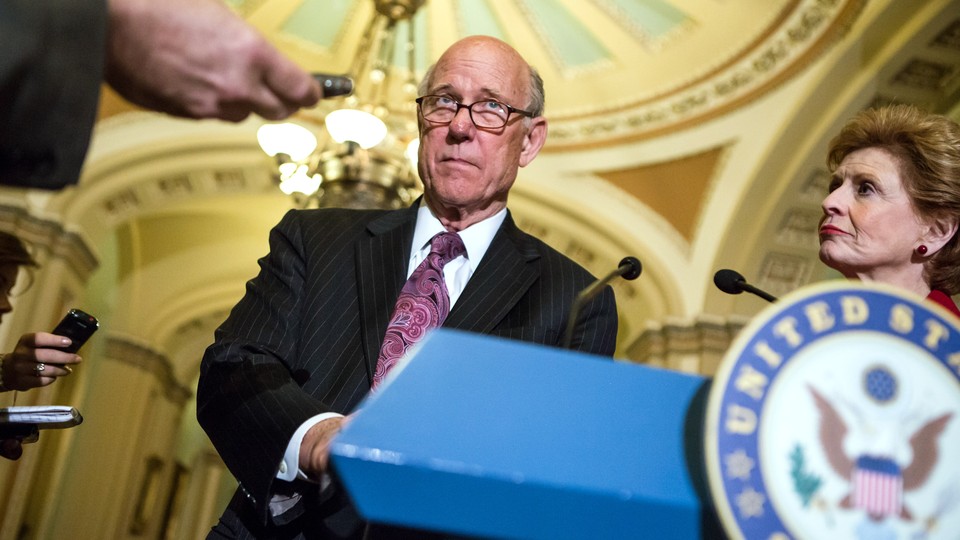 It's become commonplace for pundits to remark that while Washington is tremendously unpopular, voters keep reelecting their members of Congress. That's only true up to a point: From GOP incumbents' dismal performances in primaries, to veteran politicians belatedly trying to proclaim their independence, to sitting members running away from their own résumés, it's clear that Americans are registering significant frustration with their representatives.
That's an important lesson in assessing the midterm landscape with less than one month to go. Candidates who come across as wheeling-and-dealing political insiders are underperforming, regardless of their partisan identification. Those who successfully portray themselves as problem-solving outsiders have a chance to ride the wave.
It explains the furious Democratic outrage last week when Rep. Cory Gardner of Colorado contrasted his youth with Sen. Mark Udall's decades-long political experience. (Democrats claimed Gardner was attacking his father, a former presidential candidate. Republicans argued their outrage was phony.) Thom Tillis's double-dealing as a Senate candidate and state legislative leader has been damaging to his North Carolina Senate hopes. It explains why Sen. Pat Roberts, who won more than 62 percent of the vote in every one of his congressional races dating back to 1980, is trailing an independent businessman in ruby-red Kansas. And it underscores that the time-tested personal likability and experience boasted by the Democrats' lineup of red-state senators is unlikely to counteract the punishing environment in their states.
Even governors are not immune from the antiestablishment trend. The Cook Political Report rates 11 sitting governors—seven Republicans and four Democrats—in toss-up or worse races. A twelfth, Democratic Gov. Neil Abercrombie of Hawaii, already lost his primary.
Even though the vast majority of incumbents still get renominated, it's clear being associated with Washington is toxic these days. As my colleague Scott Bland reported, over two dozen members of Congress received less than 60 percent in their 2014 primaries—more than in any year since at least 2000. Tennessee Sen. Lamar Alexander of Tennessee, a statewide icon who faced only nominal opposition, won only 50 percent. Roberts's dismal 48 percent showing against a deeply flawed tea-party challenger should have been a clear wake-up call to his problems. Even the most politically savvy senators, like Mitch McConnell and Lindsey Graham, defeated underwhelming primary opponents with less-than-imposing totals. House Majority Leader Eric Cantor lost in a stunning upset to an economics professor without any political experience.
Democrats didn't have the same internal divisions, but they're more likely to feel the brunt of voter anger in November. Republicans have only defeated three sitting Democratic senators since 2004, but that dry spell is likely to end this year. Sens. Mary Landrieu and Mark Pryor are slight underdogs in their reelection campaigns, deprived of their strongest argument deployed in the past—that clout transcends partisanship. Sen. Mark Begich's compelling media blitz, portraying himself as best attuned to Alaska's interests, has been strongly countered by the difficult environment for Democrats in the state. It's ironic that the one red-state Democratic senator with a decent chance to win is North Carolina's Kay Hagan—the one who didn't boast the same experience or brand identity as her Democratic counterparts.
Likewise, the House landscape is littered with hyped recruits boasting insider backgrounds who haven't lived up to expectations. In a swing Iowa House seat that GOP Rep. Tom Latham held for years, Chuck Grassley's chief of staff, David Young, is underachieving despite the favorable environment for Republicans in the state. Amanda Renteria, a Capitol Hill staffer from California once considered one of the top Democratic recruits of the cycle, just saw Democrats pull advertisements against her challenger, Rep. David Valadao. Running in a solidly Democratic Syracuse district, Rep. Dan Maffei of New York can't seem to shake off his former career as a Hill spokesman, facing another closer-than-expected contest against a businessman. House Republicans recruited a number of outsiders in this year's class of candidates, including a retired Air Force colonel and a businessman who looks unlike any other congressional candidate.
Meanwhile, the most effective campaigns have been those where politicians have been able to transcend their backgrounds. Two of the most successful GOP Senate recruits—Iowa state Sen. Joni Ernst and Gardner—are far from novices. But the key to their success is that they've effectively cast themselves as fresh faces even though they've got plenty of campaign experience. Ernst's famous ad mentioning her castration of pigs was brilliant because it branded her as a farmer early on, instead of a politician who served in the state Senate since 2011. Gardner's even more of a political lifer, serving as a staffer to former Sen. Wayne Allard, a state representative, and a congressman. But his youth and engaging personality make for an effective contrast against Udall, whose political experience also matched his grizzled demeanor. A recent ad effectively portrayed Udall's time in Washington by showing how much he's aged since first being elected to the House.
To be sure, not every "outsider" is succeeding. Candidates without any political experience often struggle under the klieg lights of a campaign. Oregon Senate candidate Monica Wehby, a pediatric neurosurgeon, provided a compelling biographical contrast against Sen. Jeff Merkley. But when Democrats unveiled unflattering details about her personal life, her campaign imploded and she never recovered. Businessman Bruce Rauner looked like a strong apolitical candidate to challenge embattled Illinois Gov. Pat Quinn, but his wealth and business dealings have given Illinois Democrats flashbacks of Mitt Romney—and a path to victory.
On the flip side, plenty of politically experienced candidates are running great races. Gwen Graham, the daughter of former Sen. Bob Graham, is one of the Democrats' strongest House recruits of the cycle. Elise Stefanik, who worked in the George W. Bush White House and advised vice-presidential nominee Paul Ryan in 2012, is favored to win a swing upstate New York House seat.
But even those with insider backgrounds have taken great pains to downplay their career identification. In her introductory video, Stefanik references her political service by saying she's seen how badly Washington has screwed things up. Taking a page from Ernst, a recent campaign ad shows her milking a cow. In her ads, Graham attacks both parties, and calls for new leadership in Washington. The list goes on: Embattled Rep. Dan Benishek of Michigan never even mentions that he's a congressman in his TV ads, instead focusing on his medical career before coming to Washington.
This pervasive anti-Washington sentiment is a major reason why the Democrats' Senate majority is so tenuous. Incumbency is the party's bulwark, with strategists hoping that embattled senators will be able to utilize their well-defined brands to withstand a difficult environment. History would give them some comfort on that front. But 2014 is looking like it's no ordinary year. While Republican politicians bore the brunt of voter anger during the primaries, that same antipathy could cost Democrats in November.